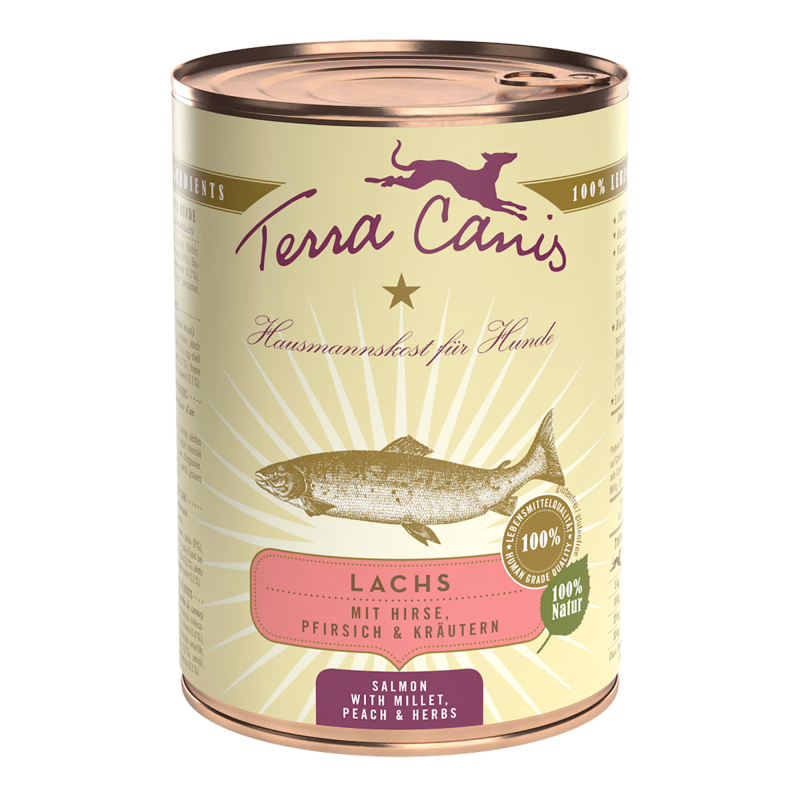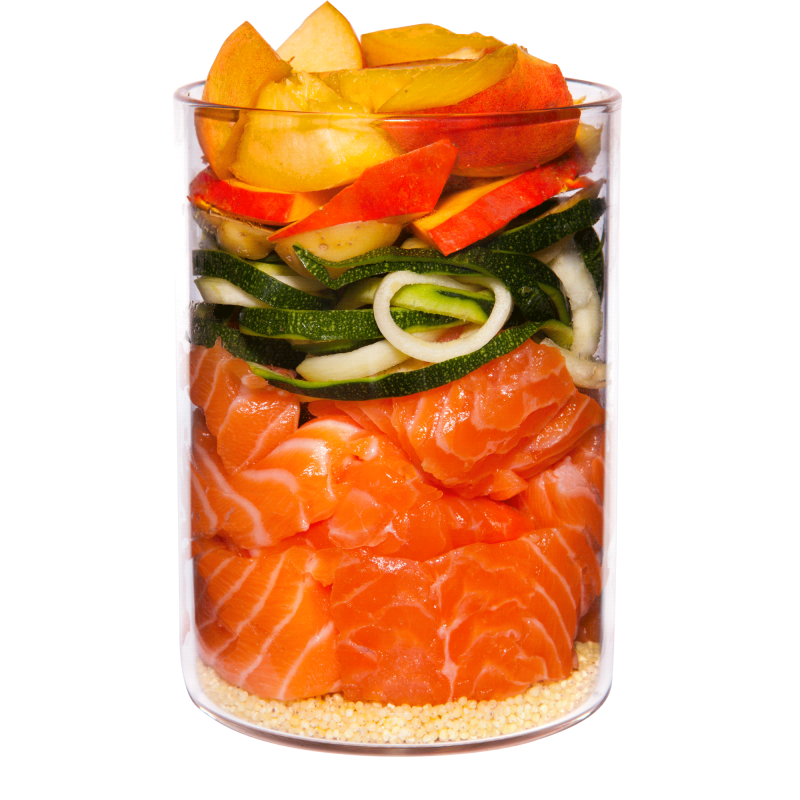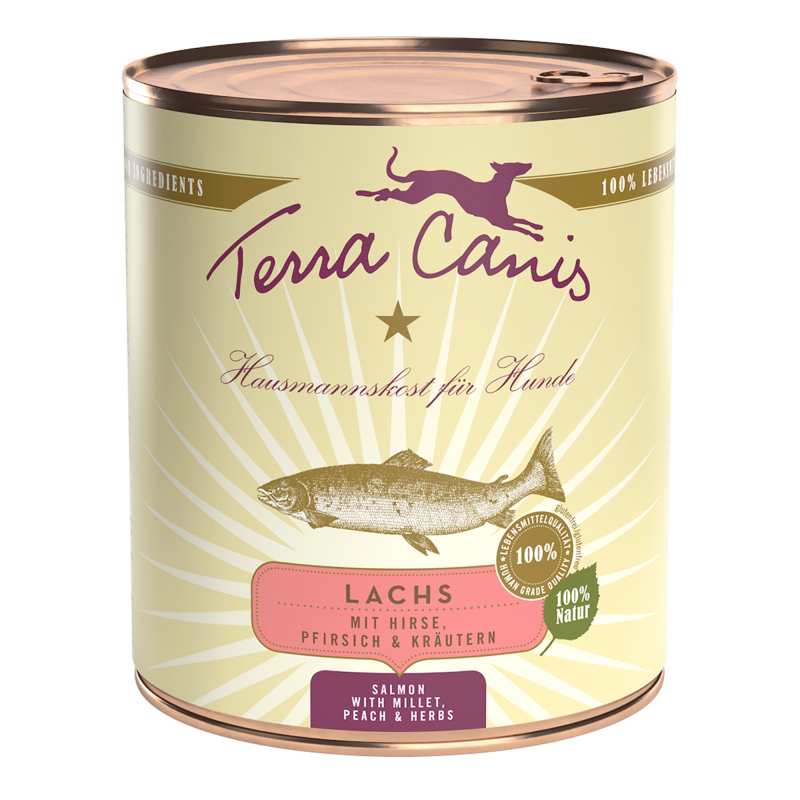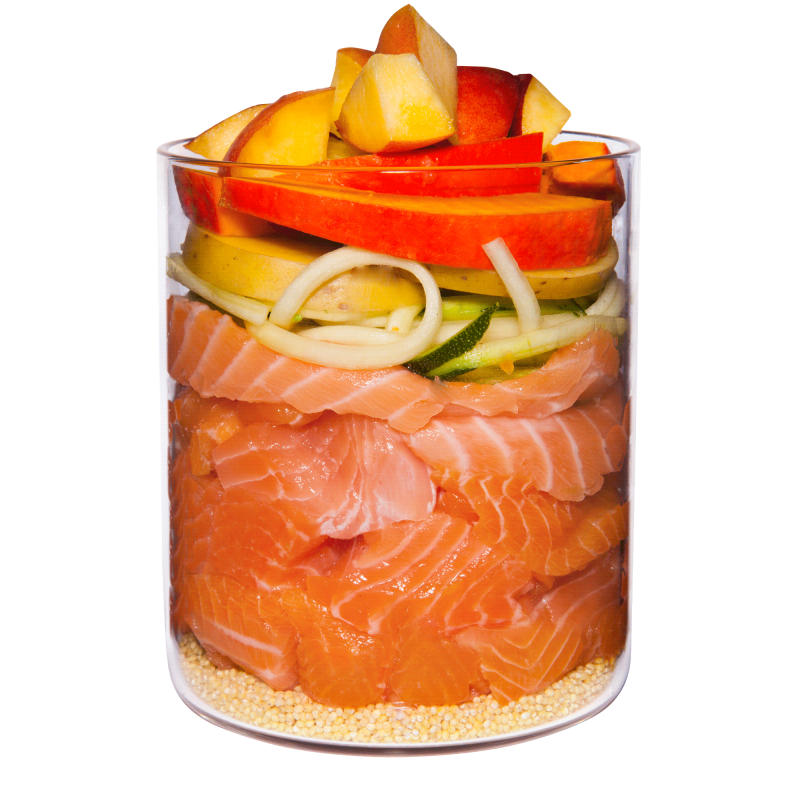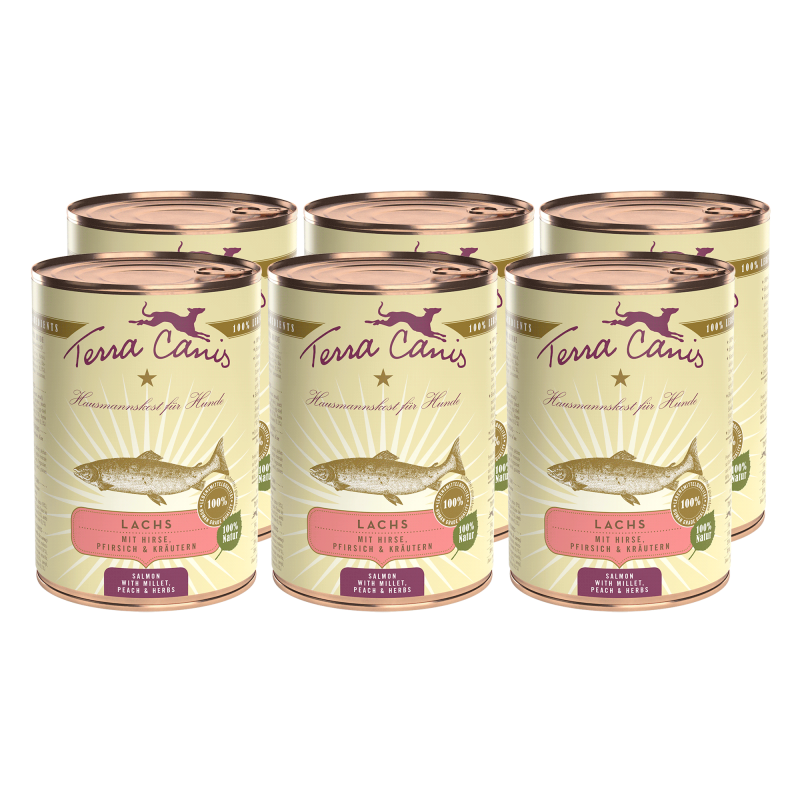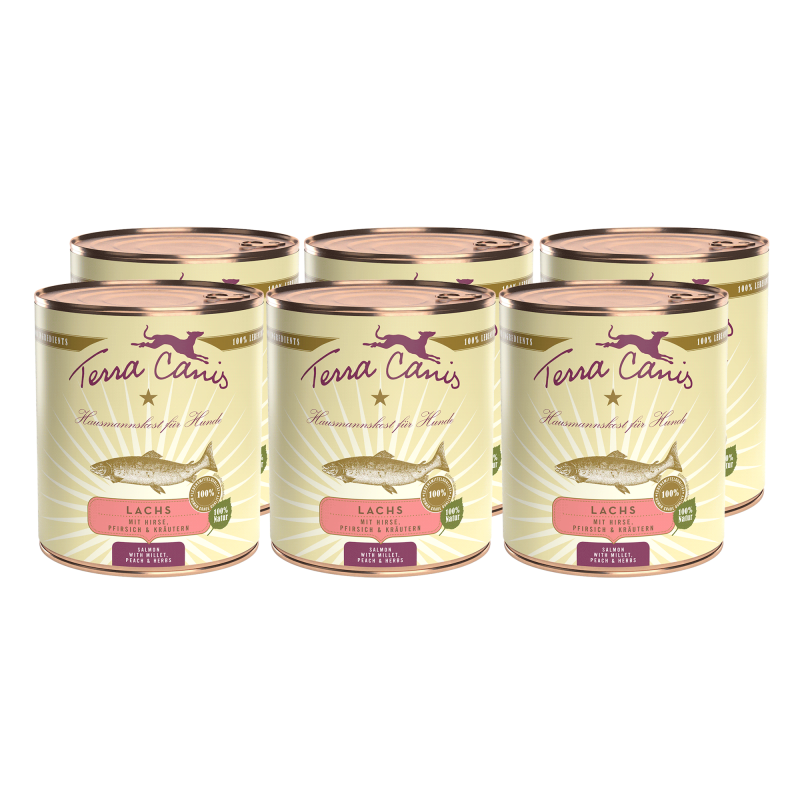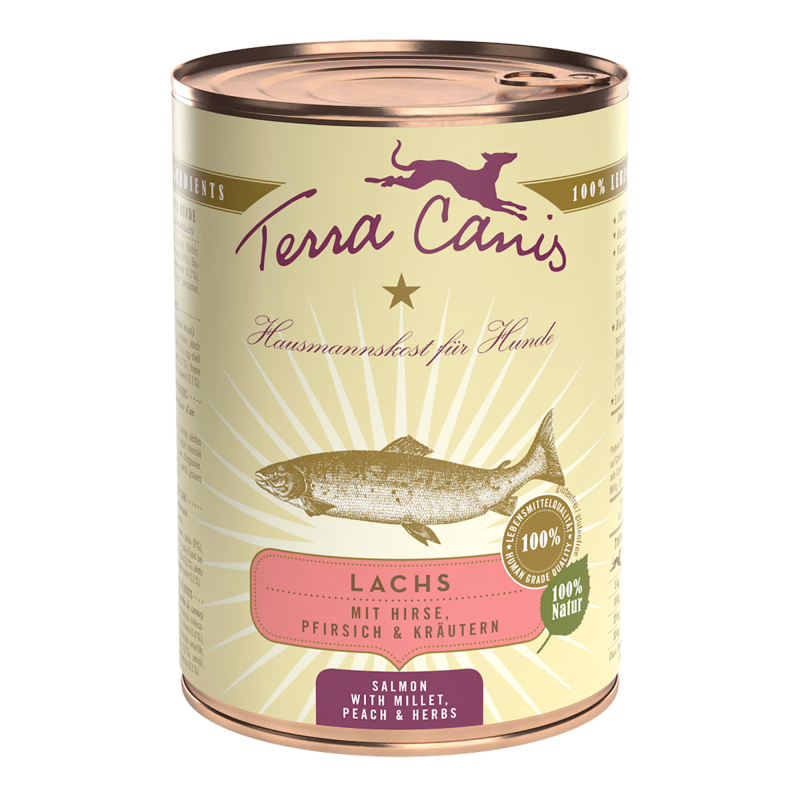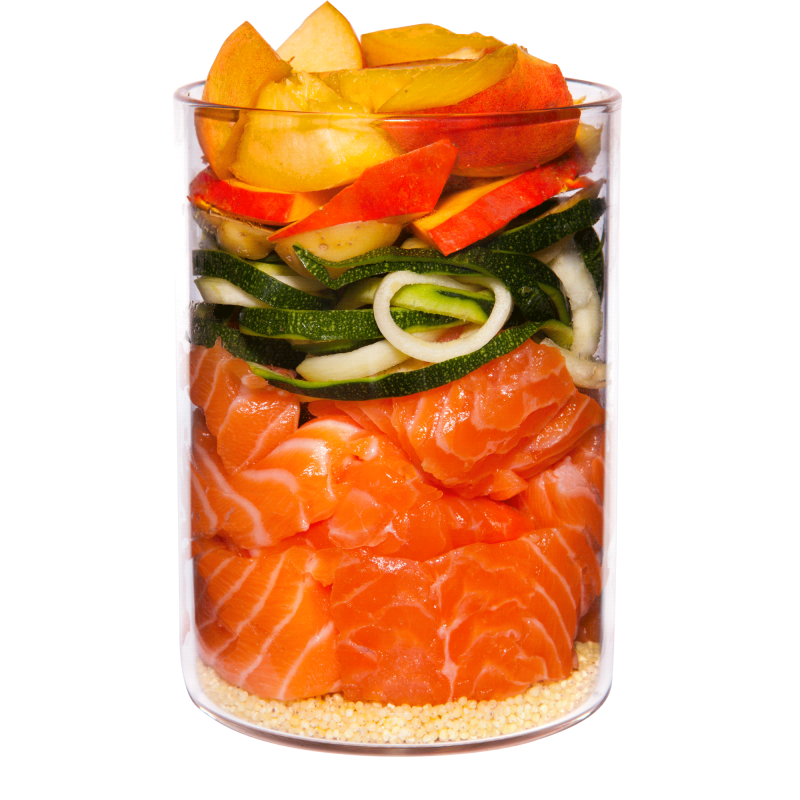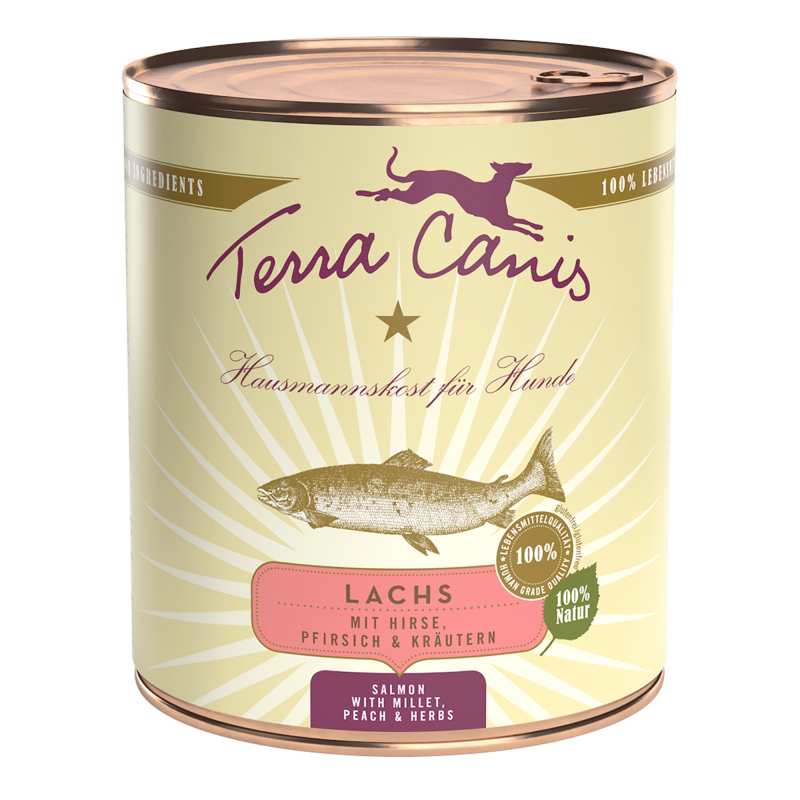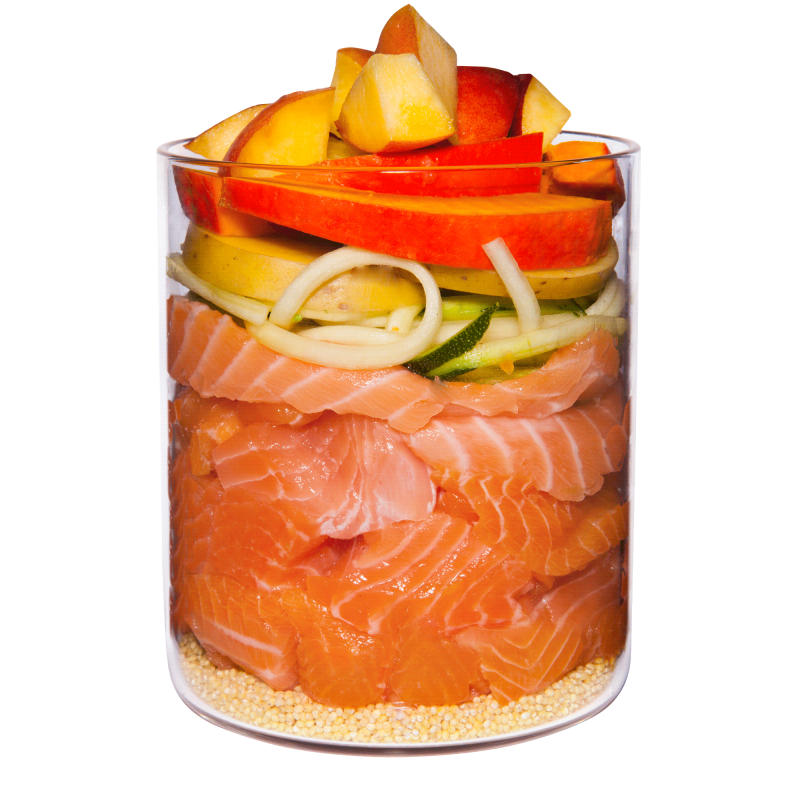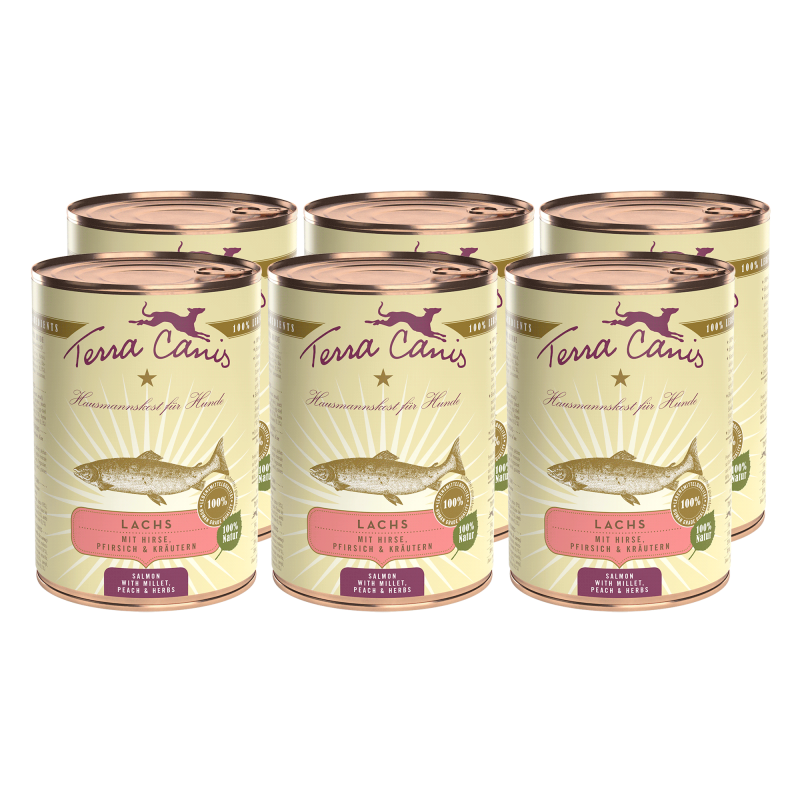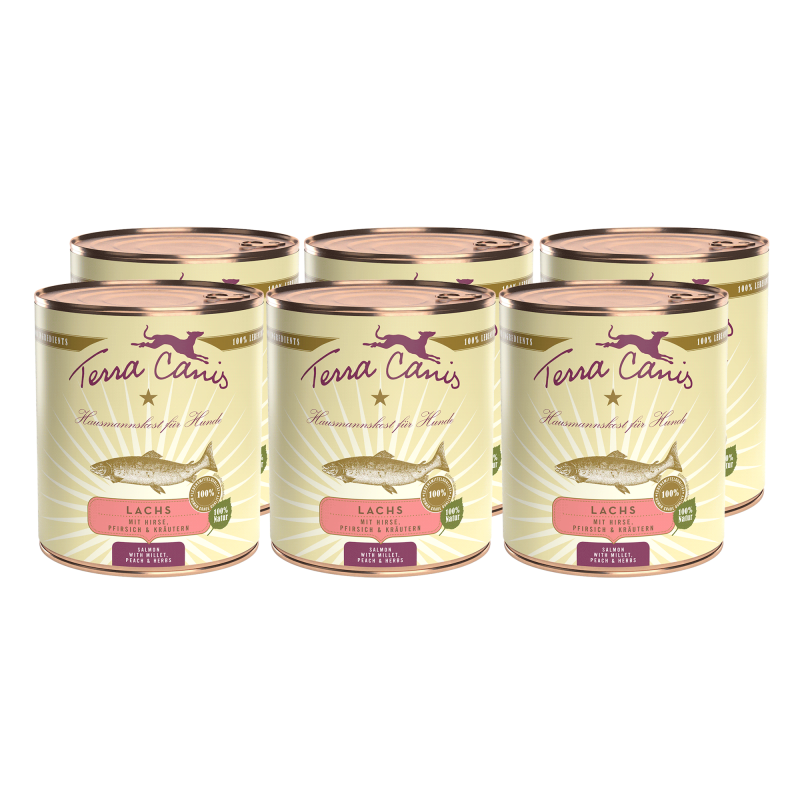 Classic

Salmon with millet, peach and herbs
100% Human-grade quality of all ingredients
Made with much love and care
With fresh muscle meat and nutritious offal
Rich in fresh fruit, vegetables and herbs
A small share of gluten-free pseudo grains
Suitable for all adult normal-weight dogs of all breeds
100% human-grade quality of all ingredients
Made by master butchers
With calcium from eggshells
Gluten-free
Developed with veterinarians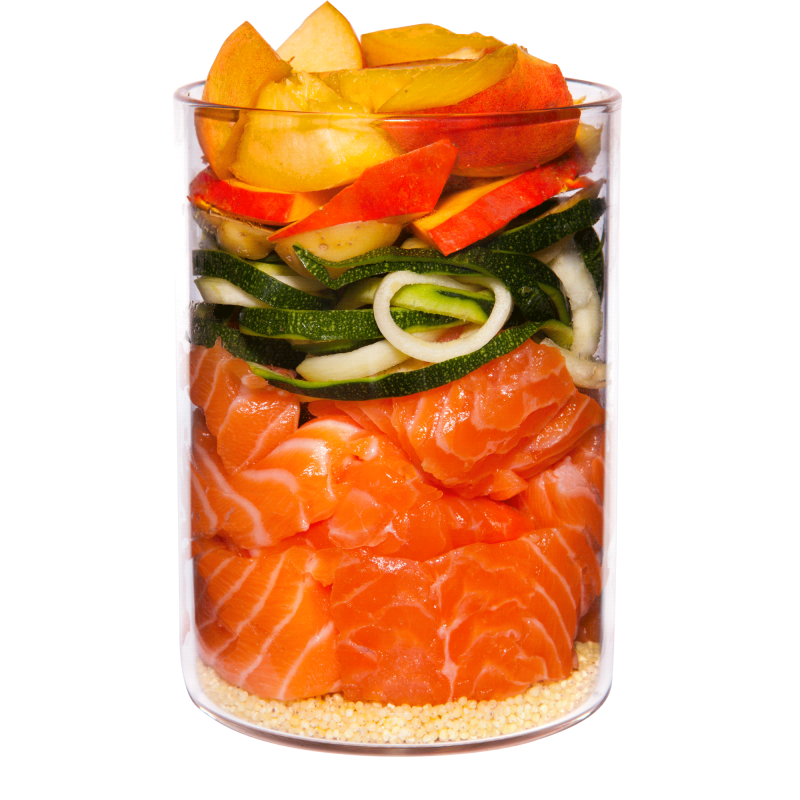 Composition
Salmon filet (56%), courgette, pumpkin, peach (9%), potato, millet (6.5%), linseed oil, brewer's yeast, eggshell powder, buckthorn berry, fennel seed (0.2 %), thyme (0.2%), dill (0.2%), parsley, ground linseed, rose hip, seaweed (0.1%), mineral clay
Ratio:
Fish : vegetables/fruit/herbs : millet : other raw ingredients = 56% : 35.5% : 6.5% : 2%
Terra Canis CLASSIC
Terra Canis CLASSIC menus are comprised of a high proportion of muscle meat (this includes classic muscle meat as well as heart and stomach, which are muscular hollow organs), a low proportion of high-nutrient liver and lots of fresh, healthy vegetables, fruit and herbs. Only nutrient-rich, light, gluten-free pseudo-grains (e. g. millet, amaranth, brown rice) are added in very low amounts that are easy for the dog to digest (4-10%). Natural additives (seaweed, mineral clay, eggshell powder, pollen, rose hip, Andean salt, brewer's yeast) supply important vitamins, minerals and trace elements. High-quality linseed oil, which is rich in Omega-3 fatty acids, is the perfect way to round off these meals. All ingredients are 100% human-grade quality. The menus are suitable for all adult normal-weight dogs of every breed.
Dietary supplement for dogs (feed 1 - 2 times a week instead of a meat meal).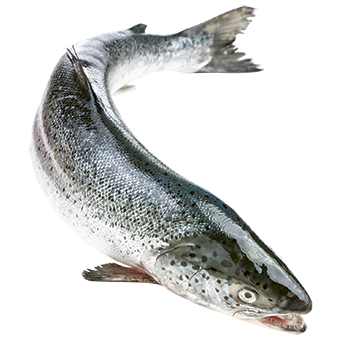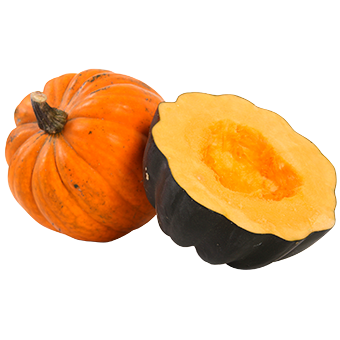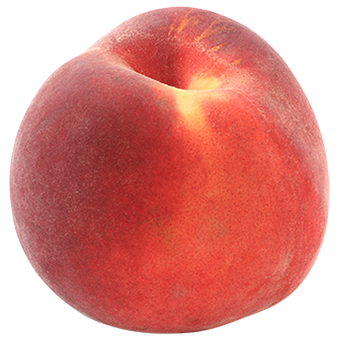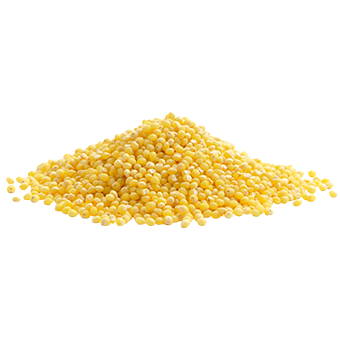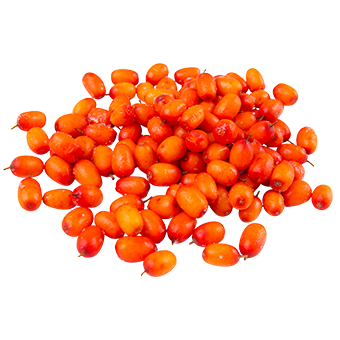 Analytical components
Protein: 8.8 % fat content: 6.8 % crude fibre: 0.4 % crude ash: 2.1 % moisture: 75.7 %
MJ/kg: 4.6
Nutritional additives/kg:
Vit. A (3a672a): 4000 IE, vit. D3 (3a671): 500 IE, copper (3b405): 3,5 mg, iodine (3b201): 0.8 mg, zinc (3b603): 40 mg, vit. E (3a700): 75 IE
Feeding recommendation
Adult, normal-weight dog
(Dog's weight - Feeding recommendation/day)

| | |
| --- | --- |
| 5kg | 200 - 300g |
| 10kg | 400 - 500g |
| 20kg | 700 - 900g |
| 30kg | 1000 - 1300g |
Approximate values to be adjusted to your dog's individual circumstances (exercise area, activity level, breed, metabolism, time of year).
We recommend regular weight checks.
Our promise of quality
With their unique concept 'Dog nutrition in 100% human-grade quality of all ingredients, Terra Canis set completely new quality standards in the pet food industry 16 years ago. Thanks to a special permit from the government of Upper Bavaria, pet food was able to be produced for the first time in a genuine human-grade quality company, the traditional Munich butcher's shop Schäbitz. This was made possible by the fact that, right from the very start, only ingredients were used which, thanks to their freshness and highest quality, were officially approved for human food products at the time of processing. This uncompromising quality and the associated delicious, appetising smell set Terra Canis menus still today apart from all other products on the market.
Due to the constantly increasing demand, the butcher's shop in the heart of Munich has reached its capacity limits. As quality is of the highest priority for Terra Canis, the menus will now be produced in their own new facility just outside Munich. Manufacturing the products within "the own four walls" enables maximum control over the quality of all ingredients and production processes. In addition, both master butchers from Schäbitz butcher's in Munich and their entire team have been brought over, bringing with them decades of experience and expertise in the butcher's trade.
All the ingredients used, the production site and the hygiene concept are still subject to 100% human-grade standards. Terra Canis customers can therefore continue to rely on the human-grade quality of the ingredients in all products.
Introducing our master butchers
Reviews
Immer wieder Fisch , mmmmm lecker Frauli
Ich war überrascht wie lecker dieses Fischmenü riecht und aussieht. Fridolin liebt Fisch. Meinte aus Jux, könnte es ja mal beim Engpass unseren Gästen in Pasteten servieren. Top Futter und Auswahl. Immer gerne wieder. Da ich es noch nirgends kaufen konnte, muss ich weiterhin bestellen Fridolin Yorkiemix sagt Danke.
Lachs - geht auch bei dieser Dose immer wieder ruck Zuck in den Ronja Magen.
Da mein kleiner Raffzahn sehr gern Fisch isst, dieser noch sehr gesund ist und auch vor Obst keinen Halt macht, finde ich diese Zusammenstellung des Futters super ...
She likes every terra canis taste, but for the salmon she goes crazy! As soon as you open the can the smell is unmistakable and, as in any other, all the herbs and vegetables can be distinguished. I hope other fish flavors will be offered, we are waiting for them ❤
Schmeckt meiner sonst sehr wählerischen und mäkeligen Mini Chi Dame richtig gut!