Monthly prize draw
Each month we give away a surprise package worth around €50 in a prize draw for all those registered on our website and those who have ordered from our online shop. If you win... Would you prefer to do something good rather than accepting the package? We'll join in and donate €100 to VITA e.V. Assistenzhunde, an organisation for assistance dogs.

Our goodies
With each order worth €40 or more, you can choose a little surprise (such as a fluffy dog ball or a beautiful TC wooden pen). Your selection will appear at the bottom of your shopping basket. An additional gift is also available for orders worth €80 or more for a limited period of time depending on the promotion.
The Doggy Telegraph
Select it free of charge with each order: Our award-winning dog magazine 'The Doggy Telegraph' with interesting stories, tips and tricks and the latest news from the dog world.

Bonus programme
For each purchase you make in the online shop, you will automatically get one reward from us for each €50 you spend. One reward has a purchase value of €0.50. Collect rewards and you'll get some money off one of your next purchases.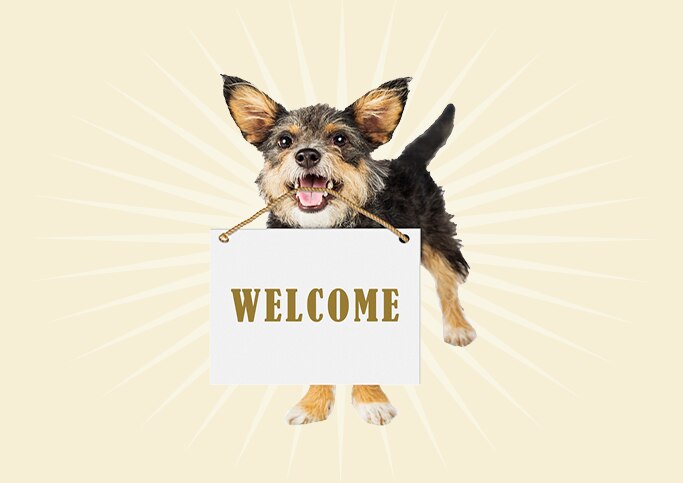 New customer discount
As a new customer, you'll get a one-off 15% off voucher via email when you register. You can use this either on your first purchase or on a subsequent one. However, please note that it cannot be applied retrospectively. A warm welcome to the Terra Canis family.
*This discount cannot be combined with other discounts
Product of the week
Each week you can find a selected item here from our product range that has been reduced by 10%.

Advice from veterinarian
Do you have any questions about species-appropriate nutrition, allergies, feed amounts etc.?
We offer a medical consultation hour from Mon-Thur from 9 a.m.-midday and 1 p.m.-3 p.m.
Our veterinarian would be happy to advise you on
+49 (0)89 69 33 41-500 or via email:
[email protected]
Food subscription
No more empty bowls: with our practical food subscription, you will receive your individually selected feed package on a set day every month with up to 20% discount for your dog – delivered punctually and conveniently to your home.

Bulk buy sets
Cheaper by the dozen:
buy your favourite varieties 5% cheaper in sets of 6 (800g or 400g tins), 12 (200g tins) or 18 (100g tins).
You can find the sets in the detailed product view for each tin.
Recommend a friend
Small gestures cement a friendship: for each recommendation and subsequent order in our shop, we will give you a discount on one of your next purchases. You can find out more about this in the 'My Account' area
Volume discount
For orders worth €150 or more , you will automatically receive 5% discount* on your whole shopping basket. For orders worth €29 or more, delivery within Germany is free of charge.
*Discount cannot be combined with other discount promotions.
Newsletter discount
We'll keep you up to date about interesting dog-related issues, exclusive promotions and news in our online shop. You will receive a 10% discount code* following confirmation of registration.
*Discount cannot be combined with other discount promotions.