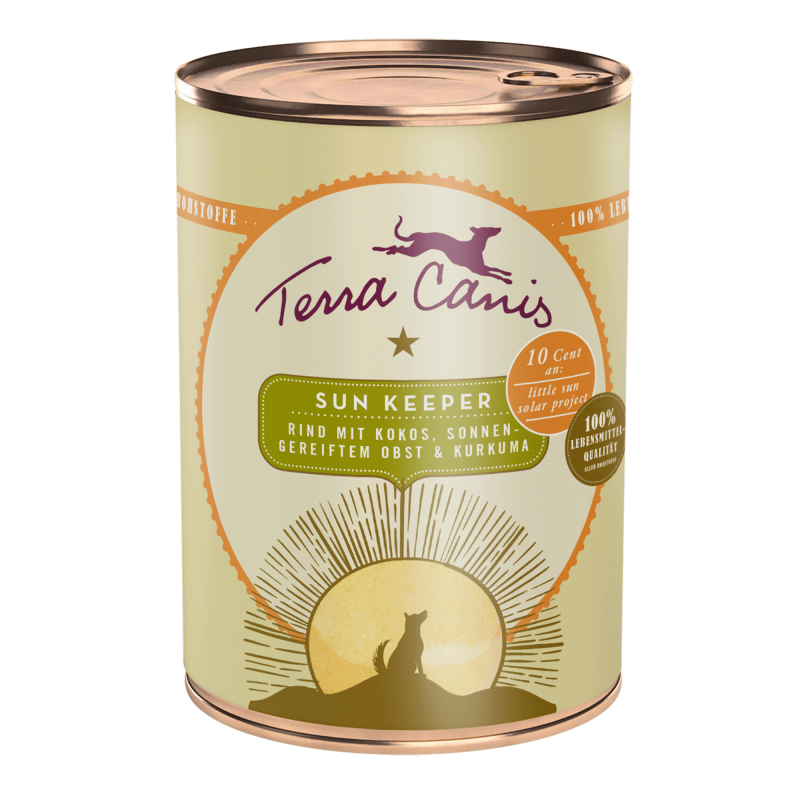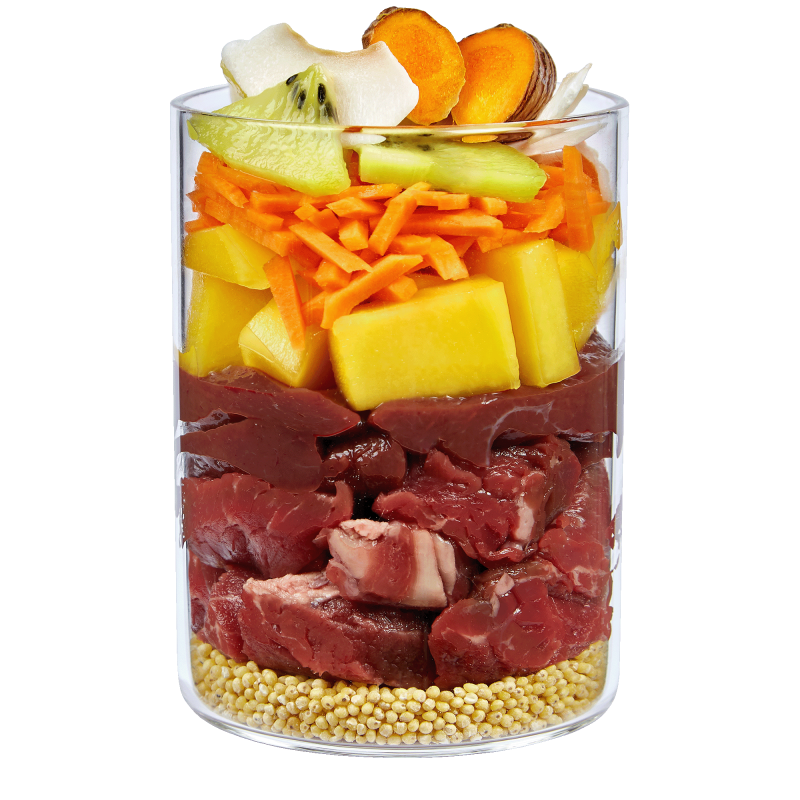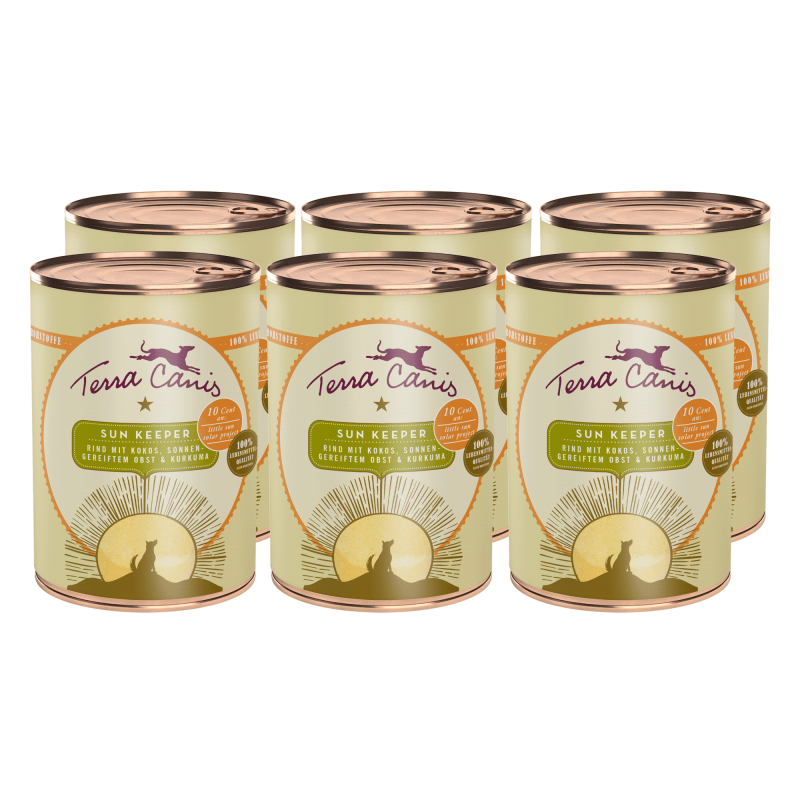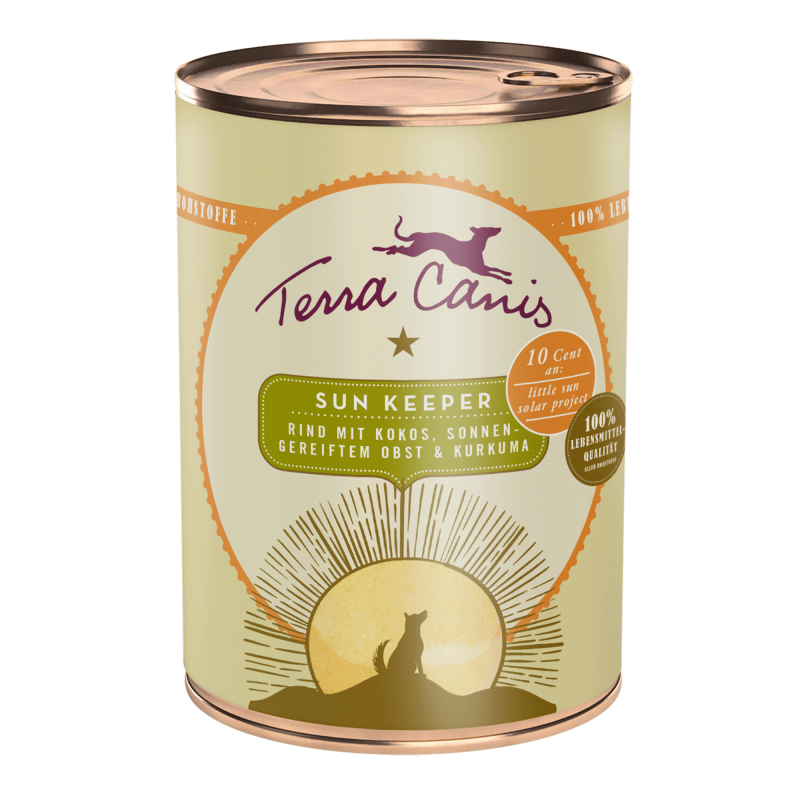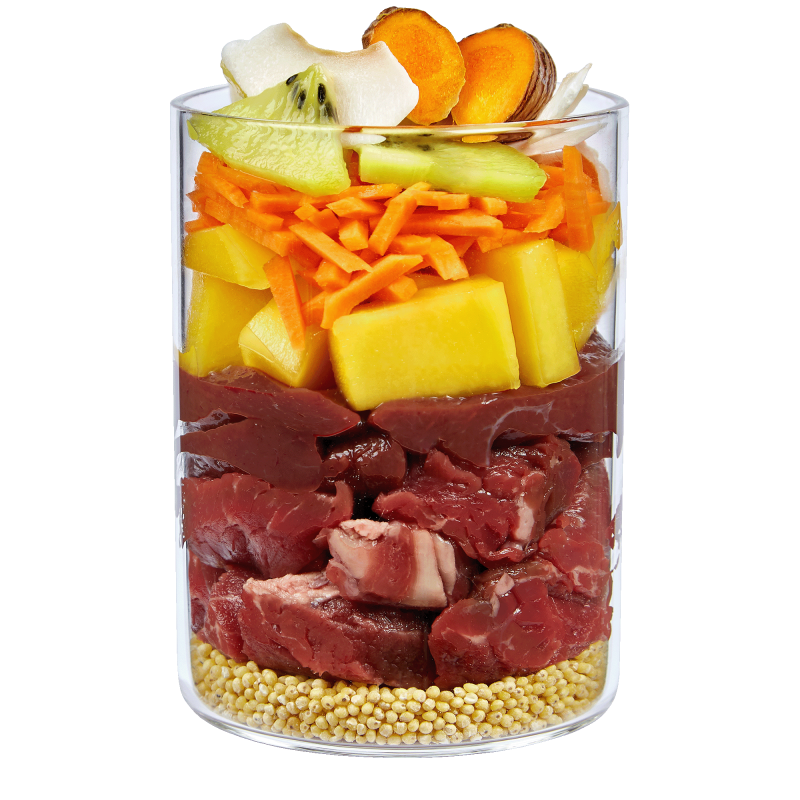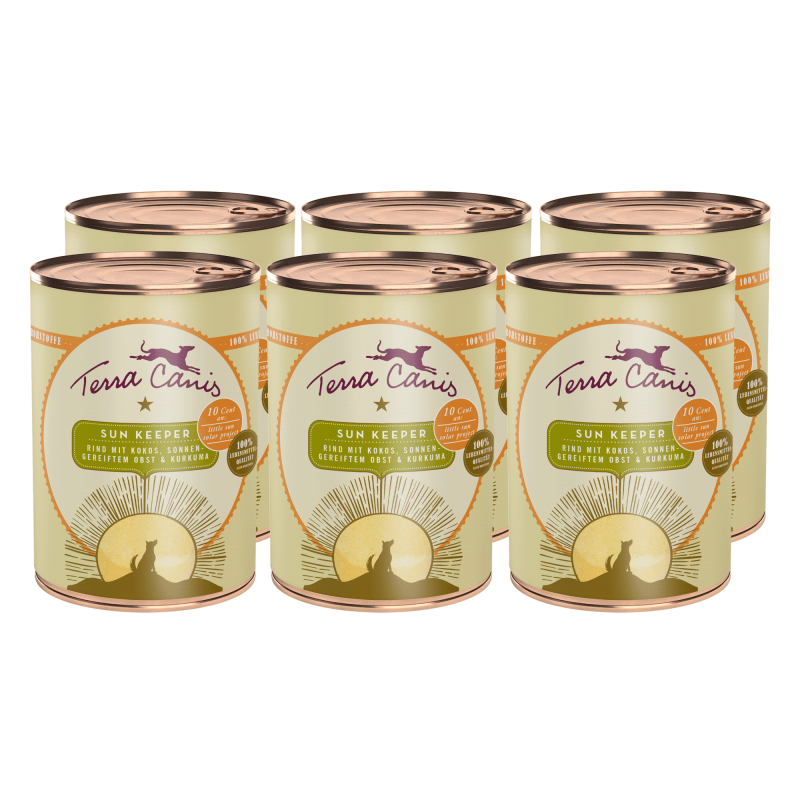 Save the Planet

Sun Keeper – Beef with coconut, sun-ripened fruit and turmeric
100% Human-grade quality of all ingredients
Environmental protection in your dog's bowl
Let your dog do their bit for the environment
10 cents go to Little Sun
Many healthy sun-ripened ingredients
Suitable for all adult normal-weight dogs of all breeds
100% natural
Developed with veterinarians
Made by master butchers
100% human-grade quality of all ingredients
Gluten-free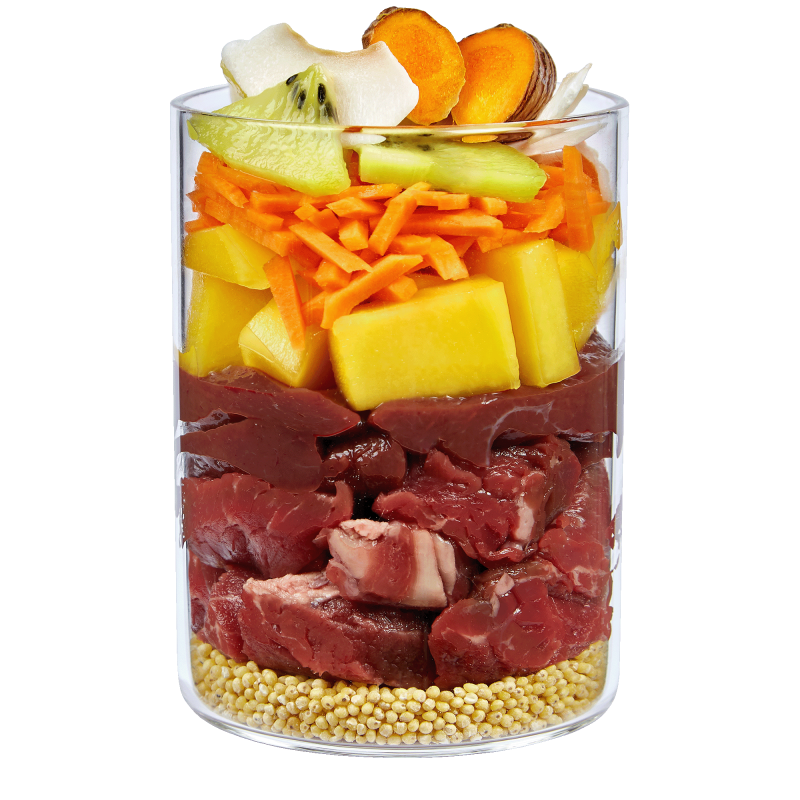 Composition
Beef heart (35%), carrot, courgette, beef lung (11%), beef liver (8%), millet (5%), sweet potato, apple (5%), mango (2%), peach (2%), kiwi (2%), melon (2%), coconut flour (1%), linseed oil, brewer's yeast*, seaweed*, oyster shell*, sunflower seeds (0.3%), lavender*, marjoram*, thyme*, lemon balm*, purslane*, turmeric* (0.1%), spirulina*, oyster shell, mineral clay *dried
Ratio:
Meat : millet : vegetables/fruit/herbs : other raw ingredients = 54% : 5% : 38% : 3%
Terra Canis SAVE THE PLANET
With its 'Save the planet' range of menus, Terra Canis makes a statement in the cause of environmental protection, as dogs are also potential eco-warriors. Each 'Save the planet' menu sold will support specific environmental projects relating to sustainable energy, clean seas and the reforestation of forests on a long-term basis. For each tin purchased, an amount of money is donated to the respective project. The idea behind the menus is to actively involve our dogs in environmental protection while ensuring that they benefit from appropriate, healthy and natural nutrition. The menus are based on ingredients that are characteristic of the project concerned and that offer myriad health benefits for your dog. All 'Save the planet' menus are easily digestible, well tolerated and offer a suitable composition with ingredients in exclusively 100% human-grade quality. Thanks to our 'Save the planet' menus, environmental protection starts in the bowl and can make a positive difference.10 cents per tin goes to LITTLE SUN - SOLAR ENERGY IN AFRICA
SUN KEEPER – solar light for all
In September 2015, the United Nations committed itself to 17 Sustainable Development Goals. One of the central aims is affordable and clean energy. 1.1 billion people across the world do not have access to electricity. Sustainable solar products could be a real alternative here because they can provide the necessary electricity supply, especially in poor but sunny countries. Solar energy is not only affordable but also very environmentally friendly. The Terra Canis menu Sun Keeper supports the organisation LITTLE SUN - SOLAR ENERGY IN AFRICA. For every tin sold, 10 cents will go to this amazing light-bringing project.
The Project - Little Sun
Alongside food, water and a secure roof over your head, a reliable source of light and energy is one of the most fundamental needs in life. Solar lamps give refugee camps, schools and families a safe source of light and are also a healthy alternative to petroleum lamps. To bring light to Africa's dark spots, Scandinavian artist Olafur Eliasson and engineer Frederik Ottesen started to develop the solar lamp Little Sun five years ago: a small sun made from plastic that contains a solar element on the back. In order to charge the lamps with energy, they are hung around the neck on a strap and then give off 4-10 hours of light in the evening (depending on brightness).
Little Sun is therefore bringing solar light to the people who need it most. In sub-Saharan Africa, the project is building up local distribution systems and training small-scale entrepreneurs to earn their living by selling the small lamps. Little Sun also brings solar lamps and chargers to crisis regions, refugee camps and schools in regions without electricity. There, the small lamps not only promote educational opportunities for school children by ensuring longer reading times, but also create the basis for a sustainable future.
Sun Keeper: BEEF WITH COCONUT, SUN-RIPENED FRUIT & TURMERIC
Sun Keeper provides dogs with all their daily needs thanks to its highly healthy formula, and at the same time brings light into the darkness wherever required. The Terra Canis Sun Keeper menu is edible sunlight in the bowl for our four-legged friends. Juicy beef is accompanied by energy-rich sweet potato and sun-ripened fruit, namely mango, melon, kiwi and peach. Coconut flour not only ensures balanced gastrointestinal flora but is also a great source of valuable fibre. The sun-loving herbs lavender, thyme and marjoram provide lots of natural micro nutrients. An extra power boost is provided by ground sunflower seeds and linseed oil, which provides the healthy essential fatty acids in Sun Keeper. The superfood spirulina with its high content of chlorophyll, i.e. 'green sunlight', adds further numerous highly healthy micro nutrients and antioxidants to the bowl.
Complete food for dogs.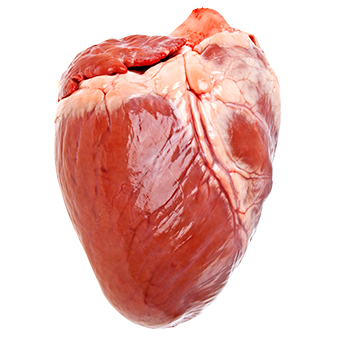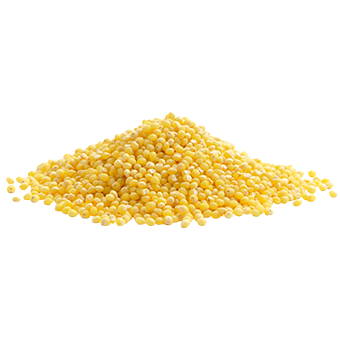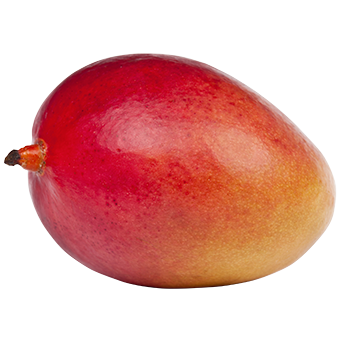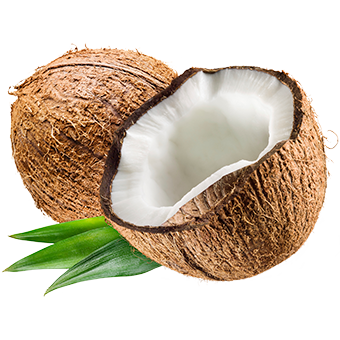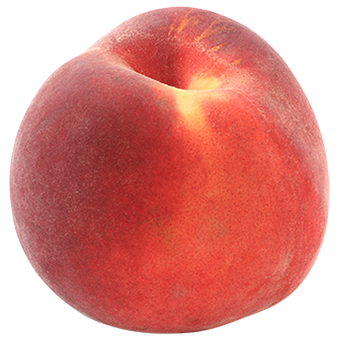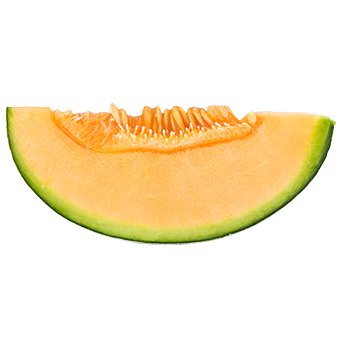 Analytical components
Protein: 8 % fat content: 5.9 % crude fibre: 0.8 % crude ash: 1.4 % moisture: 80.4 %
MJ/kg: 3.8
Nutritional additives/kg:
Vit. D3 (3a671): 350 IE, vit. E (3a700): 75 IE, copper (3b405): 1,5 mg, iodine (3b201): 0.8 mg, zinc (3b603): 40 mg
Feeding recommendation
Adult, normal-weight dog
(Dog's weight - Feeding recommendation/day)

| | |
| --- | --- |
| 5kg | 300 - 400g |
| 10kg | 500 - 600g |
| 20kg | 800 - 1000g |
| 30kg | 1100 - 1400g |
Approximate values to be adjusted to your dog's individual circumstances (exercise area, activity level, breed, metabolism, time of year).
We recommend regular weight checks.
Our promise of quality
With their unique concept 'Dog nutrition in 100% human-grade quality of all ingredients, Terra Canis set completely new quality standards in the pet food industry 16 years ago. Thanks to a special permit from the government of Upper Bavaria, pet food was able to be produced for the first time in a genuine human-grade quality company, the traditional Munich butcher's shop Schäbitz. This was made possible by the fact that, right from the very start, only ingredients were used which, thanks to their freshness and highest quality, were officially approved for human food products at the time of processing. This uncompromising quality and the associated delicious, appetising smell set Terra Canis menus still today apart from all other products on the market.
Due to the constantly increasing demand, the butcher's shop in the heart of Munich has reached its capacity limits. As quality is of the highest priority for Terra Canis, the menus will now be produced in their own new facility just outside Munich. Manufacturing the products within "the own four walls" enables maximum control over the quality of all ingredients and production processes. In addition, both master butchers from Schäbitz butcher's in Munich and their entire team have been brought over, bringing with them decades of experience and expertise in the butcher's trade.
All the ingredients used, the production site and the hygiene concept are still subject to 100% human-grade standards. Terra Canis customers can therefore continue to rely on the human-grade quality of the ingredients in all products.
Introducing our master butchers