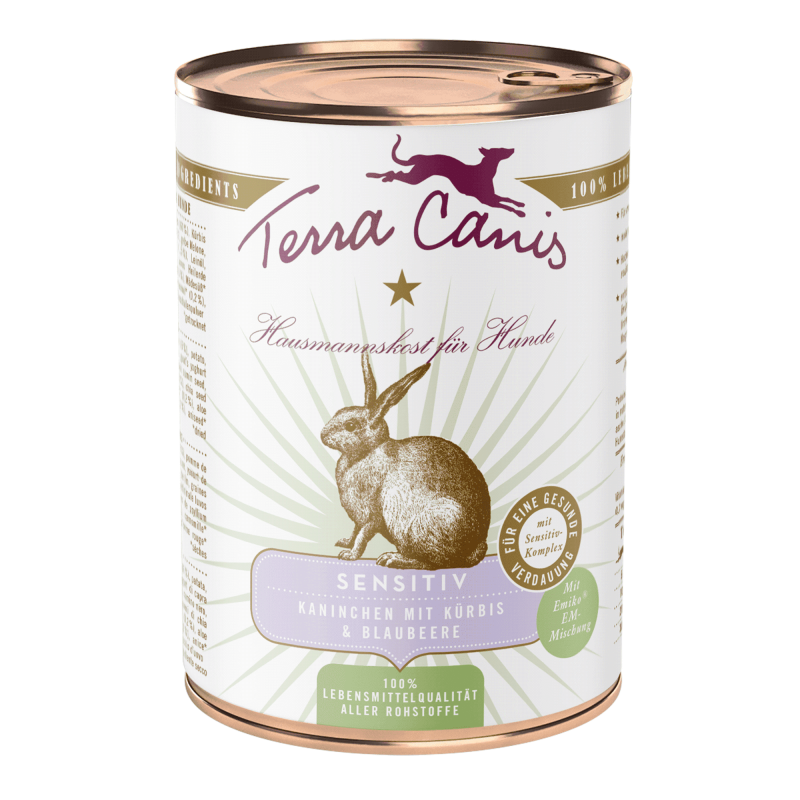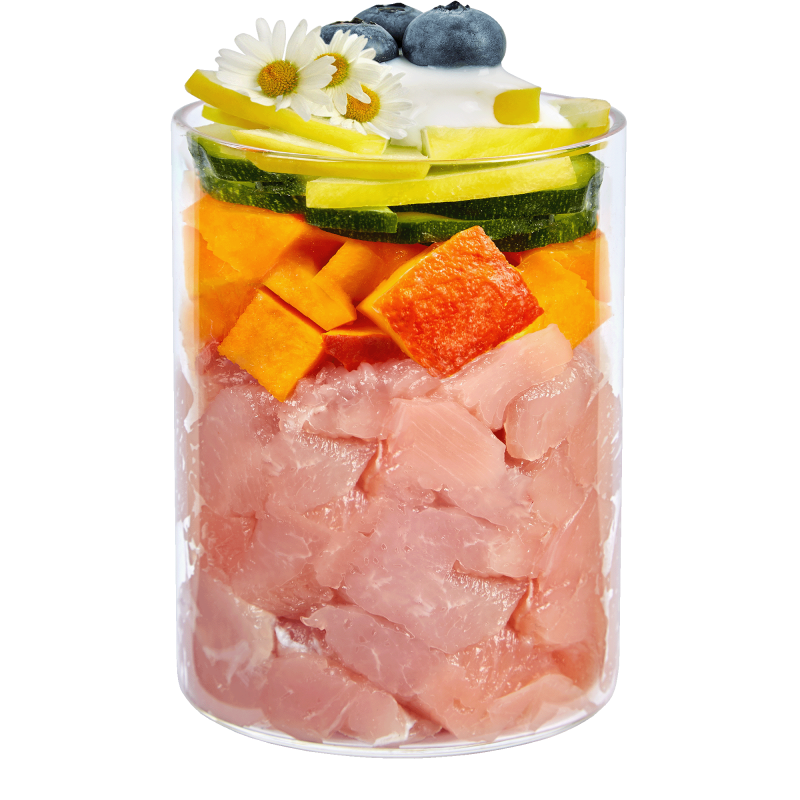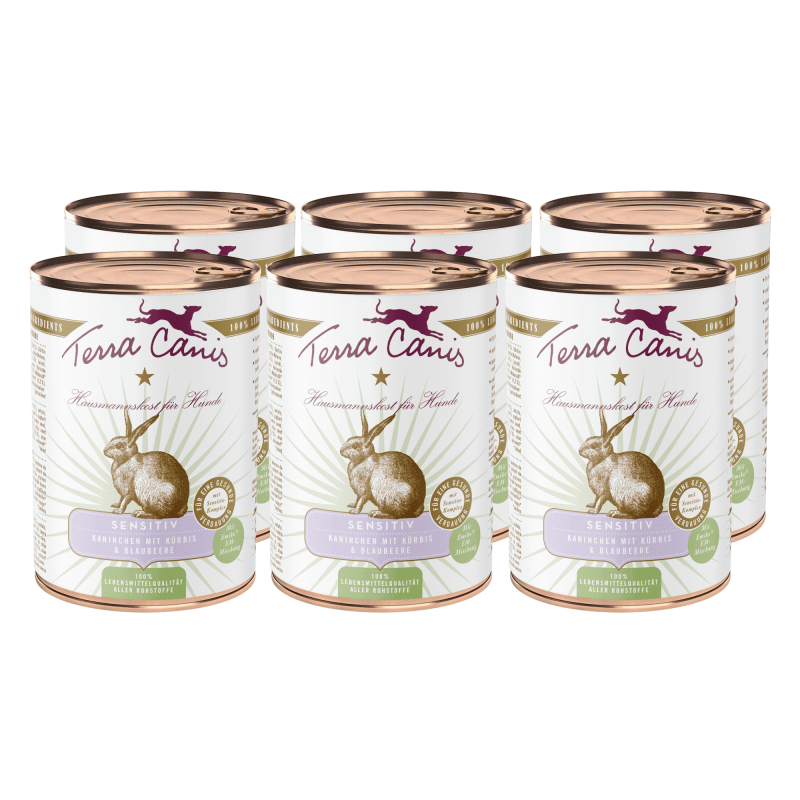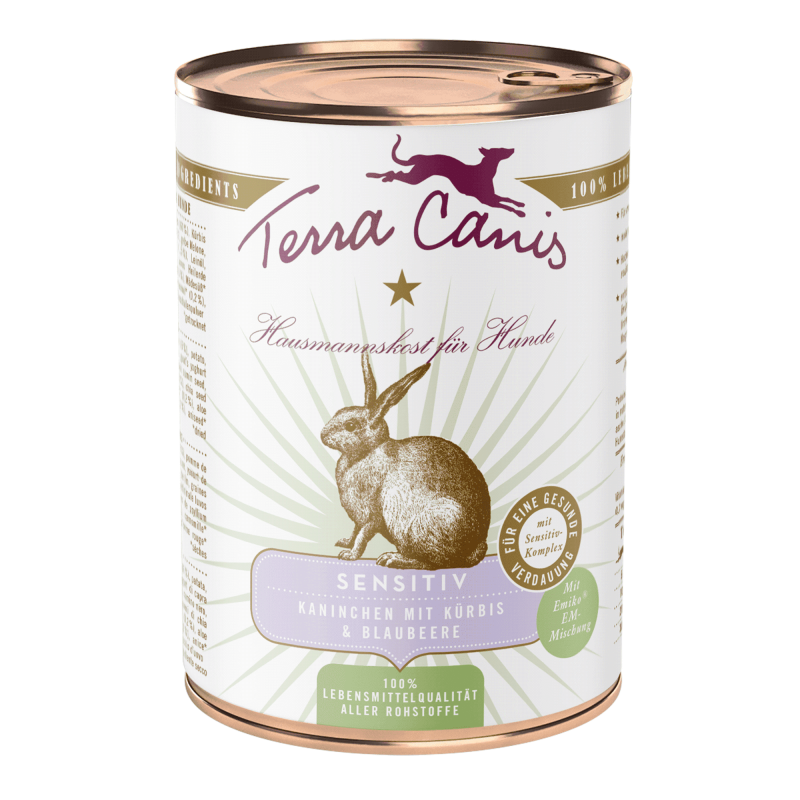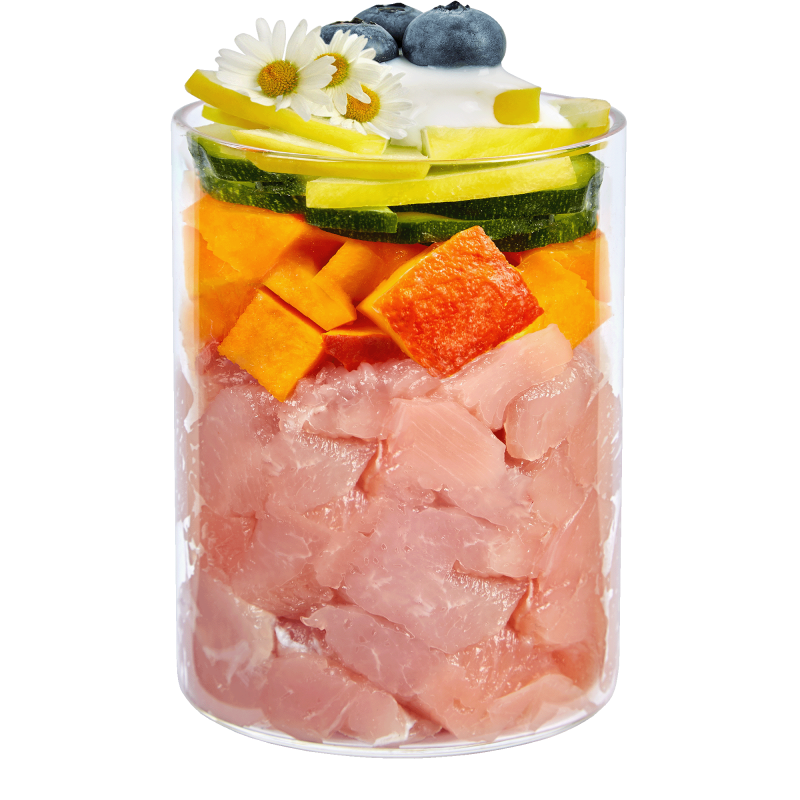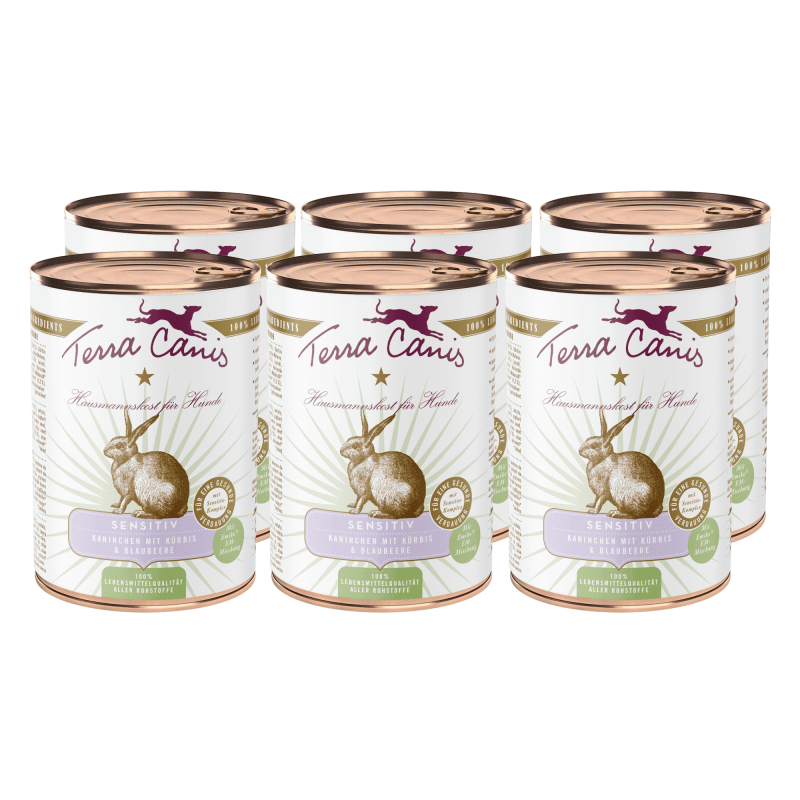 Sensitive

Rabbit with pumpkin and blueberry
100% human-grade quality of all ingredients
For dogs with sensitive digestions
Grain-free recipe with moderate fat content
Reduced number of different ingredients
With medicinal herbs and vital substances for stomach and intestines
Without unnecessary additives
Developed with veterinarians
100% human-grade quality of all ingredients
100% natural
With calcium from eggshells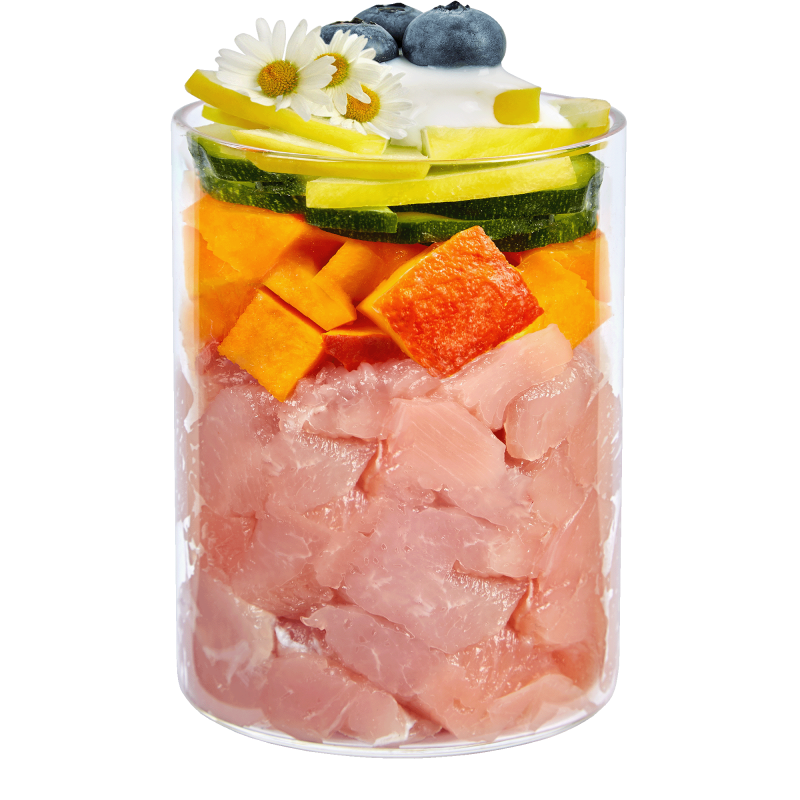 Composition
Rabbit meat (60 %), pumpkin (11 %), potato, yellow melon, courgette, carrot, blueberry (4 %), coconut flour (2 %), goat's milk yoghurt (1 %), linseed oil, seaweed*, eggshell powder, Emiko® effective microorganism mix (0.5 %), black cumin seed, Luvos medicinal clay (0.4 %), chia seed (0.3 %), Psyllium husks (0.3 %), meadowsweet* (0.2 %), aloe vera (0.2 %), camomile* (0.2 %), caraway* (0.2 %), aniseed* (0.2 %), elm bark* (0.2%) *dried
Ratio:
Meat: Potato: vegetables/fruit/herbs : other ingredients: 60:8:28: 4
Terra Canis SENSITIVE line – for dogs with sensitive digestions
No food allergy, but a sensitive stomach and susceptible digestion? There are many reasons why a dog might react to food in a sensitive way. The SENSITIVE line is aimed at dogs with sensitive digestions and closes the gap between the GRAIN-FREE and HYPOALLERGENIC lines. The easily digestible meat varieties chicken, lamb and horse form the basis of the grain-free SENSITIVE menus, which are tailored to sensitive dog stomachs with a reduced variety of ingredients so as to relieve the strain on their digestion. The meat is complemented by alkaline ingredients such as potato, easily digestible varieties of vegetable as well as a well-tolerated type of fruit or berry. The special thing about the SENSITIVE menu is the unique SENSITIVE complex for gentle and purely natural support of the digestive system and intestinal flora. Complete food for dogs.
The Terra Canis SENSITIVE complex
To assist dogs with sensitive digestions with their nutrition, the unique Terra Canis SENSITIVE complex adds plants, herbs and vital substances to the bowl that support the digestive organs, gastrointestinal mucosa and intestinal flora in a natural way.
- The herbs MEADOWSWEET, ELM BARK, CAMOMILE and CARAWAY are known in natural sciences and botany for their positive effect on the digestive organs.
- GOAT'S MILK YOGHURT and the EMIKO ® effective microorganism mix contain lactic acid bacteria that ensure balanced intestinal flora.
- COCONUT FLOUR is rich in protein, low-fat and cholesterol-free and is thus beneficial for the gut. It is one of the richest sources of fibre and promotes problem-free digestion.
- The soluble fibres contained in PSYLLIUM SEED are known above all for their positive regulating effect on the digestion and gastric and intestinal mucosa.
- BLACK CUMIN OIL is said to have many positive characteristics that are also scientifically proven. It is regarded among other things as anti-oxidative and promotes balanced intestinal peristalsis
- LUVOS ® MEDICINAL CLAY supports a healthy acid-base balance.
What to feed? Find more information about our gastrointestinal lines
here
.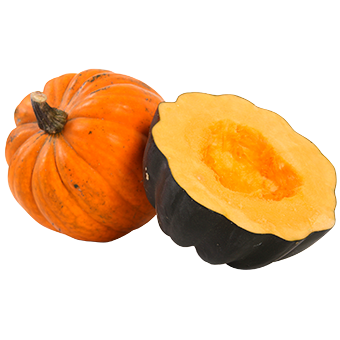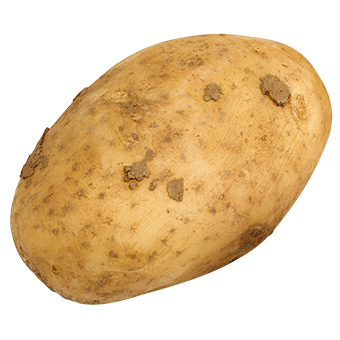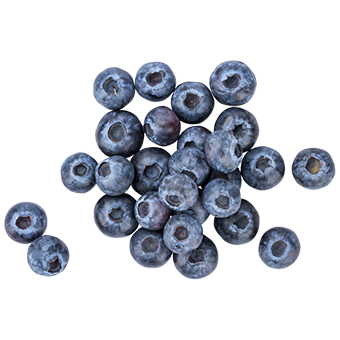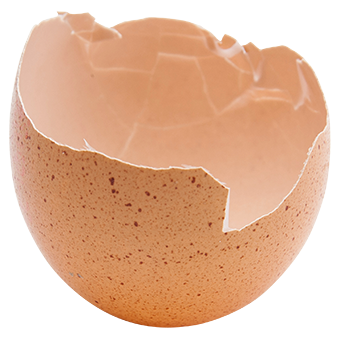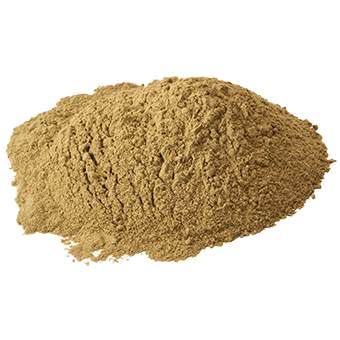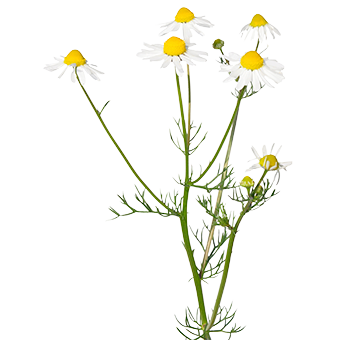 Analytical components
Protein: 9,4 % fat content: 6,8 % crude fibre: 0,8 % crude ash: 2,1 % moisture: 77,5 %
MJ/kg: 4,3
Nutritional additives/kg:
Vitamin E (3a700): 75 IE, vitamin A (3a672a): 7000 IE, vitamin D 3 (3a671): 500 IE, iodine (3b201): 0,8 mg, selenium (3b801): 0,2 mg; iron (3b103): 8 mg; copper (3b405): 6 mg; manganese (3b503): 10 mg, zinc (3b603): 60 mg
Feeding recommendation
Adult, normal-weight dog
(Dog's weight - Feeding recommendation/day)

| | |
| --- | --- |
| 5kg | 300 - 400g |
| 10kg | 500 - 600g |
| 20kg | 800 - 1000g |
| 30kg | 1100 - 1400g |
Approximate values to be adjusted to your dog's individual circumstances (exercise area, activity level, breed, metabolism, time of year).
We recommend regular weight checks.
Our promise of quality
With their unique concept 'Dog nutrition in 100% human-grade quality of all ingredients, Terra Canis set completely new quality standards in the pet food industry 16 years ago. Thanks to a special permit from the government of Upper Bavaria, pet food was able to be produced for the first time in a genuine human-grade quality company, the traditional Munich butcher's shop Schäbitz. This was made possible by the fact that, right from the very start, only ingredients were used which, thanks to their freshness and highest quality, were officially approved for human food products at the time of processing. This uncompromising quality and the associated delicious, appetising smell set Terra Canis menus still today apart from all other products on the market.
Due to the constantly increasing demand, the butcher's shop in the heart of Munich has reached its capacity limits. As quality is of the highest priority for Terra Canis, the menus will now be produced in their own new facility just outside Munich. Manufacturing the products within "the own four walls" enables maximum control over the quality of all ingredients and production processes. In addition, both master butchers from Schäbitz butcher's in Munich and their entire team have been brought over, bringing with them decades of experience and expertise in the butcher's trade.
All the ingredients used, the production site and the hygiene concept are still subject to 100% human-grade standards. Terra Canis customers can therefore continue to rely on the human-grade quality of the ingredients in all products.
Introducing our master butchers