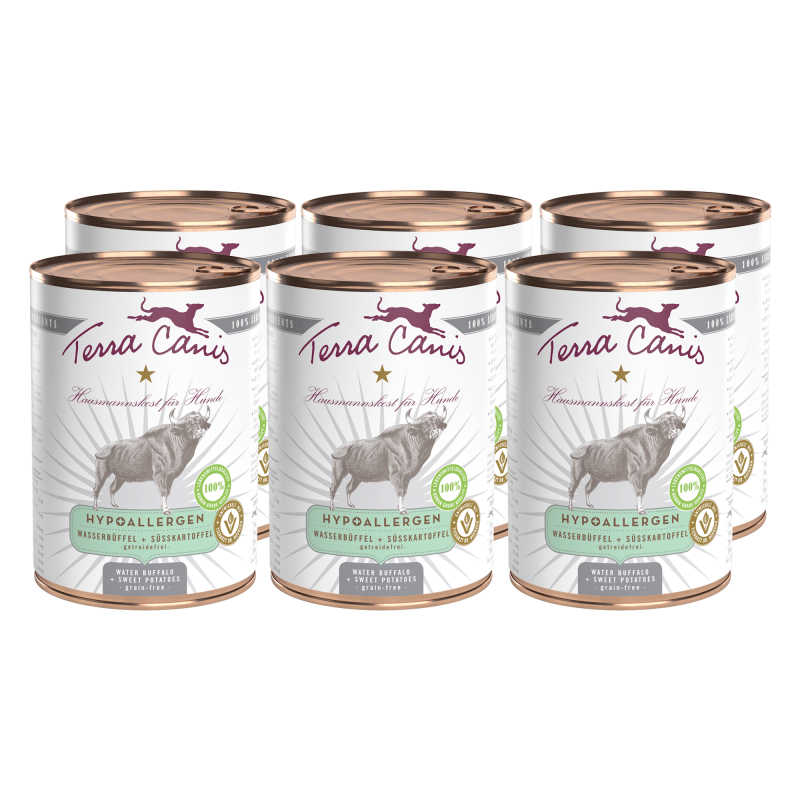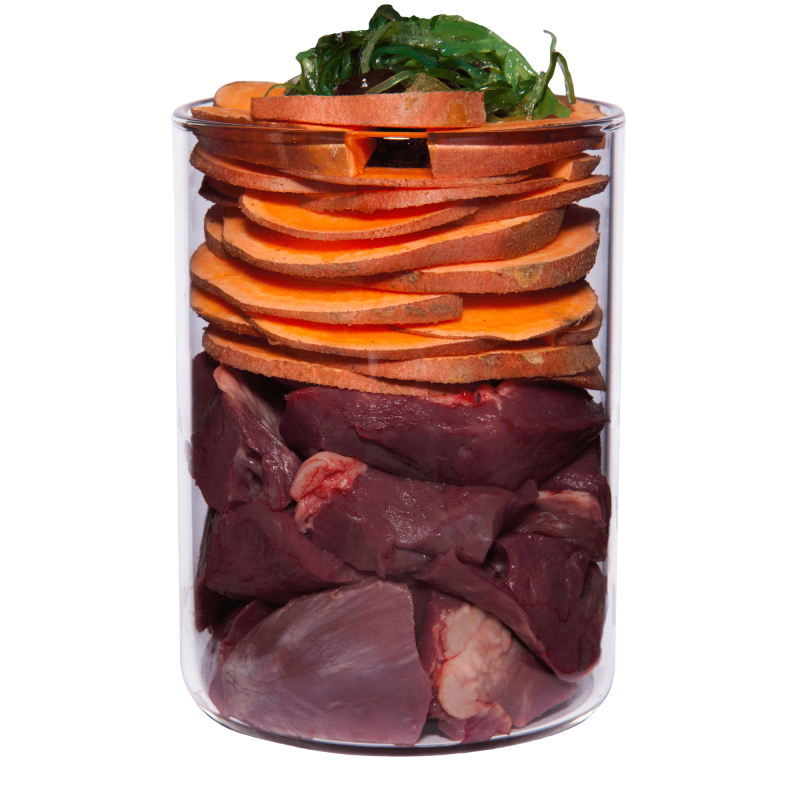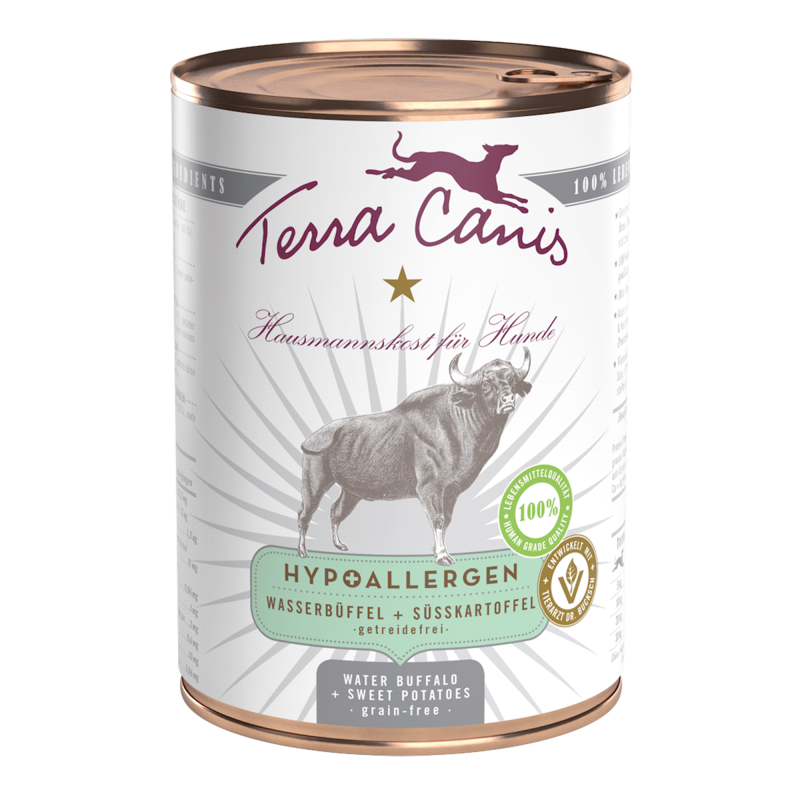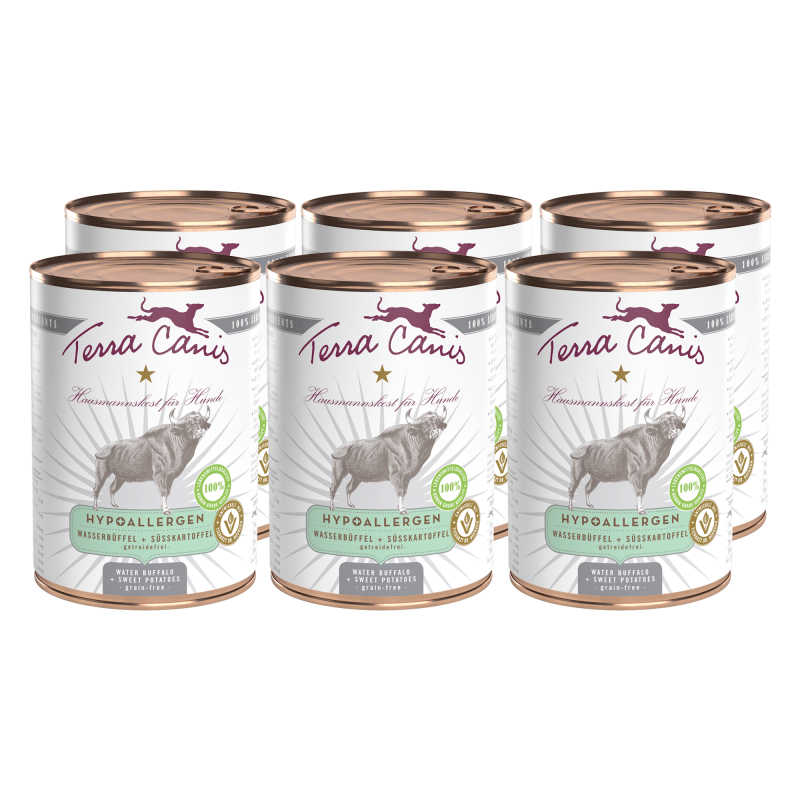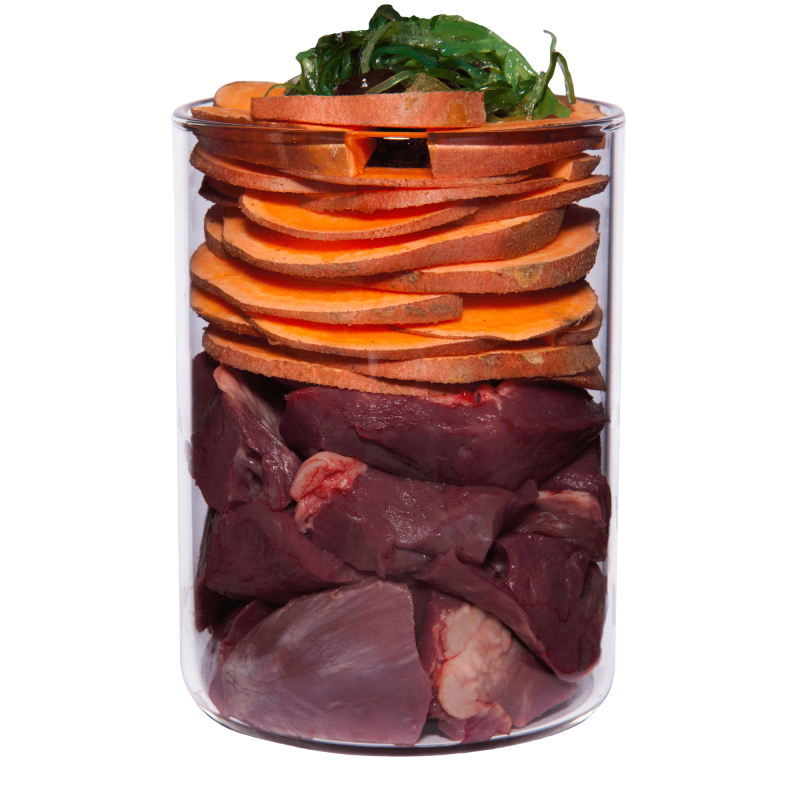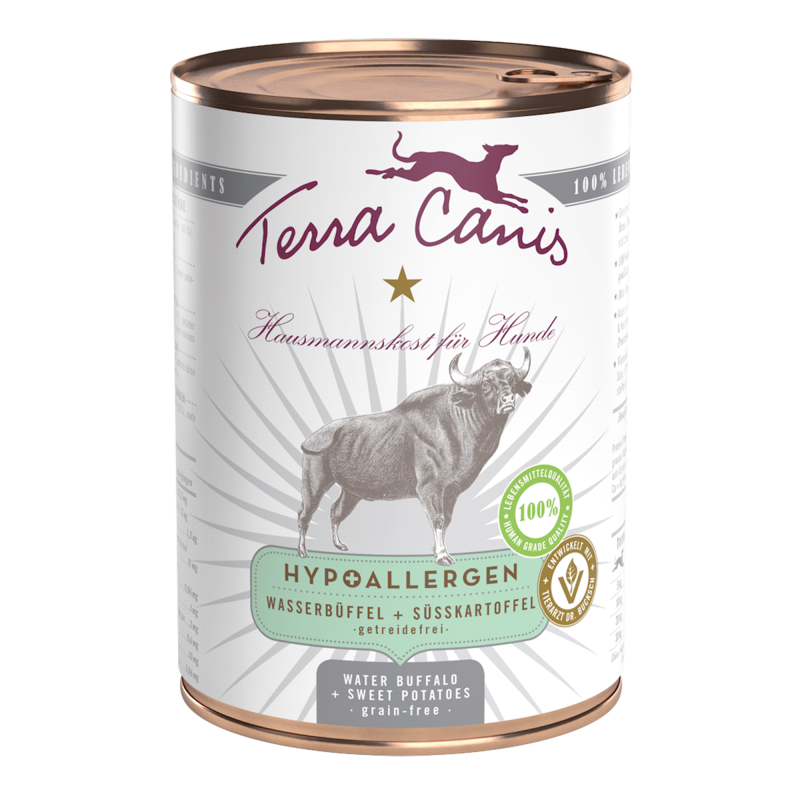 Hypoallergenic

Water buffalo with sweet potato

(2)
100% Human-grade quality of all ingredients
Made with much love and care
Exotic meat variety as single protein
Low-allergen recipe, just one vegetable variety
Developed in conjunction with vets
Suitable for an exclusion diet
Made by master butchers
Developed with veterinarians
100% human-grade quality of all ingredients
Grain & gluten-free
100% natural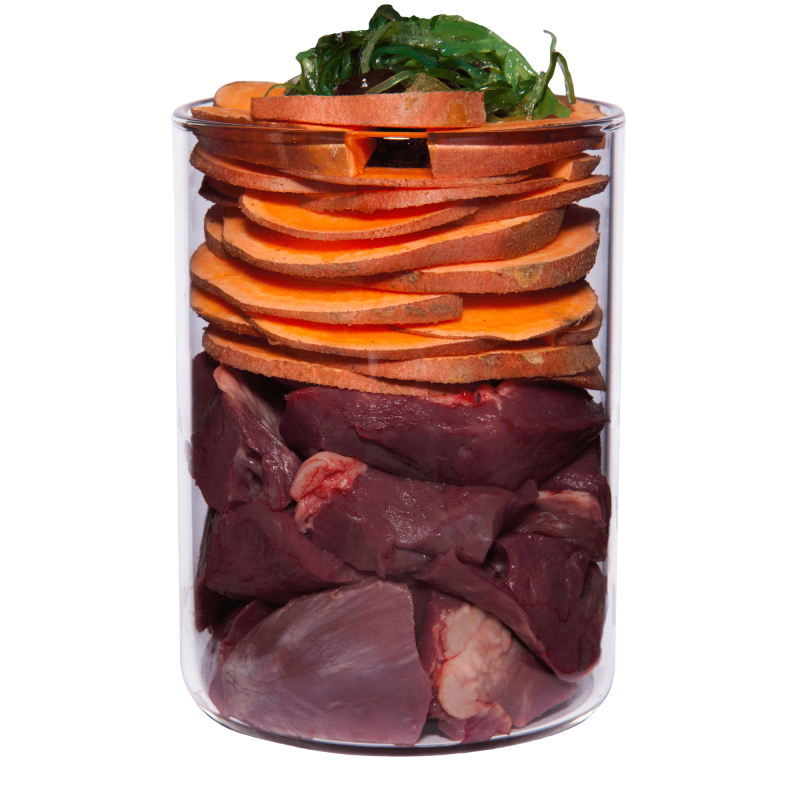 Composition
Water buffalo muscle meat (60%), sweet potato (36%), linseed oil, rapeseed oil, seaweed, magnesium
Ratio:
Meat : vegetables : other ingredients = 60% : 36% : 4%
Terra Canis HYPOALLERGENIC
The Terra Canis HYPOALLERGENIC menus are comprised of pure muscle and heart meat (60%) from a single, exotic or otherwise unusual source of protein. This meat is supplemented by only one low-allergen vegetable. Linseed oil supplies high-quality Omega-3 fatty acids and is also known for supporting the gastrointestinal tract as well as the skin and fur. A balanced mix of vitamins and minerals provides the nutrient supply for this low-allergen diet that is reduced to a few ingredients. Terra Canis HYPOALLERGENIC is suitable for dogs with allergies and sensitive digestions and for implementing an exclusion diet. This product line was developed in cooperation with Dr Bucksch, animal dermatologist and veterinarian specialist for small animals.
Terra Canis HYPOALLERGENIC was able to prove in a scientific study* that there is no contamination of a foreign DNA. In the renowned magazine 'Veterinary Dermatology' a study* was released by international veterinarians. The variety Terra Canis hypoallergenic horse was examined. Terra Canis hypoallergenic was the only wet food which was untainted and without any contamination of one of the five tested foreign DNA. The results from this study show that 9 out of 12 products by renowned producers contained DNA of one or more of the five tested animal species which were not declared. The DNA of beef (8 products) and pork (6 products) was most frequently detected.
*"Detection of DNA from undeclared animal species in commercial elimination diets for dogs using PCR" (Horvath-Ungerboeck, Widmann, Handl; Veterinary Dermatology 2017; 28:373-e86)
Why are these menus more expensive?
In addition to the exclusive use of muscle and heart meat and the 100% human-grade quality of all ingredients, the extremely high market price for ostrich, buffalo, camel and kangaroo meat makes this product somewhat more expensive.This meat can cost 3-4 times as much as beef, turkey, or chicken meat. It must be imported as frozen goods from Australia and South Africa.
- Developed in cooperation with Dr Bucksch, veterinarian specialist for small animals / animal dermatologist
- Processing exclusively muscle and heart meat from a low-allergen protein source and a single vegetable variety (sweet potato, Jerusalem artichoke or parsnip)
- Addition of linseed oil
- Contains no grains and no lactose
- Addition of human-grade vitamins, minerals, and trace elements according to individual calculation by Dr Bucksch
Complete food for dogs.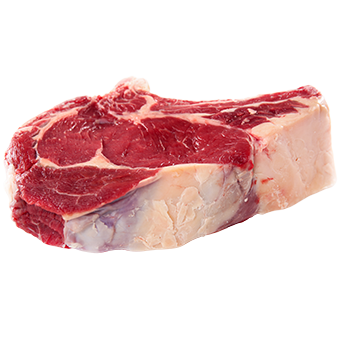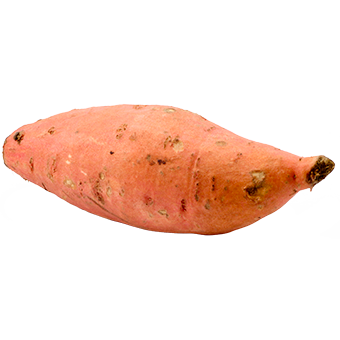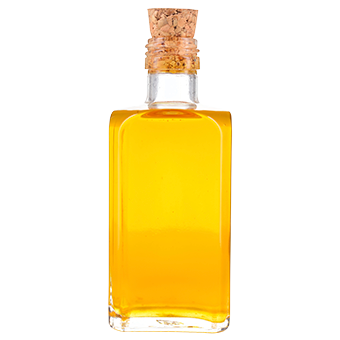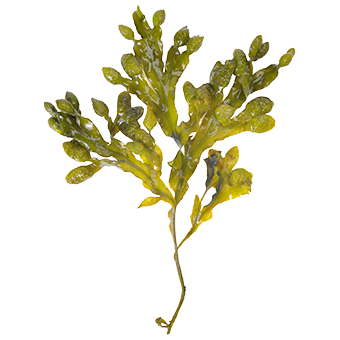 Analytical components
Protein: 9.2 % fat content: 2.1 % crude fibre: 0.8 % crude ash: 1.7 % moisture: 78.7 %
MJ/kg: 3.2
Nutritional additives/kg:
Vit A (3a672a): 3000 IE
Vit D (3a671): 375 IE
Vit E (3a700): 42 IE
Vit B1 (thiamine mononitrate): 2.5 mg
Vit B2 (riboflavin): 5 mg
Vit B 12 (cyanocobalamin): 31 µg
Biotin (3a880): 4.4 µg
Pantothenic acid (3a841): 14 mg
Folic acid (3a316): 0.08 mg
Copper (3b405): 3.75 mg
Manganese (E5): 2.5 mg
Iodine (3b201): 0.75 mg
Zinc (3b603): 37.5 mg
Selenium (3b801): 0.075 mg
Calcium (E341): 2380 mg
Phosphorus (E341): 250 mg
Chloride (sodium chloride): 200 mg
Sodium (sodium chloride): 130 mg
Feeding recommendation
Dog's weight - Feeding recommendation/day:
(Adult, normal-weight dog)

5kg 150 - 200g
10kg 300 - 400g
20kg 600 - 800g
30kg 900 - 1200g

Approximate values to be adjusted to your dog's individual circumstances (exercise area, activity level, breed, metabolism, time of year).
We recommend regular weight checks.
Our promise of quality
With their unique concept 'Dog nutrition in 100% human-grade quality of all ingredients, Terra Canis set completely new quality standards in the pet food industry 16 years ago. Thanks to a special permit from the government of Upper Bavaria, pet food was able to be produced for the first time in a genuine human-grade quality company, the traditional Munich butcher's shop Schäbitz. This was made possible by the fact that, right from the very start, only ingredients were used which, thanks to their freshness and highest quality, were officially approved for human food products at the time of processing. This uncompromising quality and the associated delicious, appetising smell set Terra Canis menus still today apart from all other products on the market.
Due to the constantly increasing demand, the butcher's shop in the heart of Munich has reached its capacity limits. As quality is of the highest priority for Terra Canis, the menus will now be produced in their own new facility just outside Munich. Manufacturing the products within "the own four walls" enables maximum control over the quality of all ingredients and production processes. In addition, both master butchers from Schäbitz butcher's in Munich and their entire team have been brought over, bringing with them decades of experience and expertise in the butcher's trade.
All the ingredients used, the production site and the hygiene concept are still subject to 100% human-grade standards. Terra Canis customers can therefore continue to rely on the human-grade quality of the ingredients in all products.
Introducing our master butchers
Reviews
Super Produkt für Hunde mit vielen Unverträglichkeiten
Super Verträglichkeit. Ich bin überzeugt.
Ich bin zufällig über diese Sorte gestolpert und einfach nur begeistert. Meine Hündin ist nicht nur "ein bisschen" allergisch sondern nimmt alles mit was geht. Neben Getreide (Futtermilbenallergie), kann sie viele gängige Kohlenhydrate und Gemüse nicht fressen. Sie reagiert aufgrund von Pollen-Kreuzallergien auf dermaßen viel (u.a. Kartoffeln, Karotte, Pastinake, Kürbis, Zucchini u.s.w.), das es bis dato sehr schwierig war, ein Fertigmenü zu finden. Sie verträgt auch nur wenige Ölsorten. Von hypoallergenen Sorten anderer Hersteller, die sie eigentlich laut Deklaration vertragen müsste (Süßkartoffeln sind kein Problem), hat sie Durchfall bekommen. Warum, weiß ich nicht. Diese Terra Canis-Sorte mit Wasserbüffel und Süßkartoffel verträgt sie perfekt. Selbst das aufstoßen, das sie bei meinen selbstgekochten Mahlzeiten (Pferd+Süßkartoffel) immer wieder hat , ist mit dieser Sorte komplett verschwunden. Und das hat bei meiner Hündin wirklich etwas zu heißen. Das erste Fertigfutter seit zwei Jahren (!!!) das vertragen wird. Vielen Dank an Terra Canis. Ich hoffe die Sorte bleibt noch lange im Programm.