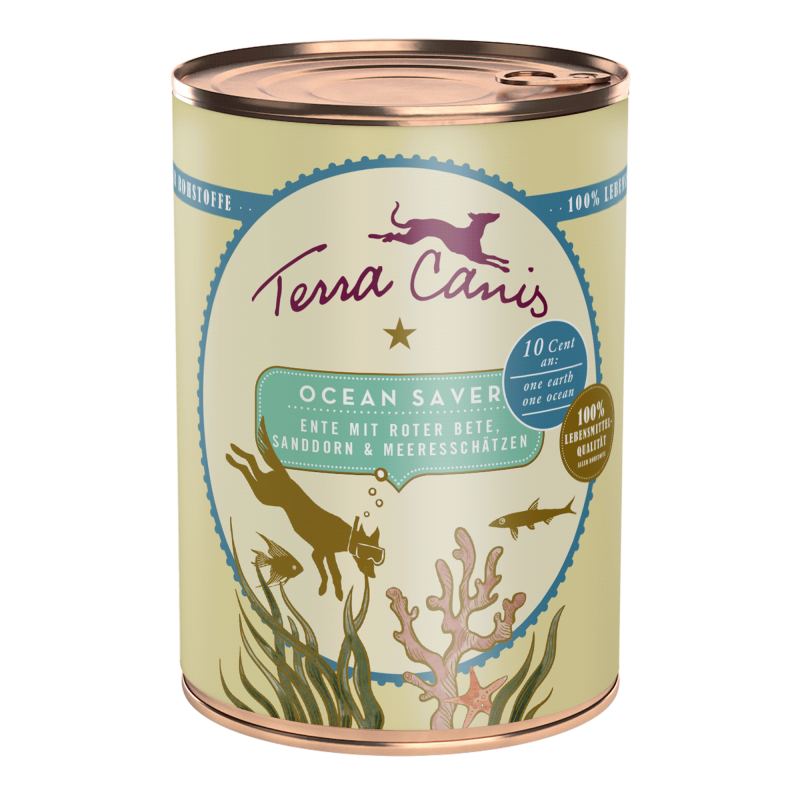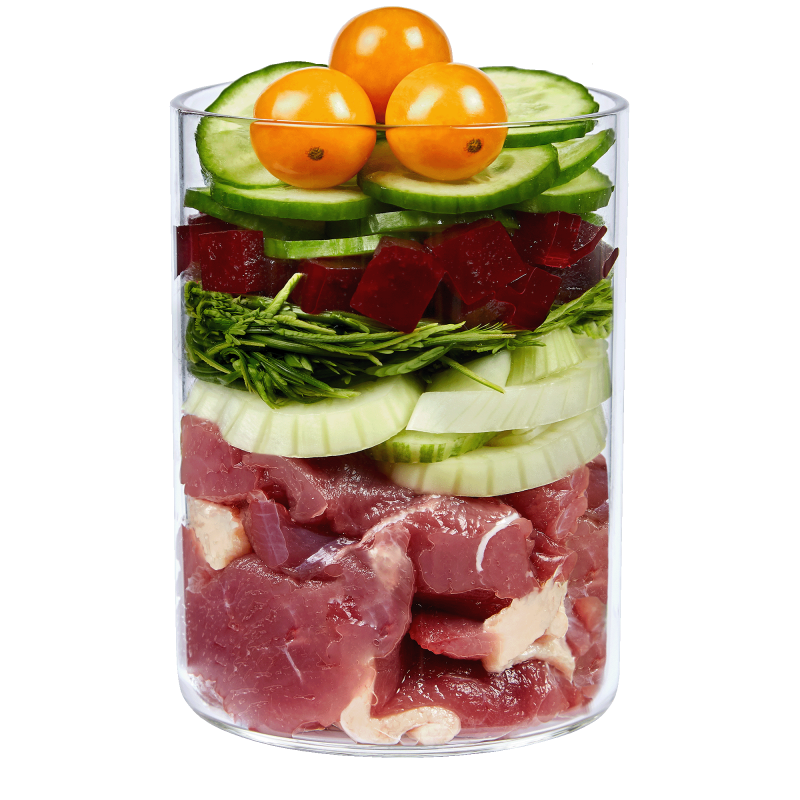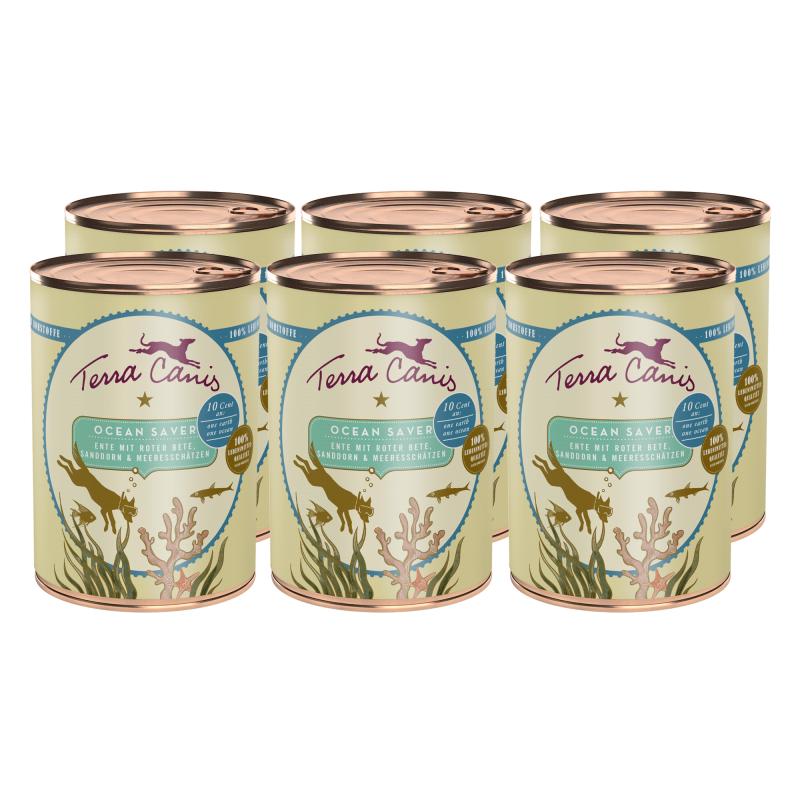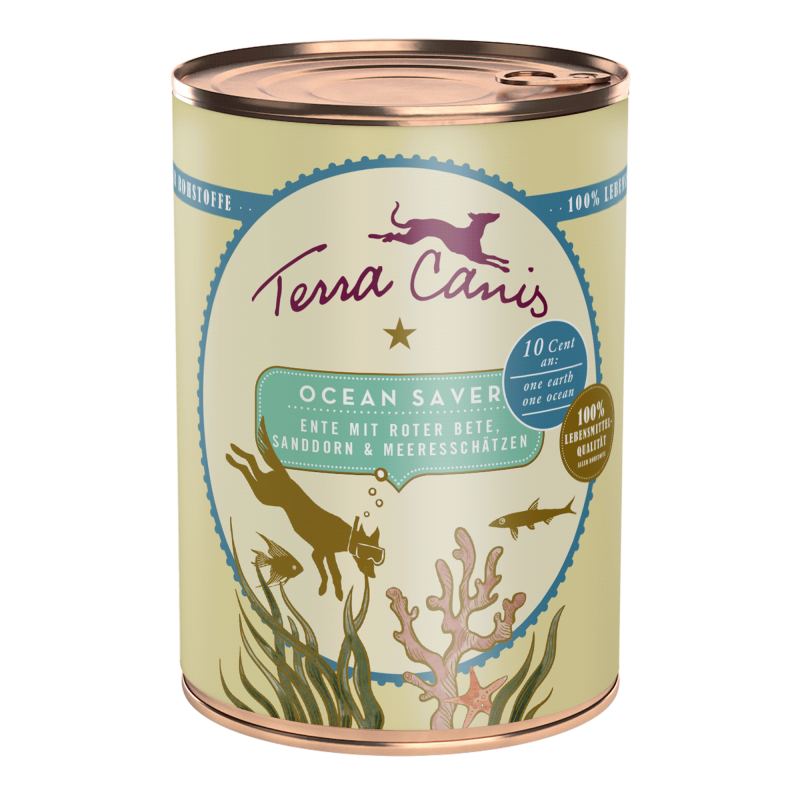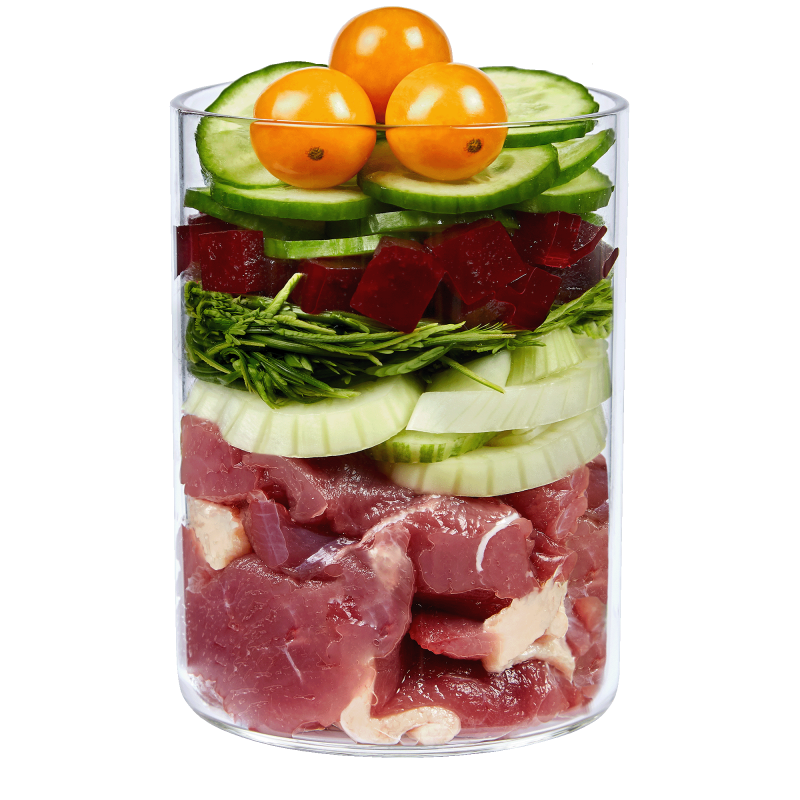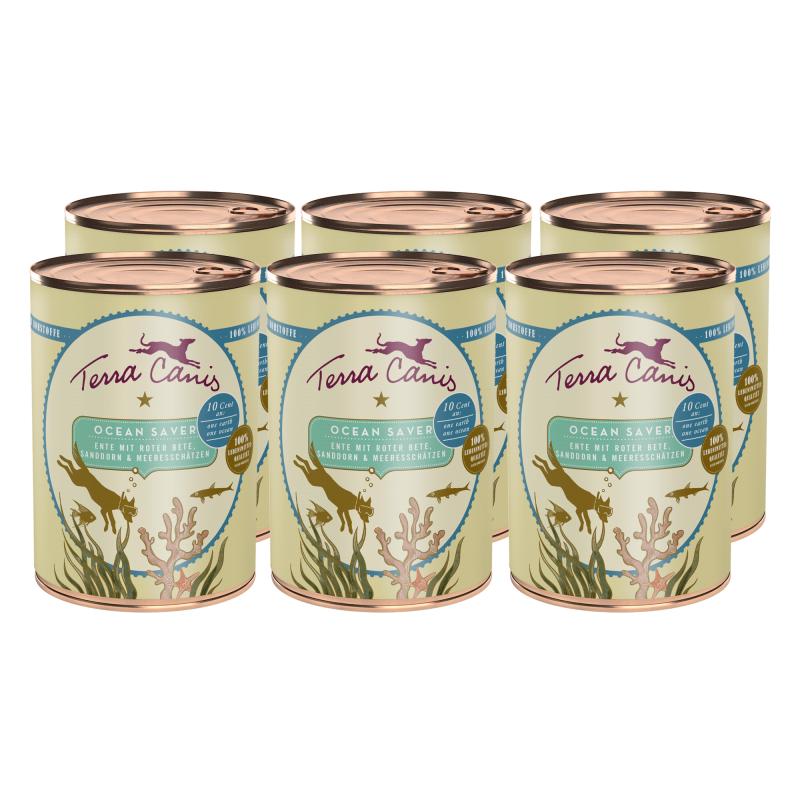 Save the Planet

Ocean Saver – Duck with beetroot, sea buckthorn and treasures of the sea
100% Human-grade quality of all ingredients
Environmental protection in your dog's bowl
Let your dog do their bit for the environment
10 cents go to One Earth One Ocean
Many healthy ingredients from the sea
Suitable for all adult normal-weight dogs of all breeds
100% natural
Grain & gluten-free
Without unnecessary additives
Developed with veterinarians
100% human-grade quality of all ingredients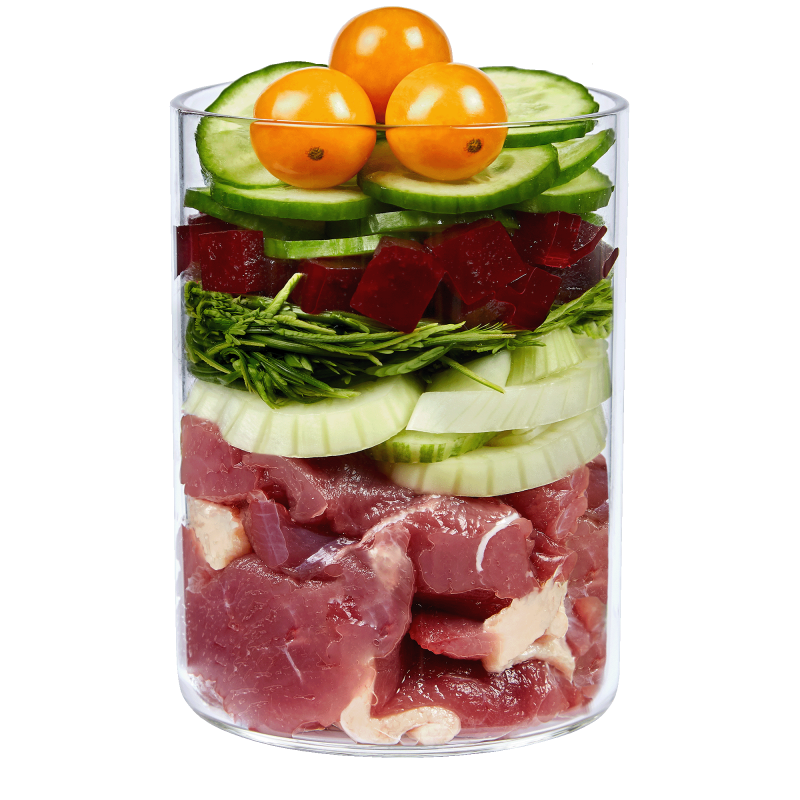 Composition
Duck heart (50%), carrot, potato (11%), duck liver (7%), cucumber, apple, beetroot (3.5%), melon, strawberry, coconut flour, cod liver oil (0.4%), seaweed* (0.4%), oyster shell* (0.3%), sea buckthorn* (0.2%), wild rose* (0.2%), fennel*, lavender*, lovage*, sage*, Sango coral* (0.1%), sea salt (0.1%), mineral clay* *dried
Ratio:
Meat : potato : vegetables/fruit/herbs : other raw ingredients = 57% : 11% : 29% : 3%
Terra Canis SAVE THE PLANET
With its 'Save the planet' range of menus, Terra Canis makes a statement in the cause of environmental protection, as dogs are also potential eco-warriors. Each 'Save the planet' menu sold will support specific environmental projects relating to sustainable energy, clean seas and the reforestation of forests on a long-term basis. For each tin purchased, an amount of money is donated to the respective project. The idea behind the menus is to actively involve our dogs in environmental protection while ensuring that they benefit from appropriate, healthy and natural nutrition. The menus are based on ingredients that are characteristic of the project concerned and that offer myriad health benefits for your dog. All 'Save the planet' menus are easily digestible, well tolerated and offer a suitable composition with ingredients in exclusively 100% human-grade quality. Thanks to our 'Save the planet' menus, environmental protection starts in the bowl and can make a positive difference.
OCEAN SAVER – One Earth One Ocean
10 cents per tin to One Earth One Ocean
Seas of plastic, oil disasters, overfishing and ghost nets – our oceans are having to deal with a variety of increasingly serious environmental challenges. In order to survive, they need all the support they can get.
The project: One Earth One Ocean
With the Terra Canis Ocean Saver menu, 10 cents a tin goes to the environmental project One Earth - One Ocean (OEOO). Since 2011, this non-profit organisation from Munich and Kiel has been pursuing the goal of cleaning up not only plastic waste in water bodies worldwide, but also pollution caused by oil and chemicals. The multi-stage "Maritime Waste Collection" concept for the removal of coastal marine pollution caused by plastic waste envisages collecting the plastic from waters around the world with a fleet of special waste collection ships and then recycling it or converting it back into oil. "One Earth - One Ocean" projects to remove plastic waste from waters are currently underway in Cambodia, Brazil, Indonesia and Egypt (2020). Special waste collection ships called SeeHamster and SeeKuh are used for this purpose. Another SeeKuh will start operation in mid-2020. In addition, the association is engaged nationally and internationally in the research of microplastics as well as in educational work, awareness raising and documentation on the subject of marine littering. As early as 2013, OEOO was awarded the renowned GreenTec Award, Europe's largest environmental and economic prize, for its concept of maritime waste collection. In 2019, the association was awarded the federal ecodesign prize by the Federal Ministry for the Environment for its new waste recycling ship concept SeeElefant (planned for 2021).
Ocean Saver: DUCK WITH BEETROOT, SEA BUCKTHORN & TREASURES OF THE SEA
The Ocean menu offers many great, healthy ingredients from the coast and sea – without resorting to overfished fish or endangered marine plants. Because a healthy sea and an intact coastline can offer many healthy treasures, including for the dog. In the Ocean Saver menu, juicy duck meat meets energy-rich millet, vitamin-rich beetroot and vital substances from the sea (Sango coral, seaweed, sea salt). Coconut flour and fennel not only help preserve the right balance of gastrointestinal flora, but are also a great source of valuable nutrients and fibre. Sea buckthorn provides a high amount of vitamin C for a strong immune system that can withstand even strong sea breezes, while cod liver oil provides power, valuable fatty acids and additional vitamins. Aromatic herbs such as lovage, lavender and sage as well as natural additives round off the healthy coastal menu.
Complete food for dogs.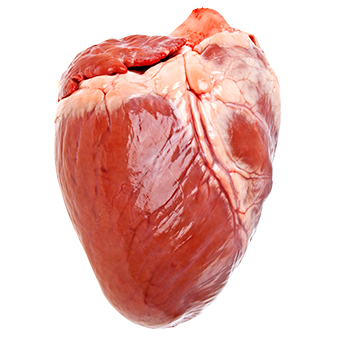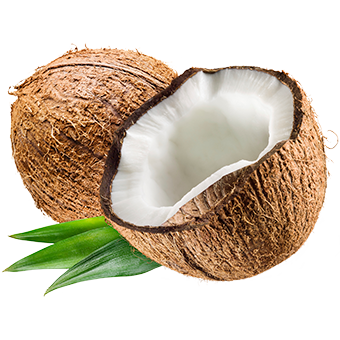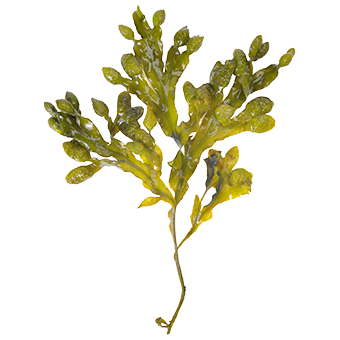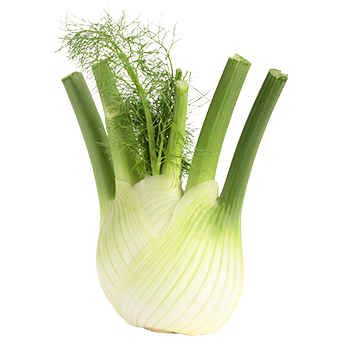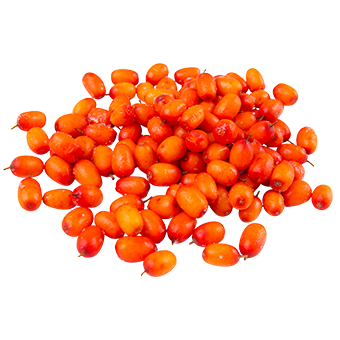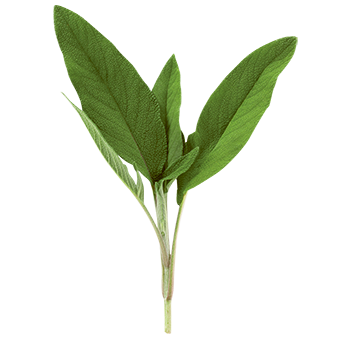 Analytical components
Protein: 8 % fat content: 4.7 % crude fibre: 0.3 % crude ash: 1.5 % moisture: 81.5 %
MJ/kg: 3.4
Nutritional additives/kg:
Vit. D3 (3a671): 350 IE, vit. E (3a700): 75 IE, copper (3b405): 1,5 mg, iodine (3b201): 0.8 mg, zinc (3b603): 40 mg
Feeding recommendation
Adult, normal-weight dog
(Dog's weight - Feeding recommendation/day)

| | |
| --- | --- |
| 5kg | 300 - 400g |
| 10kg | 500 - 600g |
| 20kg | 800 - 1000g |
| 30kg | 1100 - 1400g |
Approximate values to be adjusted to your dog's individual circumstances (exercise area, activity level, breed, metabolism, time of year).
We recommend regular weight checks.
Our promise of quality
With their unique concept 'Dog nutrition in 100% human-grade quality of all ingredients, Terra Canis set completely new quality standards in the pet food industry 16 years ago. Thanks to a special permit from the government of Upper Bavaria, pet food was able to be produced for the first time in a genuine human-grade quality company, the traditional Munich butcher's shop Schäbitz. This was made possible by the fact that, right from the very start, only ingredients were used which, thanks to their freshness and highest quality, were officially approved for human food products at the time of processing. This uncompromising quality and the associated delicious, appetising smell set Terra Canis menus still today apart from all other products on the market.
Due to the constantly increasing demand, the butcher's shop in the heart of Munich has reached its capacity limits. As quality is of the highest priority for Terra Canis, the menus will now be produced in their own new facility just outside Munich. Manufacturing the products within "the own four walls" enables maximum control over the quality of all ingredients and production processes. In addition, both master butchers from Schäbitz butcher's in Munich and their entire team have been brought over, bringing with them decades of experience and expertise in the butcher's trade.
All the ingredients used, the production site and the hygiene concept are still subject to 100% human-grade standards. Terra Canis customers can therefore continue to rely on the human-grade quality of the ingredients in all products.
Introducing our master butchers