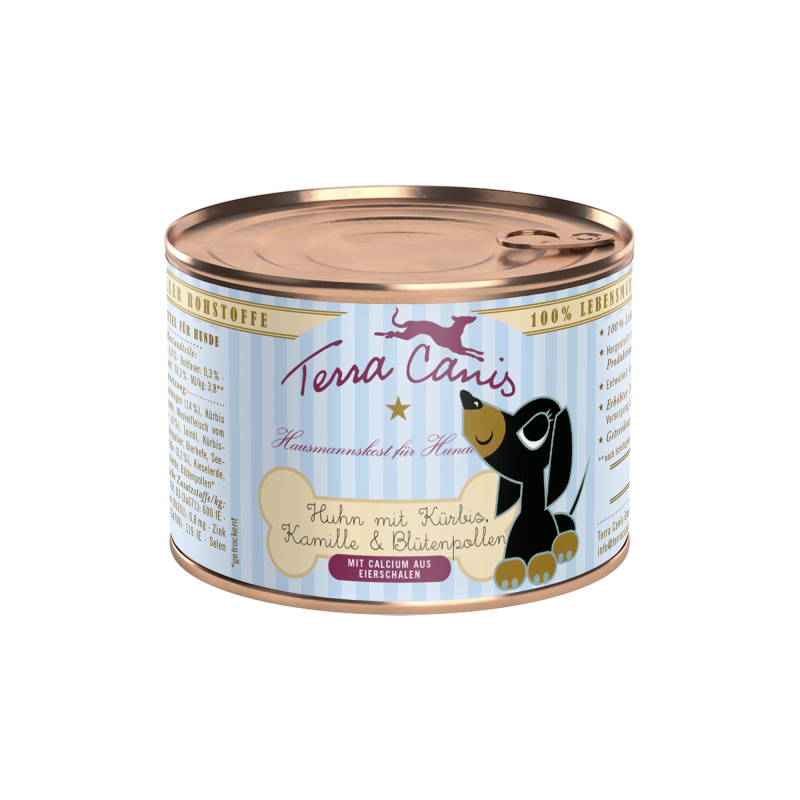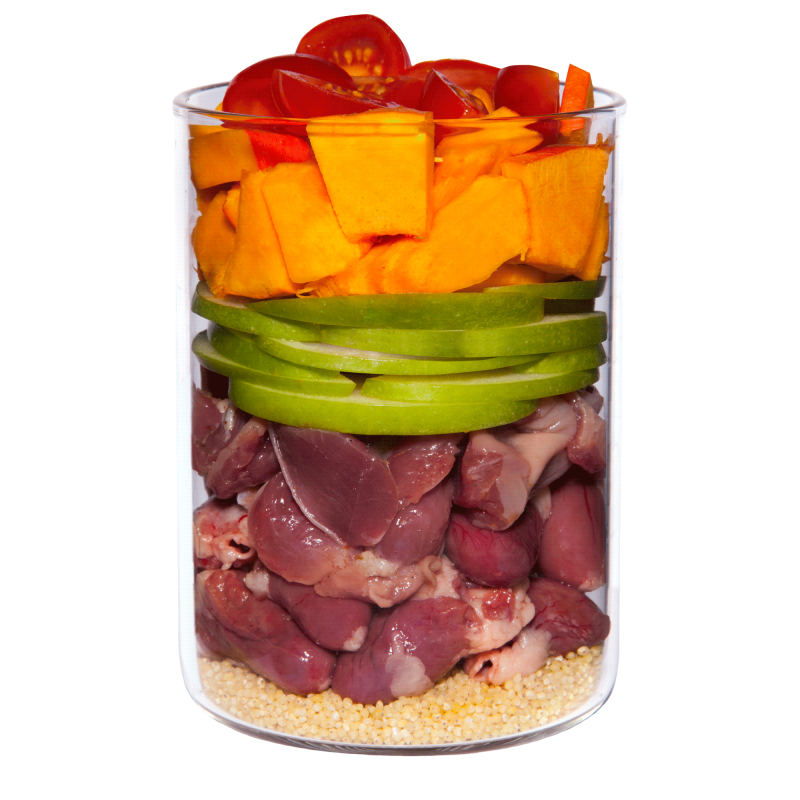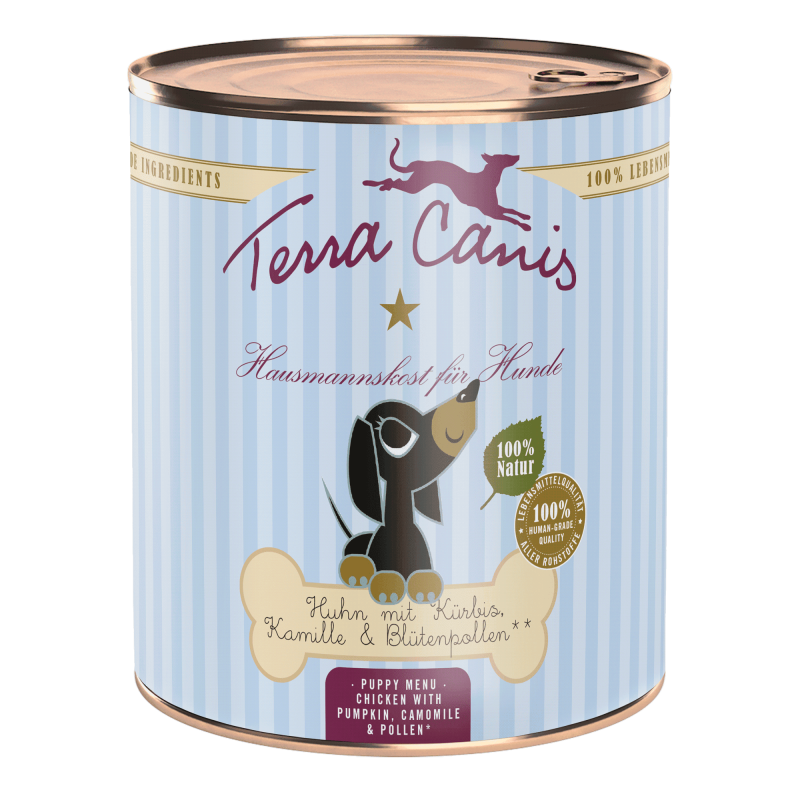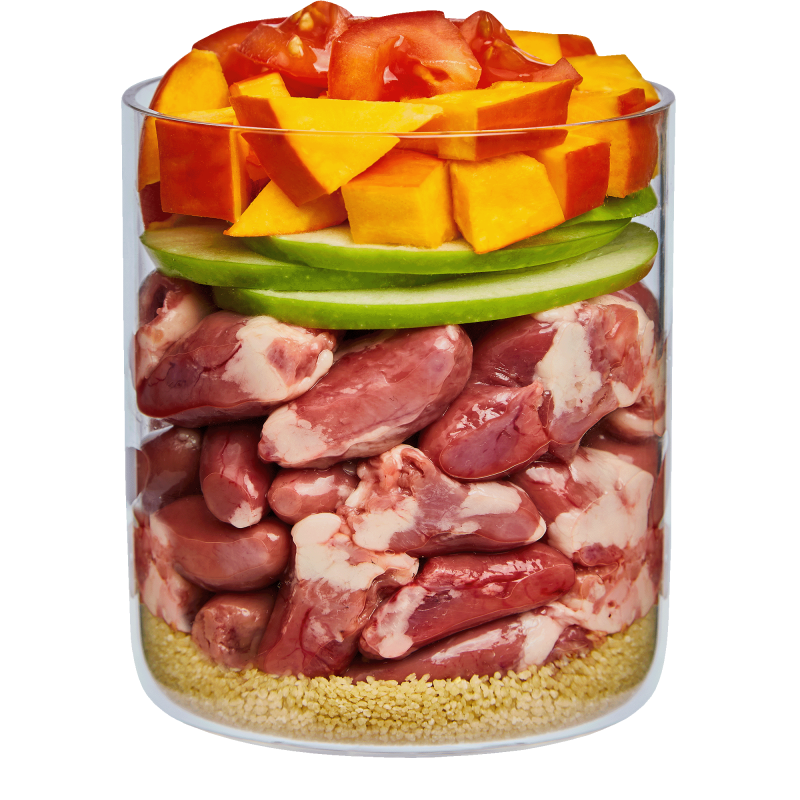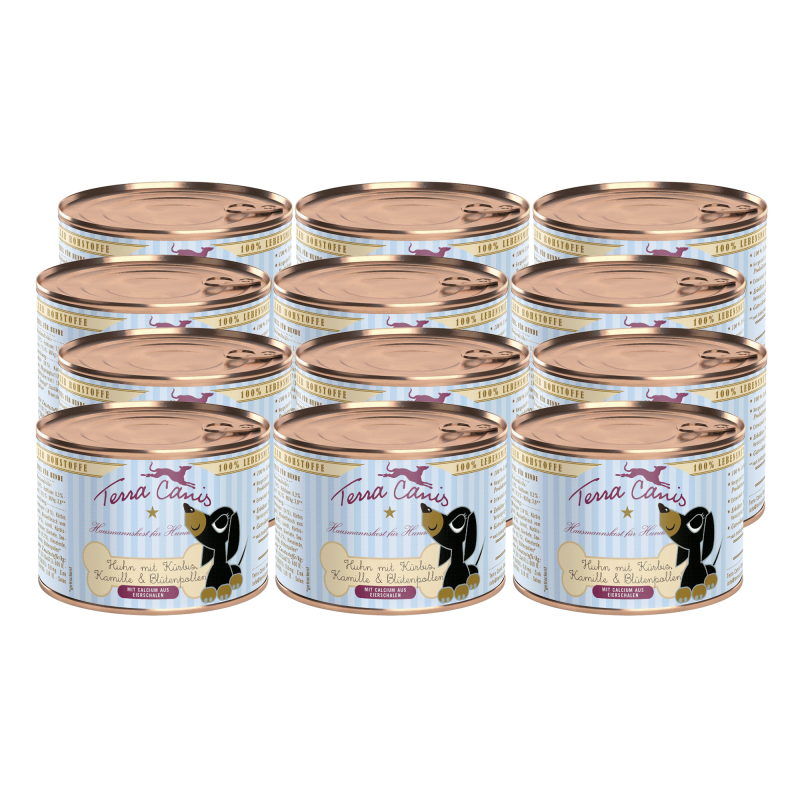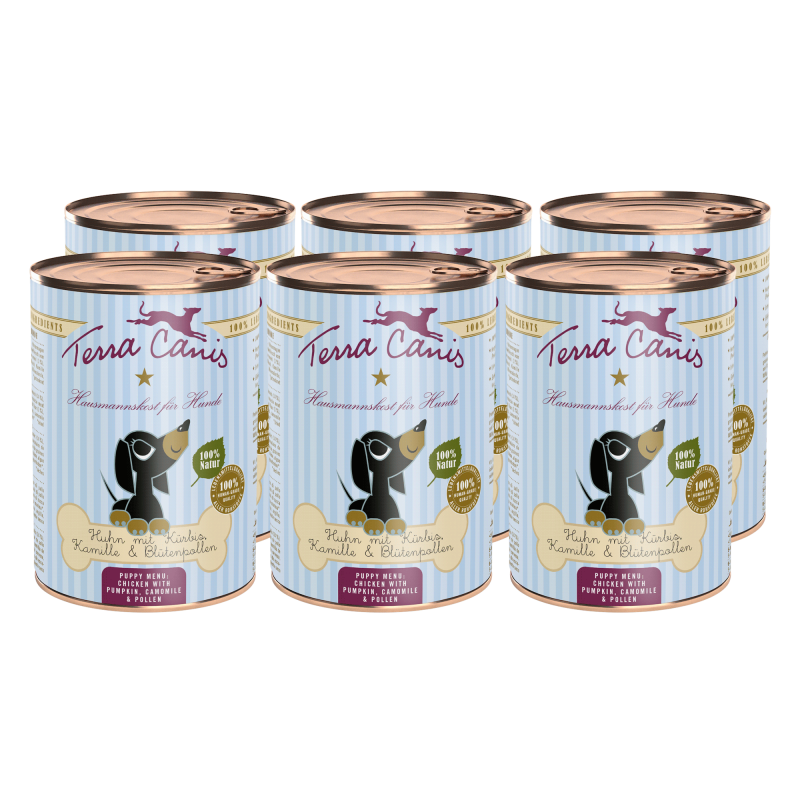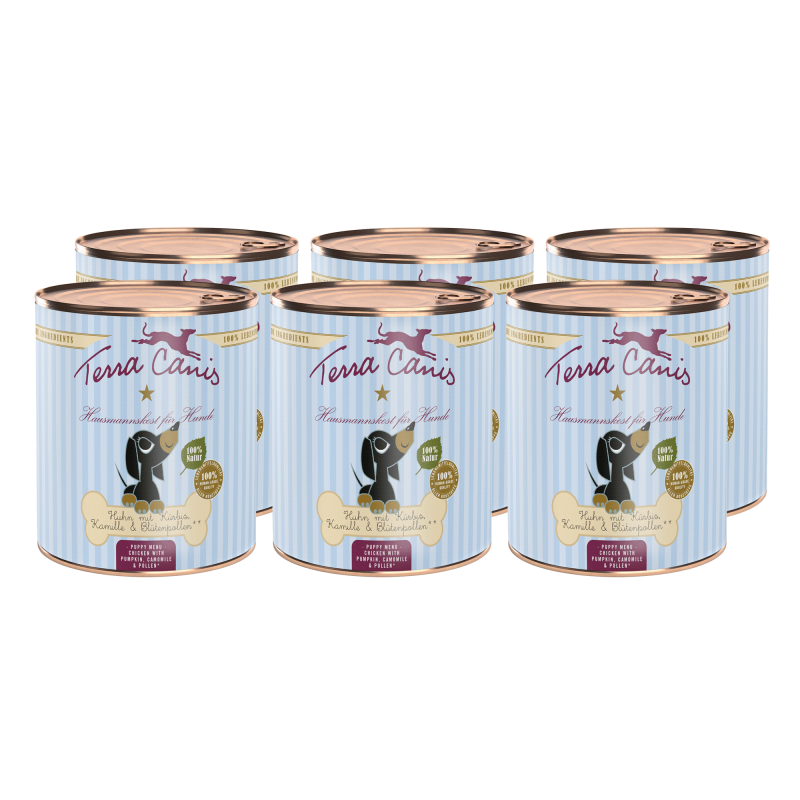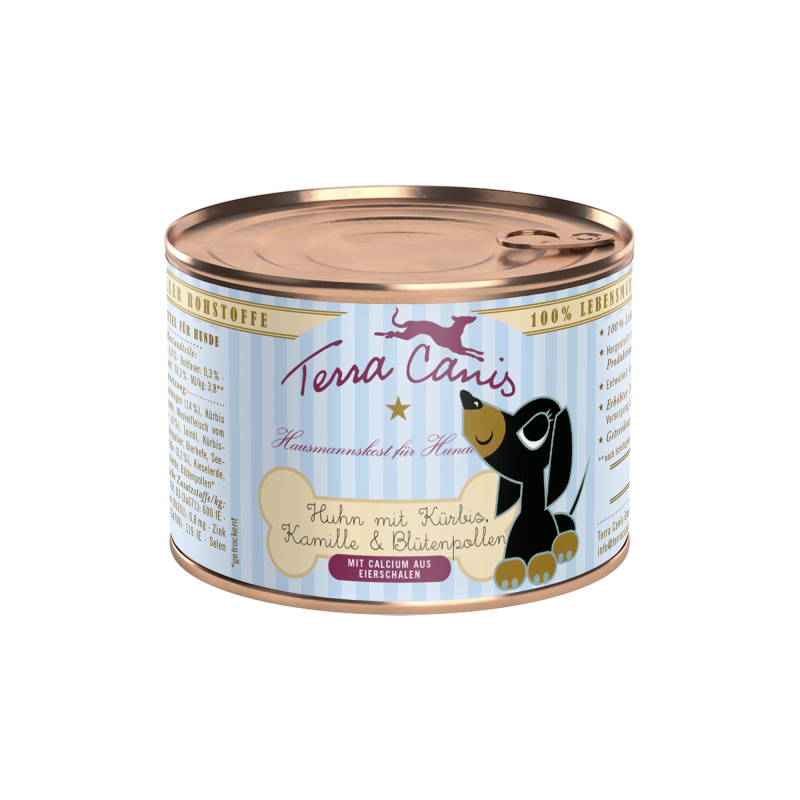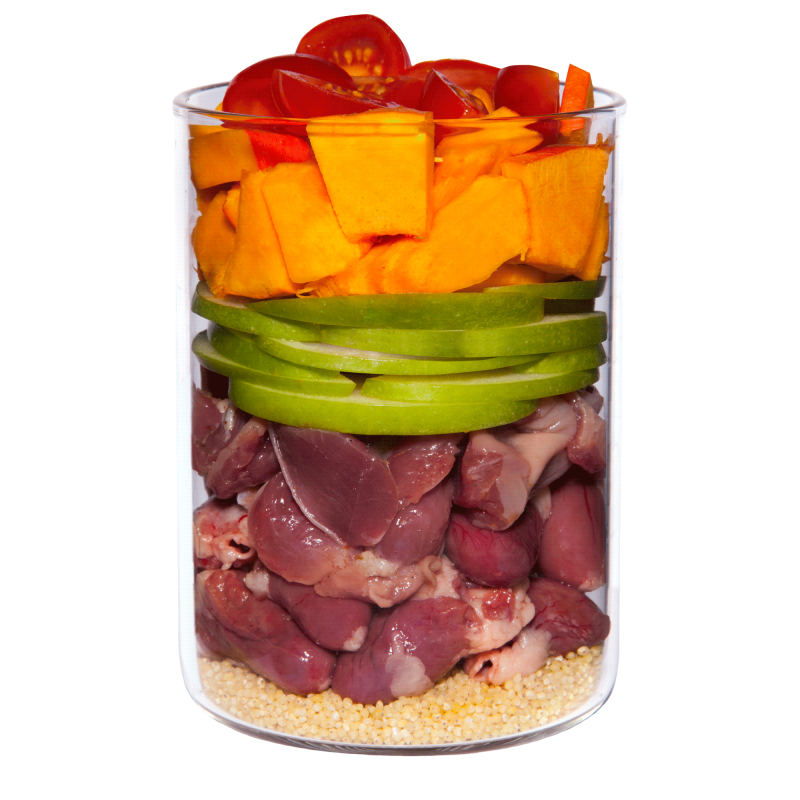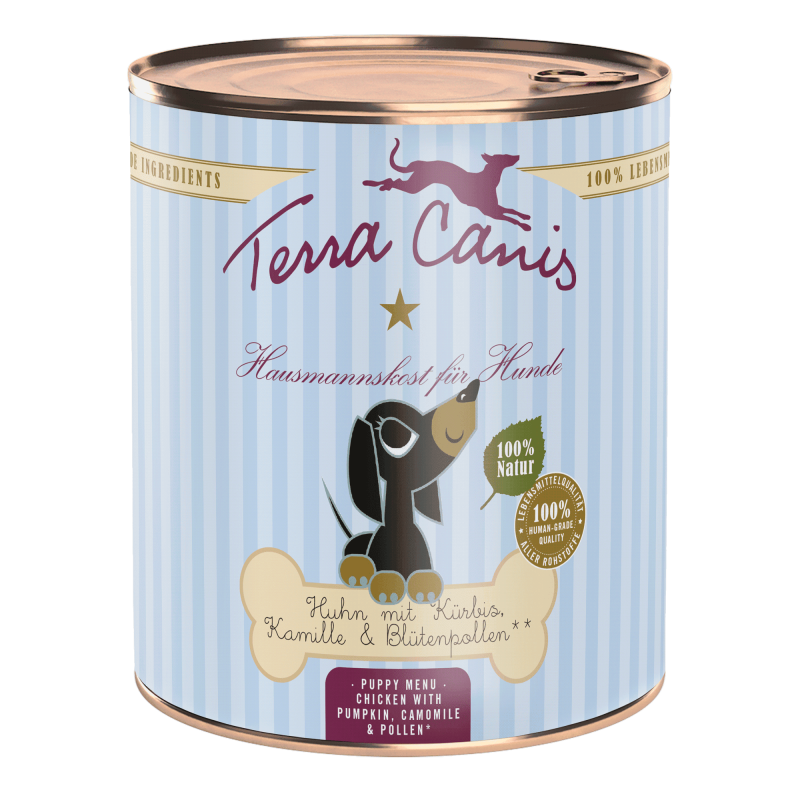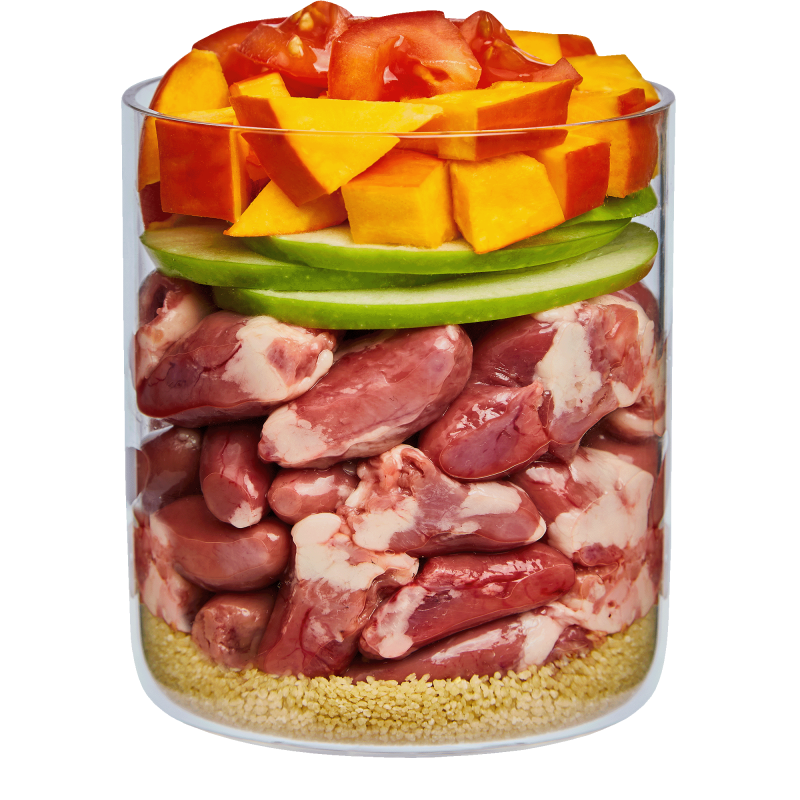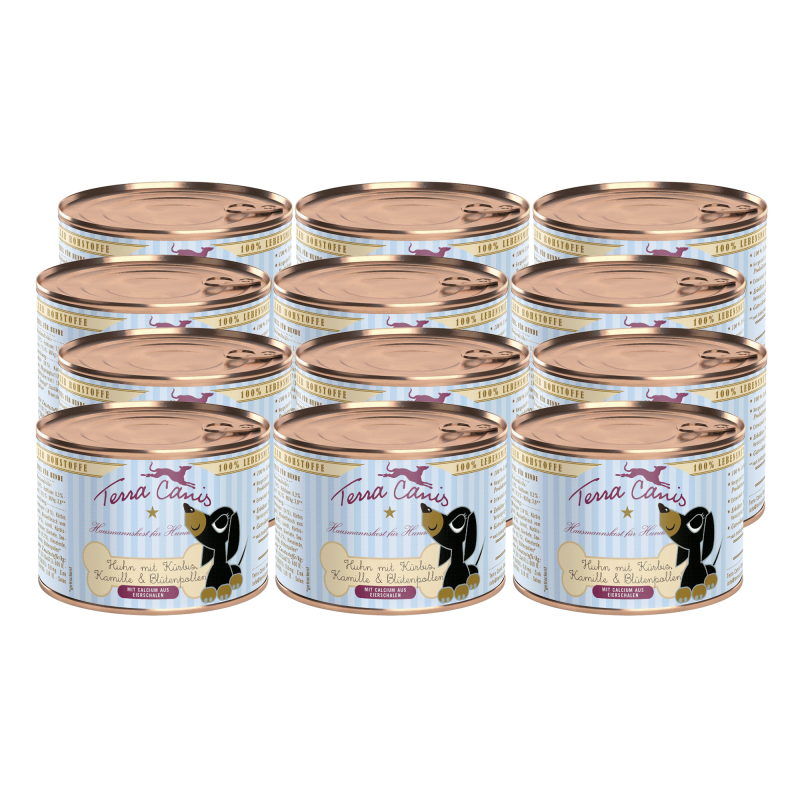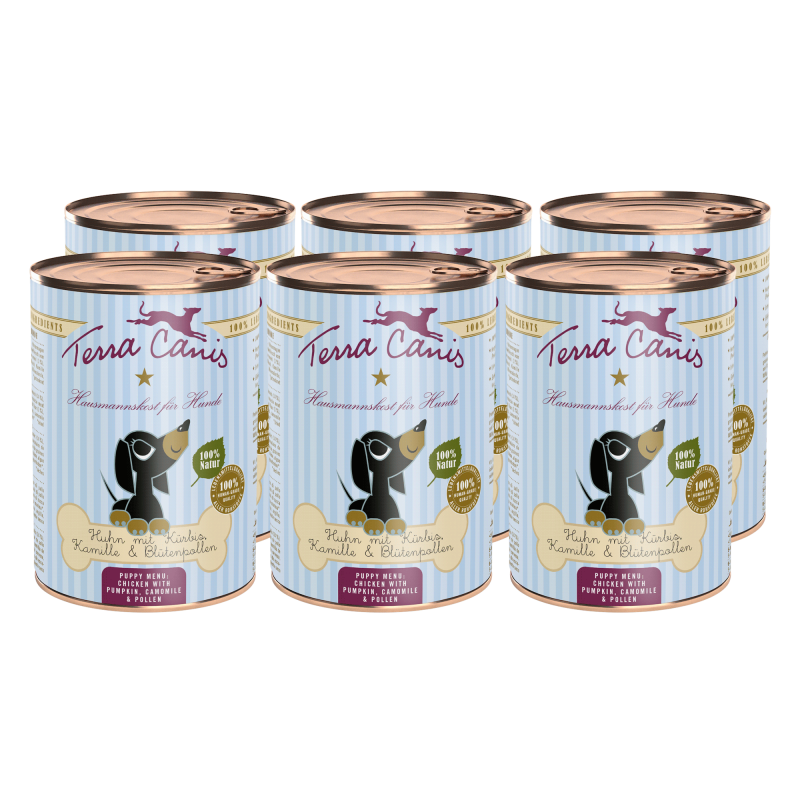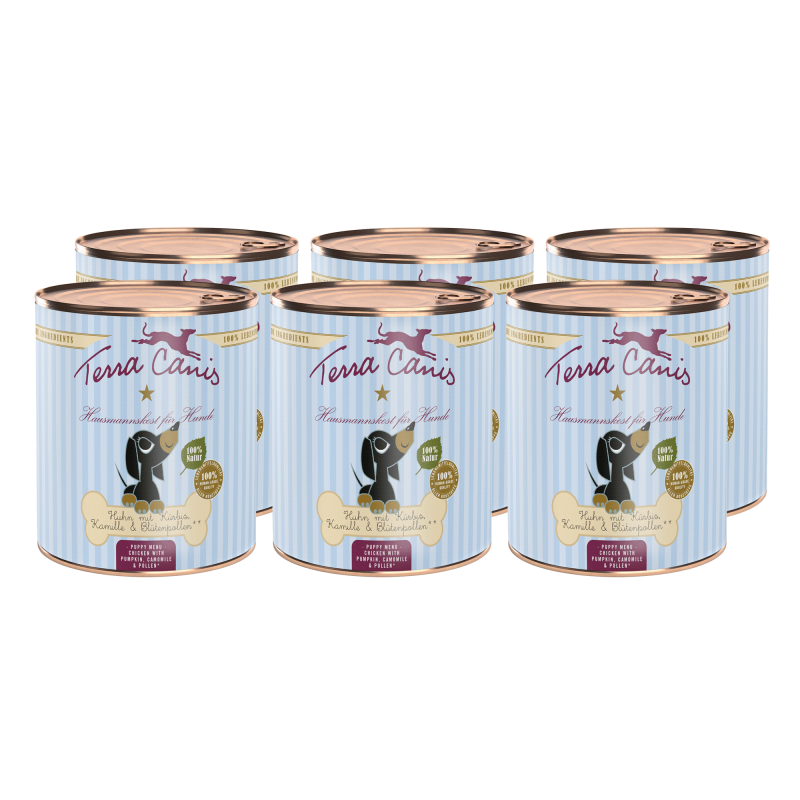 Puppy

Chicken with pumpkin, camomile and pollen
Perfekte Nahrung für ihre Welpen.

100% Human-grade quality of all ingredients
Made with much love and care
High meat content
Optimum calcium–phosphorous balance
Rich in fresh fruit, vegetables and herbs
Siliceous earth to support healthy joints and tendons
With calcium from eggshells
Without unnecessary additives
Gluten-free
Developed with veterinarians
100% natural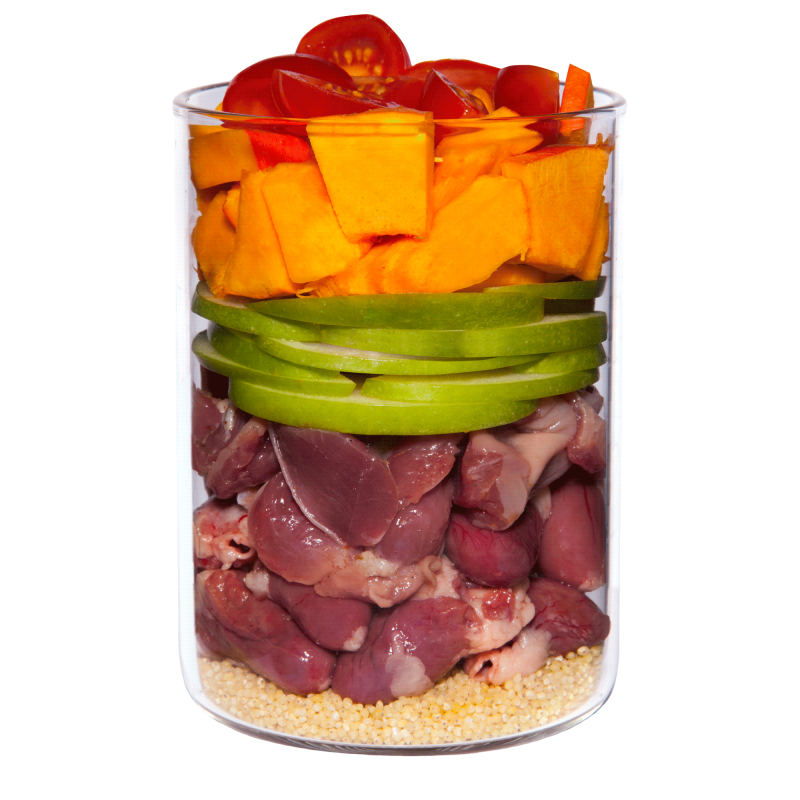 Composition
Chicken heart (34%), chicken stomach (14 %), pumpkin (14%), millet, apple, tomato, chicken muscle meat (6 %), chicken liver (4 %), linseed oil, pumpkin seed flour (1%), eggshell powder, brewer's yeast, seaweed*, chives, camomile (0.2%), diatomaceous earth, rose hip powder*, mineral clay, pollen* *dried
Ratio:
Meat : vegetables/fruit/herbs : other raw ingredients = 58% : 7% : 32% : 3%
Terra Canis PUPPY
The foundation for a healthy life is laid in the first few months. During this period, the organism easily develops growth disorders and intolerances. It is therefore important to provide near-natural species-appropriate nutrition right from the start. Our PUPPY menus comprise lots of fresh muscle meat, healthy vegetables, fruit and herbs as well as numerous natural added nutrients (mineral clay, seaweed, brewer's yeast, pollen, rose hip, eggshell powder). An increased amount of eggshell supplies sufficient calcium in the growth phase. The silica it contains is known for its supportive effect on growing joints and tendons and helps the body store natural calcium in the bones. The proportion of gluten-free pseudo-grains is low at max. 5%, meaning that the short intestinal tract is not overburdened. The PUPPY menus are suitable for puppies and young dogs up to one year old.
Feeding pregnant and lactating dogs
A dog's pregnancy lasts about 65 days. During the first half of this period, special attention must be paid to high-quality feeding. Our products in the Classic and Grain-Free lines are suitable for this purpose.
From the second half of pregnancy, the dog's need for energy increases. For this reason, we recommend feeding puppy food from this time until the puppies are weaned (Feed recommendation: quantity fed for our Classic line plus 1/3 to 1/2).
Complete food for dogs.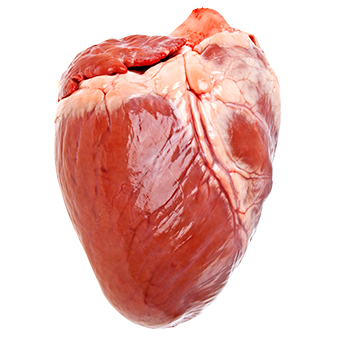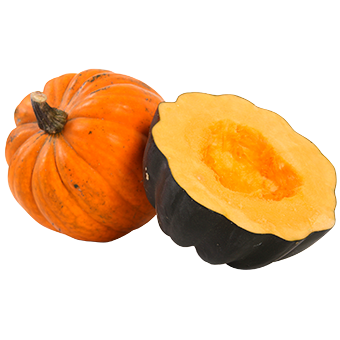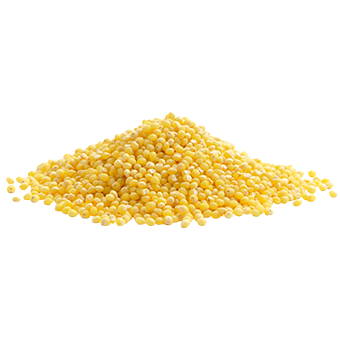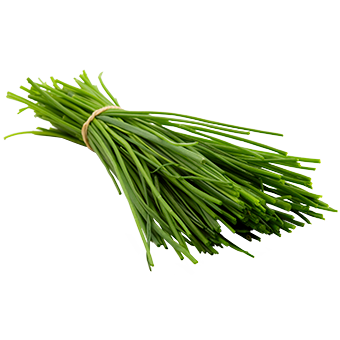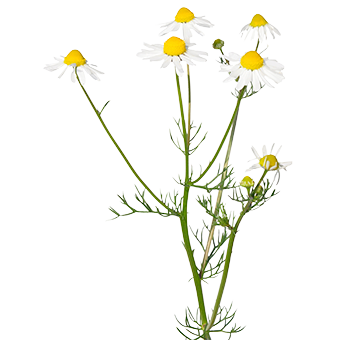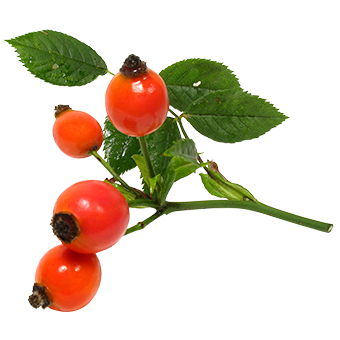 Analytical components
Protein: 8.7 % fat content: 4.4 % crude fibre: 0.3 % crude ash: 2 % moisture: 78.3 %
MJ/kg: 3.8**
Nutritional additives/kg:
Vit. A (3a672a): 3000 IE, vit. D3 (3a671): 600 IE, copper (3b405): 5 mg, iodine (3b201): 0.8 mg, zinc (3b603): 80 mg, vit. E (3a700): 119 IE, selenium (3b801): 0.1 mg
** as per estimating equation exhibit 4/2 German feed regulation – last update 08/2018
Feeding recommendation
Puppy/growing young dog
(Dog's age - Feeding recommendation/day)
| | |
| --- | --- |
| < 5 months | 100g/kg body mass |
| 5 - 9 months | 80g/kg body mass |
| 9 - 12 months | 60g/kg body mass |
Feeding recommendation for a pregnant or lactating dog/day:
| | |
| --- | --- |
| 5kg | 200 - 400g |
| 10kg | 400 - 800g |
| 20kg | 800 - 1200g |
| 30kg | 1200 - 1800g |
Approximate values to be adjusted to your dog's individual circumstances (exercise area, activity level, breed, metabolism, time of year).
We recommend regular weight checks and a growth curve from the vet.
Our promise of quality
With their unique concept 'Dog nutrition in 100% human-grade quality of all ingredients, Terra Canis set completely new quality standards in the pet food industry 16 years ago. Thanks to a special permit from the government of Upper Bavaria, pet food was able to be produced for the first time in a genuine human-grade quality company, the traditional Munich butcher's shop Schäbitz. This was made possible by the fact that, right from the very start, only ingredients were used which, thanks to their freshness and highest quality, were officially approved for human food products at the time of processing. This uncompromising quality and the associated delicious, appetising smell set Terra Canis menus still today apart from all other products on the market.
Due to the constantly increasing demand, the butcher's shop in the heart of Munich has reached its capacity limits. As quality is of the highest priority for Terra Canis, the menus will now be produced in their own new facility just outside Munich. Manufacturing the products within "the own four walls" enables maximum control over the quality of all ingredients and production processes. In addition, both master butchers from Schäbitz butcher's in Munich and their entire team have been brought over, bringing with them decades of experience and expertise in the butcher's trade.
All the ingredients used, the production site and the hygiene concept are still subject to 100% human-grade standards. Terra Canis customers can therefore continue to rely on the human-grade quality of the ingredients in all products.
Introducing our master butchers
Reviews
Das Perfekte Allround Welpen-Futter, einfach alle Inhaltstoffe passen. Alles was der Welpe die ersten 12 Monate benötigt! Pluto schmeckt Huhn mit Kürbis am besten. :)
Max liebt das Huhn. Allgemein möchte ich was sagen: das ist das erste Futter was nicht riecht wie das übliche Hundefutter, deswegen auch der Hund nicht riecht und sein grosses Geschäft nicht riecht. Aber das ist nur eine Nebenerscheinung abgesehen davon, dass dieses Futter einfach der Wahnsinn ist ! Danke an die beiden Damen die das produzieren !
Mein Welpe liebt es. Schmackhafter Geruch und BESTE Qualität. Danke Terra Canis!!!
Top Produkt. Riecht lecker, wird gern angenommen und ist bestens verträglich.
Perfektes Futter nur leider verbeulte Dosen
Das Futter ist wirklich qualitativ sehr hochwertig. Die Zusammensetzung ist meiner Meinung nach hervorragend und es riecht wirklich sehr angenehm! Meine kleine Hündin bekommt die Sorte Huhn und sie liebt dieses Futter, obwohl sie sonst nicht so verfressen ist. Das einzige was mich gestört hat ist, dass bei meiner Bestellung über die Hälfte der Dosen eine ordentliche Delle hatten, weil sie leider in einem zu großen Karton verpackt waren, das finde ich bei dem Preis doch etwas schade. Deshalb ein Stern Abzug.