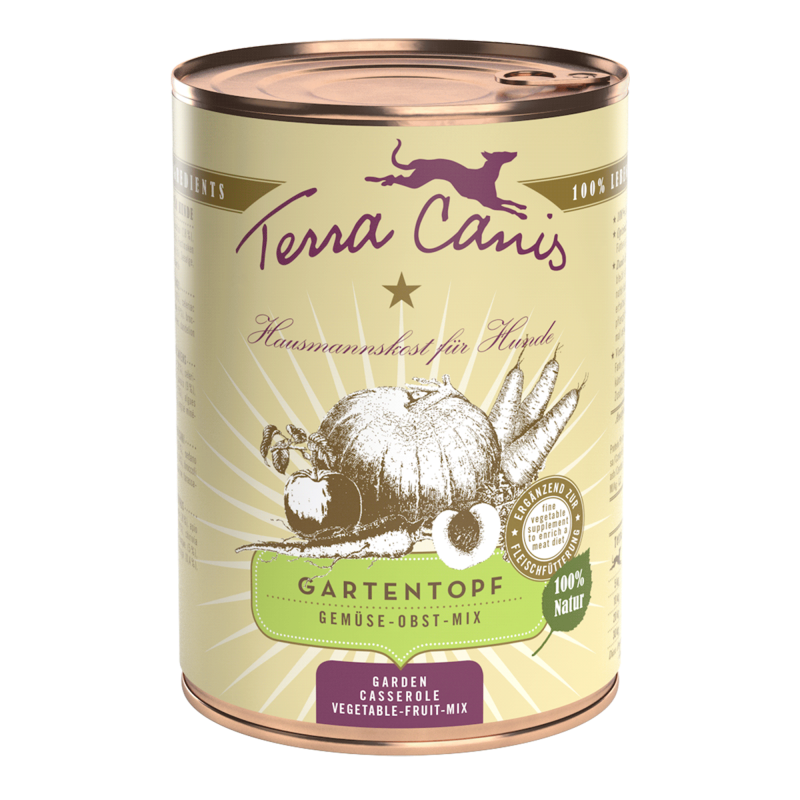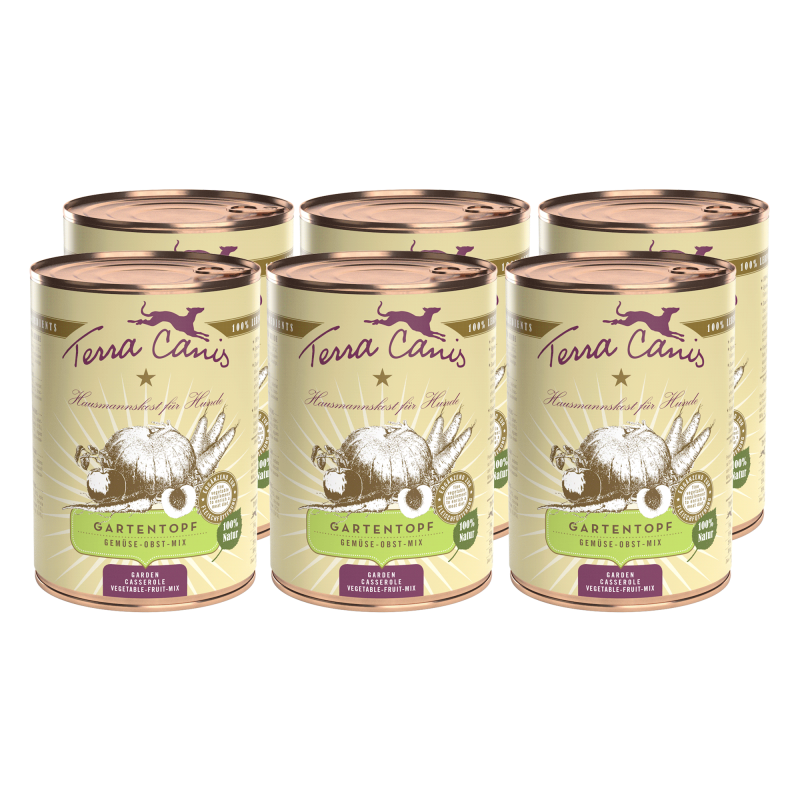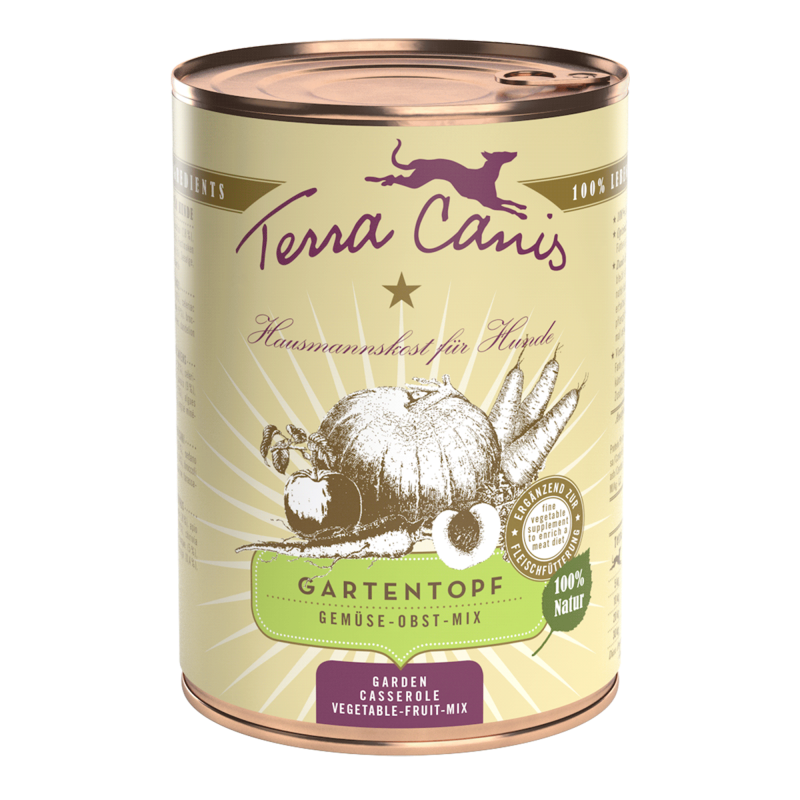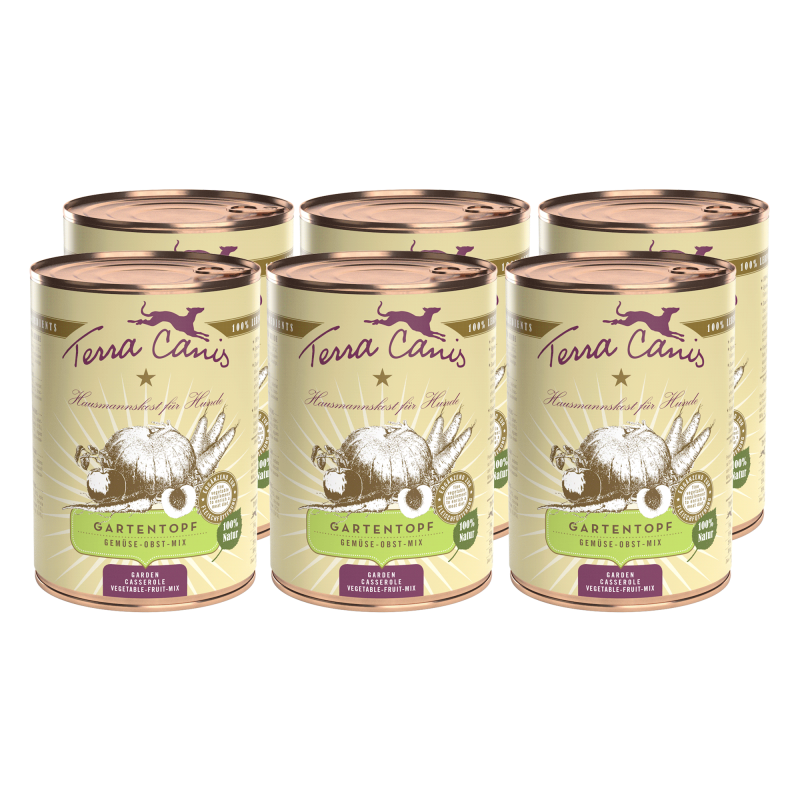 Garden Casserole

Vegetable-fruit-mix
100% Human-grade quality of all ingredients
Made with much love and care
Rich in fresh fruit, vegetables and herbs
An optimum supplement to a pure meat diet
Grain-free and vegan
Complementary to meat feeding
Grain & gluten-free
Developed with veterinarians
100% natural
Vegetarian
Composition
Carrot (18 %), courgette (18 %), celeriac (18 %), pumpkin (13 %), apple (9 %), parsnip* (9 %), broccoli (5 %), papaya (5 %), apricot (5 %), seaweed*, brewer's yeast*, dandelion* (0.3 %), savory* (0.3 %), mineral clay* *dried
Ratio:
Vegetables : fruit = 80% : 20%
Terra Canis GARDEN CASSEROLE
With 80% vegetable and 20% fruit content, the Terra Canis GARDEN CASSEROLE is the perfect addition to your dog's diet of raw or cooked meat and pure meat tins.
All ingredients are 100% food-grade.
The gentle cooking process makes the plant fibres optimally digestible and maintains the highest possible level of natural vitamins and minerals.
Dietary supplement for dogs.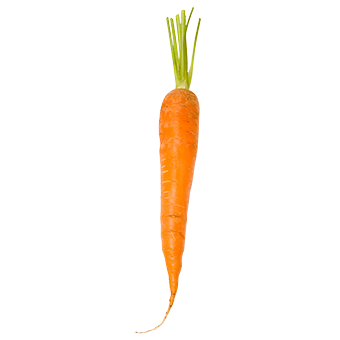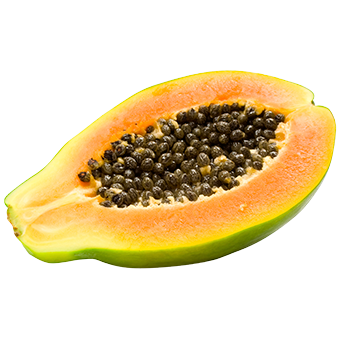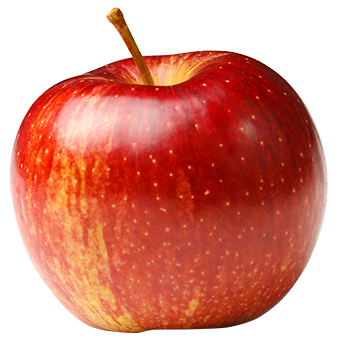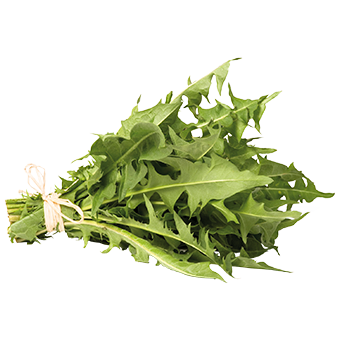 Analytical components
Protein: 1.1 % fat content: 0.2 % crude fibre: 0.9 % crude ash: 0.9 % moisture: 91.5 %
MJ/kg: 1
Feeding recommendation
Adult, normal-weight dog
(Dog's weight - Feeding recommendation/day)

| | |
| --- | --- |
| 5kg | 50 - 100g |
| 10kg | 100 - 150g |
| 20kg | 200 - 300g |
| 30kg | 350 - 500g |
Approximate values to be adjusted to your dog's individual circumstances (exercise area, activity level, breed, metabolism, time of year).
We recommend regular weight checks.
Our promise of quality
With their unique concept 'Dog nutrition in 100% human-grade quality of all ingredients, Terra Canis set completely new quality standards in the pet food industry 16 years ago. Thanks to a special permit from the government of Upper Bavaria, pet food was able to be produced for the first time in a genuine human-grade quality company, the traditional Munich butcher's shop Schäbitz. This was made possible by the fact that, right from the very start, only ingredients were used which, thanks to their freshness and highest quality, were officially approved for human food products at the time of processing. This uncompromising quality and the associated delicious, appetising smell set Terra Canis menus still today apart from all other products on the market.
Due to the constantly increasing demand, the butcher's shop in the heart of Munich has reached its capacity limits. As quality is of the highest priority for Terra Canis, the menus will now be produced in their own new facility just outside Munich. Manufacturing the products within "the own four walls" enables maximum control over the quality of all ingredients and production processes. In addition, both master butchers from Schäbitz butcher's in Munich and their entire team have been brought over, bringing with them decades of experience and expertise in the butcher's trade.
All the ingredients used, the production site and the hygiene concept are still subject to 100% human-grade standards. Terra Canis customers can therefore continue to rely on the human-grade quality of the ingredients in all products.
Introducing our master butchers
Reviews
Endlich ein Futter das unser Hund verträgt. Danke!
Seit wir unsere Hündin haben ist sie gegen alles mögliche allergisch. Anfangs meinte man noch, es liege am Wintersalz :/ Da es ein hoch allergen belasteten Hund ist, haben wir alles probiert. Vom Barfen bis kochen. Die Liste der Unverträglichkeiten ist leider sehr lang, auch gegen Kartoffel. Was sind wir froh, ihr Futter in Eigenregie gefunden zu haben. Schön wäre es auch noch, wenn es den Gartentopf irgend einmal in 200 g Dosen geben würde :) Wir füttern 3 x pro Tag das Getreidefreie Huhn mit Pastinake)
Das Beste Hundefutter, was es je gab.
Mein Hund ist seit dem Welpenalter sehr krank. Mir wurde bereits vor 8 Jahren Terra Canis empfohlen. Sie frisst es mit Begeisterung. Anderes Futter ignoriert sie komplett. Danke an Sie alle, allerdings bitte ich Sie herzlichst, weiterhin 200 gr. Dosen zu produzieren, da sie mehr pro Tag nicht essen darf. Sie bekommt eine kleine Dose in 2 Mahlzeiten aufgeteilt. Steht es länger als einen Tag im Kühlschrank, frisst sie es nicht. Insofern sind 400 gr Dosen zu teuer, da ich die Hälfte wegwerfe. Das wäre super toll. Danke. Übrigens, ich bin diplomierte Ernährungswissenschaftlerin und kann jedem Hundebesitzer dieses Futter tausendprozentig empfehlen.
Mein Berner Sennen Hund hat immer großen Appetit. Ich mische 200 gr. Gartentopf pro Mahlzeit zum Trockenfutter-wird um 15 % reduziert- hinzu. Somit kann ich gut sein Gewicht von 40 kg. halten. Auch als Zwischenmahlzeit um die Mittagsstunde.