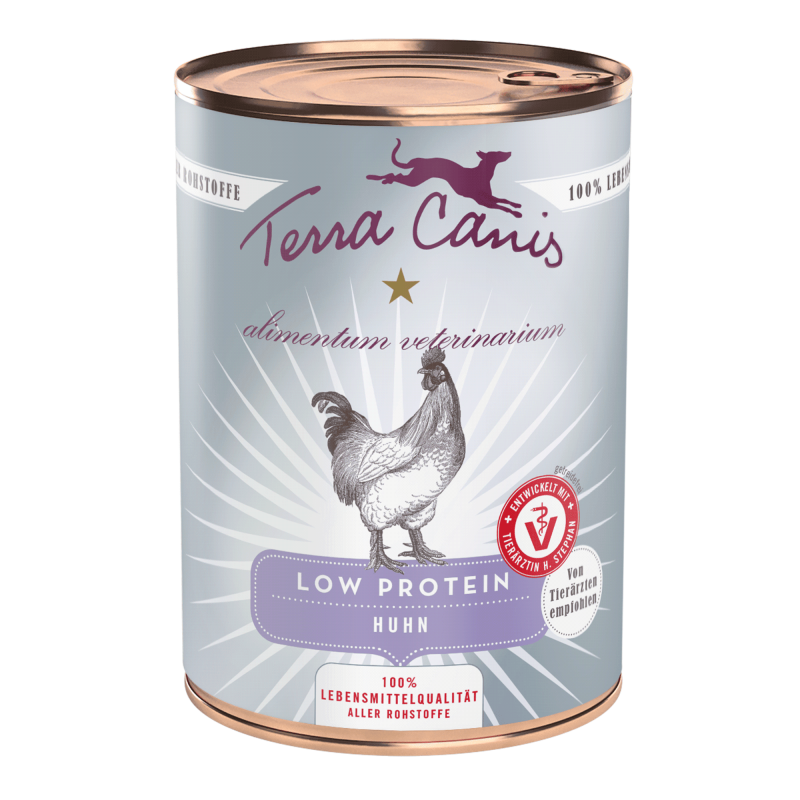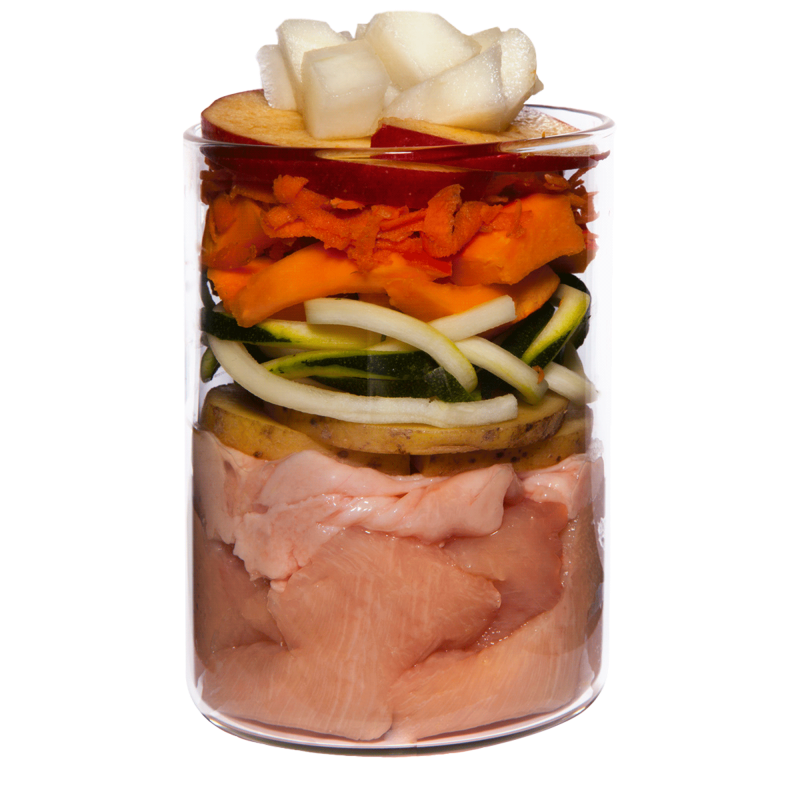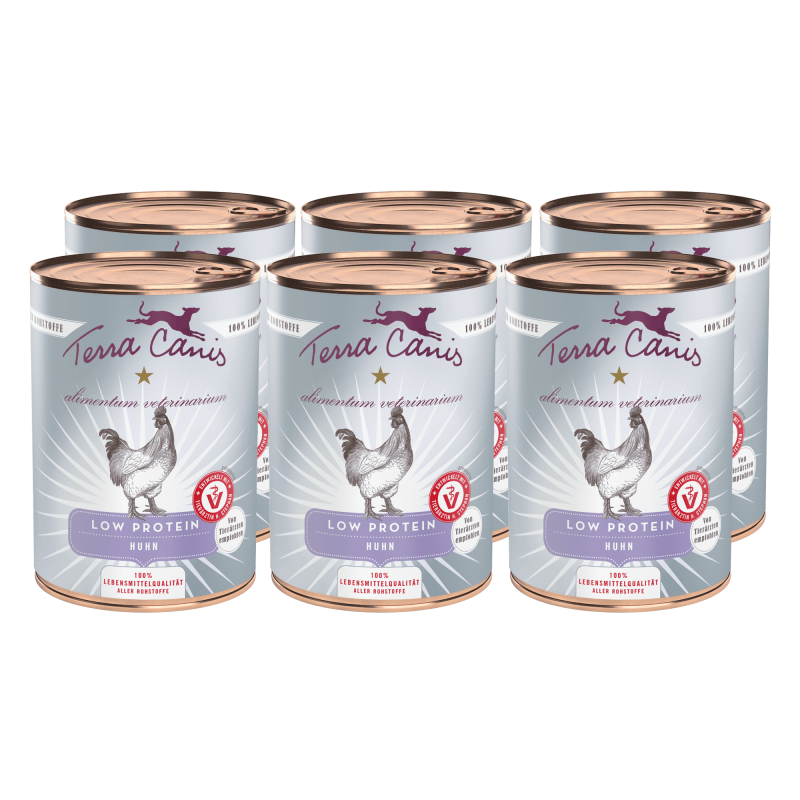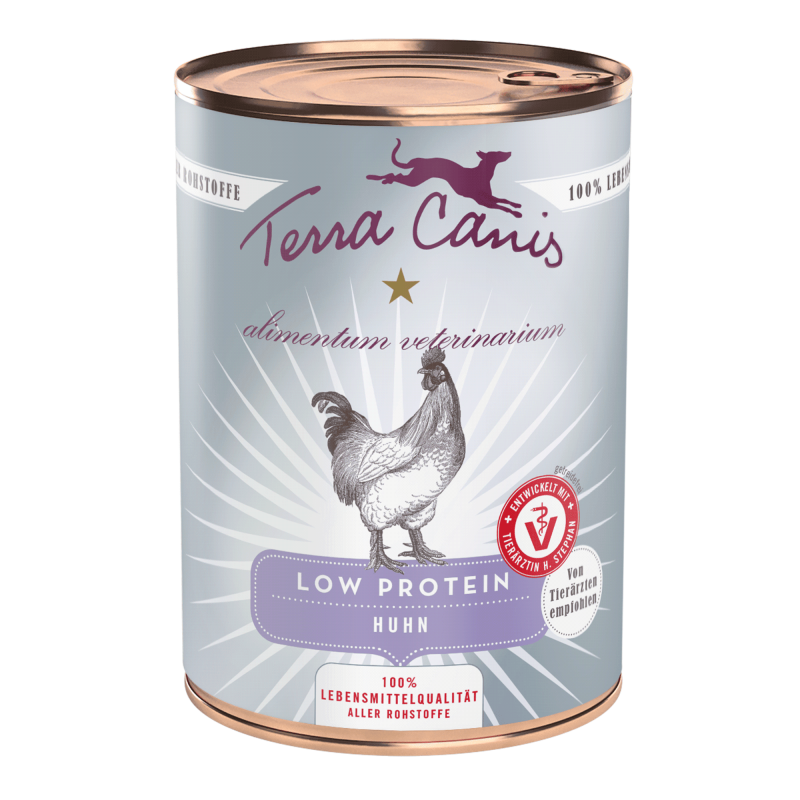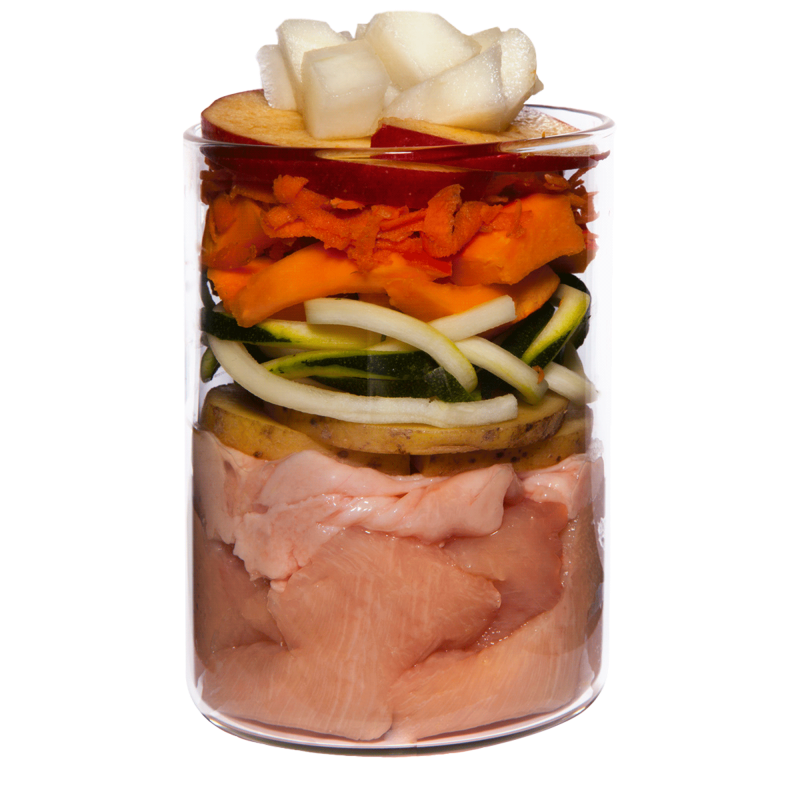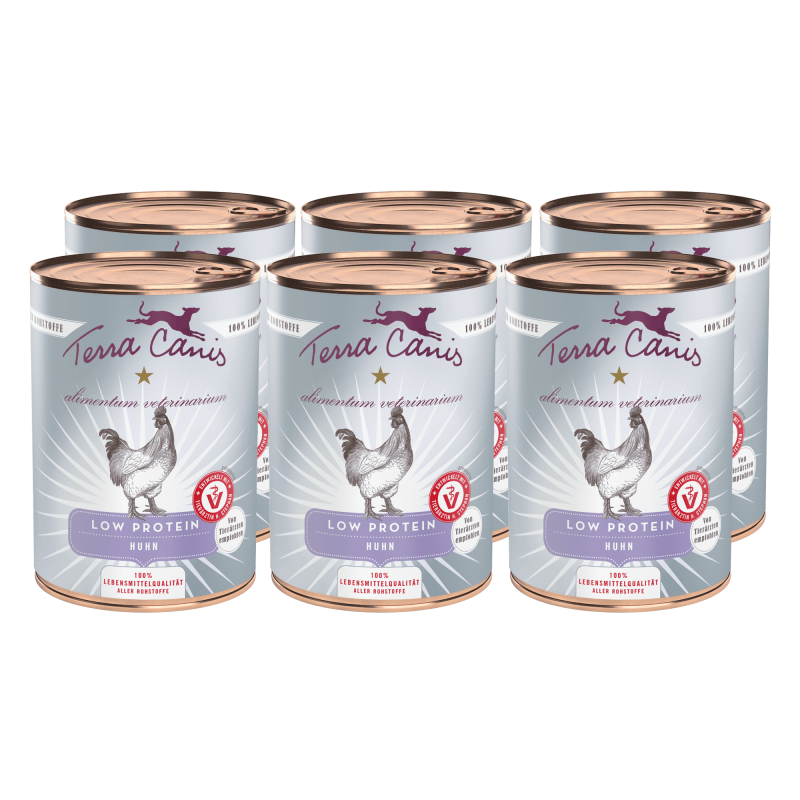 Low Protein

Low Protein Huhn, AliVet
100% Lebensmittelqualität aller Rohstoffe
Für eine gesunde Nieren- & Leberfunktion
Förderung des Proteinstoffwechsels
Von Tierärzten entwickelt und empfohlen
Developed with veterinarians
Grain & gluten-free
100% human-grade quality of all ingredients
100% natural
Made by master butchers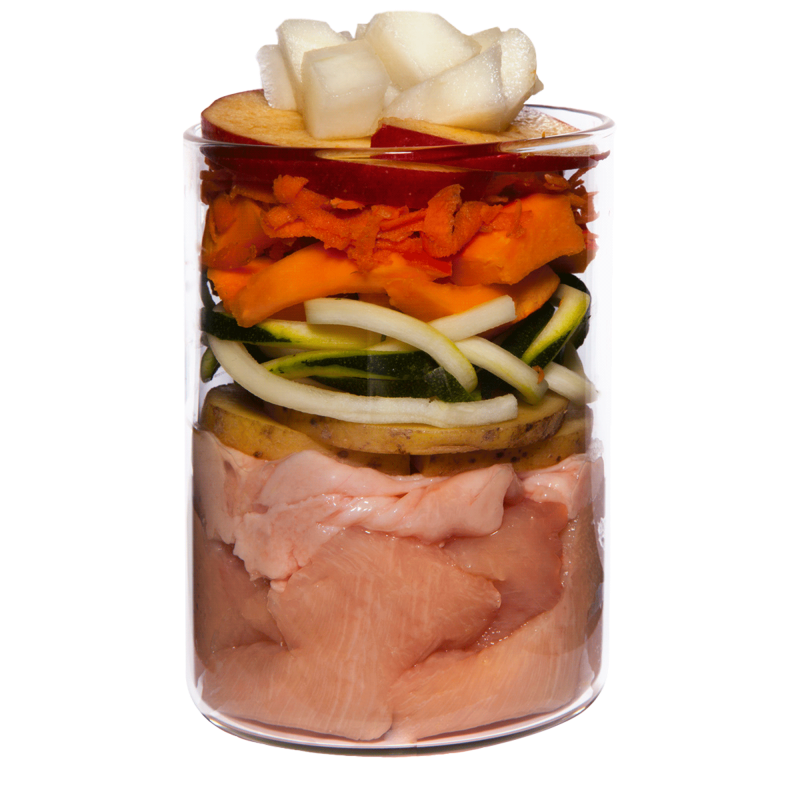 Composition
Muskelfleisch vom Huhn (24 %), Hühnermagen (15%), Kartoffel, Karotte (8 %), Zucchini, Kürbis (8 %), Hühnerhaut (5 %), Melone, Apfel, Leinöl, Seealge*, Kokosmehl, Löwenzahn*, Birkenblatt*, Petersilie*, Chiasamen, Ringelblume*, Brennnessel*, Eierschalenpulver, Mineralstoffe *getrocknet
Ratio:
Fleisch : Kartoffel/Gemüse : übrige Rohstoffe = 44 % : 52 % : 4 %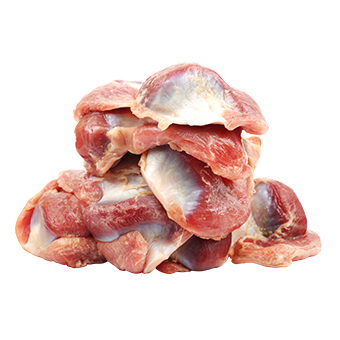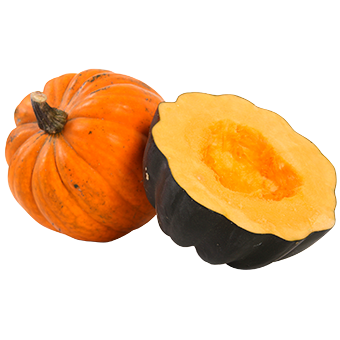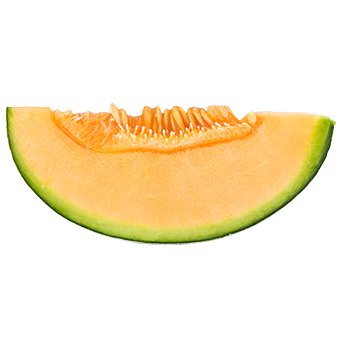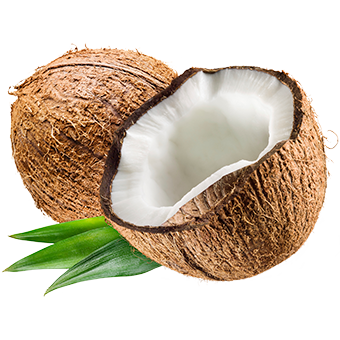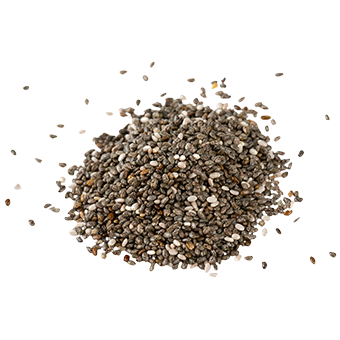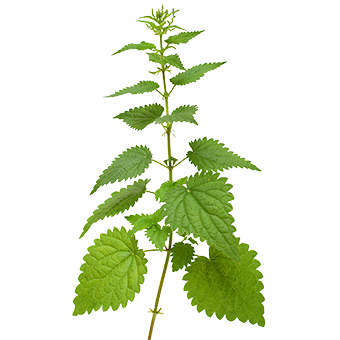 Analytical components
Protein: 5.5 % fat content: 4.4 % crude fibre: 0.7 % crude ash: 0.9 % moisture: 77.6 %
MJ/kg: 4
Nutritional additives/kg:
| | | |
| --- | --- | --- |
| Komponente | Ernährungsphysiologischer Zusatz/kg | Endanalyse |
| Vitamin A (3a672a) | 1500 IE | 6100 IE/kg |
| Vitamin D3 (3a671) | 200 IE | 242 IE/kg |
| Vitamin E (3a700) | 60 IE | 7,6 IE/100g |
| Vitamin B1 (Thiaminmononitrat) | 4 mg | 0,54 mg/100g |
| Vitamin B2 (Riboflavin) | 5 mg | 0,87 mg/100g |
| Vitamin B12 (Cyanocobalamin) | 30 µg | 9,8 µg/100g |
| Calcium | | 1440 mg/kg |
| Phosphor | | 792 mg/kg |
| Magnesium | | 470 mg/kg |
| Biotin (3a880) | 4 µg | 3,8 µg/100g |
| Pantothensäure (3a841) | 13 mg | 1,9 mg/100g |
| Folsäure (3a316) | 0,06 mg | 61 µg/100g |
| Kupfer (3b405) | 1,5 mg | <10 mg/kg |
| Mangan (3b503) | 4,5 mg | 10 mg/kg |
| Jod (3b202) | 0,6 mg | 0,95 mg/kg |
| Zink (3b605) | 40 mg | 44 mg/kg |
| Selen (3b801) | 0,06 mg | 0,1 mg/kg |
| Chlorid (Natriumchlorid) | | 0,14 g/100g |
| Natrium (Natriumchlorid) | | 0,06 g/100g |
| Kalium | | 2090 mg/kg |
| L-Carnithin (3a910) | 150 mg | |
| Puringehalt | | 18,9 mg/100g |
| Harn pH KAB | | 7,43 |
Feeding recommendation
Gewicht des Hundes - Fütterungsempfehlung/Tag:
(Erwachsener, normalgewichtiger Hund)

5 kg 150 - 200g
10kg 300 - 400g
20kg 600 - 800g
30kg 900 -1200g

Our promise of quality
With their unique concept 'Dog nutrition in 100% human-grade quality of all ingredients, Terra Canis set completely new quality standards in the pet food industry 16 years ago. Thanks to a special permit from the government of Upper Bavaria, pet food was able to be produced for the first time in a genuine human-grade quality company, the traditional Munich butcher's shop Schäbitz. This was made possible by the fact that, right from the very start, only ingredients were used which, thanks to their freshness and highest quality, were officially approved for human food products at the time of processing. This uncompromising quality and the associated delicious, appetising smell set Terra Canis menus still today apart from all other products on the market.
Due to the constantly increasing demand, the butcher's shop in the heart of Munich has reached its capacity limits. As quality is of the highest priority for Terra Canis, the menus will now be produced in their own new facility just outside Munich. Manufacturing the products within "the own four walls" enables maximum control over the quality of all ingredients and production processes. In addition, both master butchers from Schäbitz butcher's in Munich and their entire team have been brought over, bringing with them decades of experience and expertise in the butcher's trade.
All the ingredients used, the production site and the hygiene concept are still subject to 100% human-grade standards. Terra Canis customers can therefore continue to rely on the human-grade quality of the ingredients in all products.
Introducing our master butchers
Reviews
Prima Produkt ***** Wir und unsere 15jährige an CNI erkrankte Hündin Amy sind von diesem Produkt begeistert. Amy hat es super angenommen und frisst mit großem Heißhunger. Wir verfüttern alle 3 Sorten im täglichen Wechsel. Es duftet sehr gut und appetitlich.
Doris Hupasch, 27.10.2018
Bei meinem 8 jährigen Bolonka rüden wurden erhöhte Leberwerte festgestellt. Also musste ein Diätfutter her. Da er vorher schon das normale Terra Canis bekam war es für uns einfach auf das Low Protein zu wechseln. Das Futter richt auch sehr angenehm und es wurde mit begeisterung gefressen. Die Umstellung war absolut kein Problem. Was mich nun iritiert ist, das er davon nicht satt wird. Eins ist uns sofort aufgefallen das er schon nach kurzer zeit viel agiler ist als sonst. Nun warten wir mit vorfreude auf die nächsten Blutwerte und hoffen das sie besser geworden sind.
Hervorragendes Futter 5*****
Unser 15jähriger Bretone ist an CNI erkrant und wir haben einige Hundefutter getestet. Das Low Protein von Ali-Vet überzeugt sowohl unseren Hund als auch uns. Die Zusammensetzung ist sehr gut, es riecht sehr angenehm, schmeckt auch gut und es wurde von Anfang an sehr, sehr gut vertragen. Dies ist wohl nicht immer der Fall wenn auf ein Diätfutter umgestellt wird. Einen kleinen Punkt habe ich anzubringen bzw hat vielleicht jemand eine Idee: wie kann ich die Konsitenz etwas fester bekommen?
Tolles Produkt, was so gar nicht nach dem "alltäglichen" Hundefutter. Eher wie frisch gekochter Eintopf. Unser Hund, der an Leishmaniose erkrankt ist, bekommt den Leckerbissen seit einer Woche und ist begeistert. Apropos.....wir sind begeistert von der umweltbewussten Verpackung !!!
Unsere Hündin ist an Leishmaniose erkrankt. Durch die Behandlung mit Allopurinol soll die Ernährung möglichst purinarm sein. Allerdings gibt es wenig Futtersorten, die auf diese Einschränkung eingehen und falls sie dies tun, dann beinhaltet industriell hergestelltes Hundefutter oftmals sehr viel Getreide und ist auch nicht unbedingt nierenfreundlich. Demnach war ich sehr froh, als ich auf diese Produktlinie von AliVet gestoßen bin, da das Futter aus hochwertigen und abgestimmten Inhaltsstoffen besteht und für unsere durch die Leishmaniose nierenkranke Hündin perfekt ist. Geruch, Konsistenz und Geschmack (nach der Begeisterung unserer Hündin zu urteilen) sind sehr gut. Die Lieferung war zudem auch sehr schnell. Das Futter befindet sich nun in der Testphase und ich hoffe, dass wir es langfristig verfüttern können.
Terra Canis Kunde, 16.03.2018