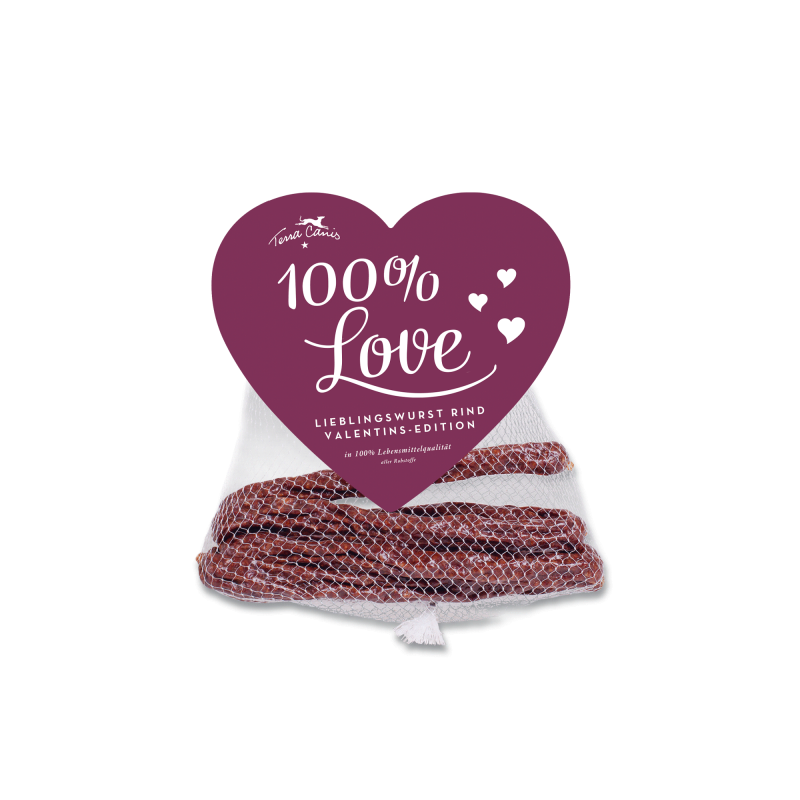 Lieblingswurst: Valentine's Sausage
(0)
100% Human-grade quality of all ingredients
Genuine butcher's sausage

Gently air-dried without any additives

Our bestselling snack

Suitable for training, as a reward or as a small snack
Made by master butchers
Without unnecessary additives
Grain & gluten-free
100% human-grade quality of all ingredients
100% natural
Composition
Beef muscle meat (52%), beef heart (38%), beef tendon (9%), Andean salt (0.3%)
Terra Canis Lieblingswurst
Dogs adore it: our Terra Canis Lieblingswurst is made from meat in 100% genuine human-grade quality and is gently air-dried by a traditional butcher's shop. Highest quality, immediately recognisable by its distinctive tasty smell. Whether as a snack between meals or as a small incentive at dog school or during training – Lieblingswurst will surely be your dog's favourite too!
The new and improved recipe ensures an even more intense taste due to an increased content of muscle meat and, as a result, even a higher acceptance. Furthermore, muscle meat provides precious amino acids and omega fatty acids – thus, your dog's health is also supported when they are snacking.
The variety Beef is the only single-protein product. All other varieties contain a proportion of beef due to production-related reasons. Please bear this in mind in case of intolerance to beef protein.
Dietary supplement for dogs.
Content: 190g, 8 units
Analytical components
Protein: 50.9 % fat content: 31.1 % crude fibre: 0 % crude ash: 4 % moisture: 13.8 %
MJ/kg: 18.2