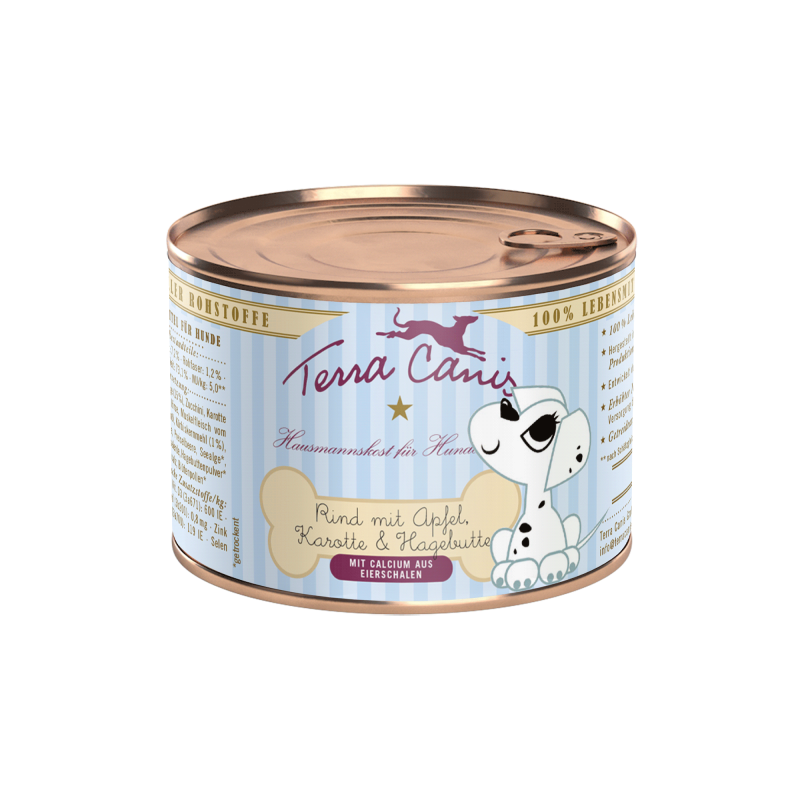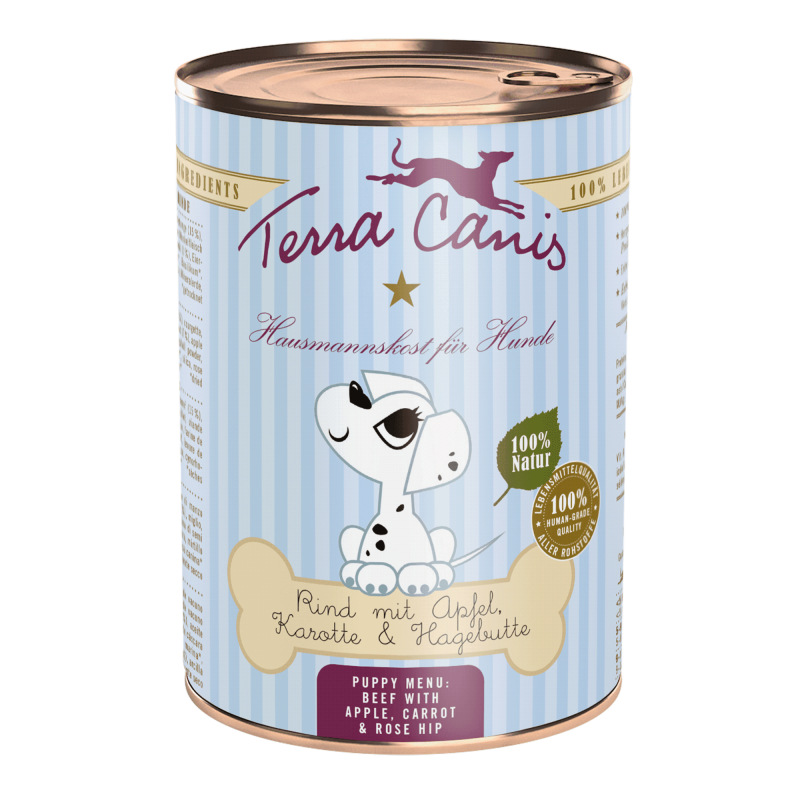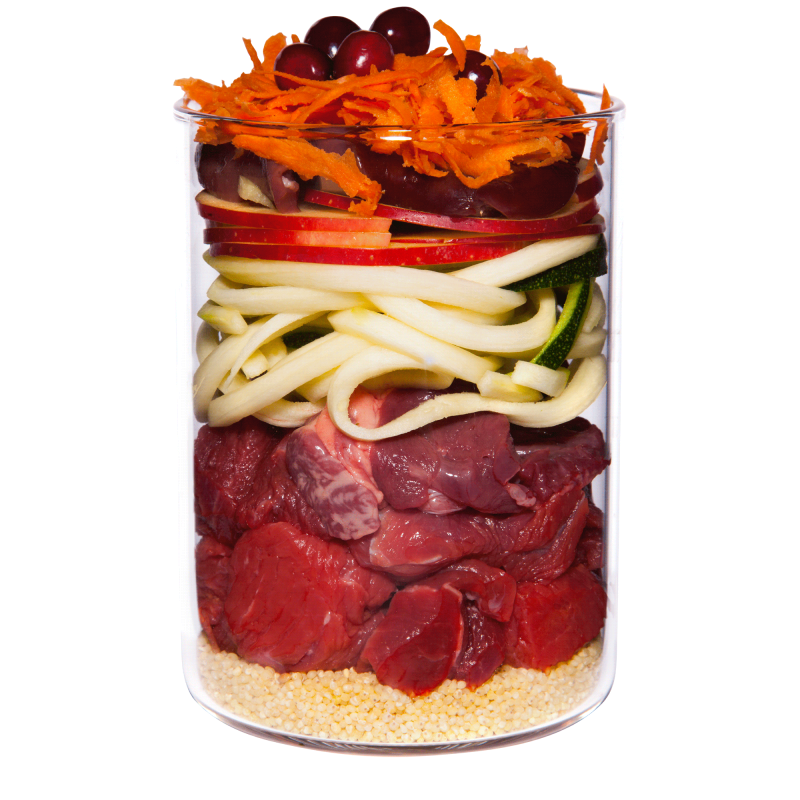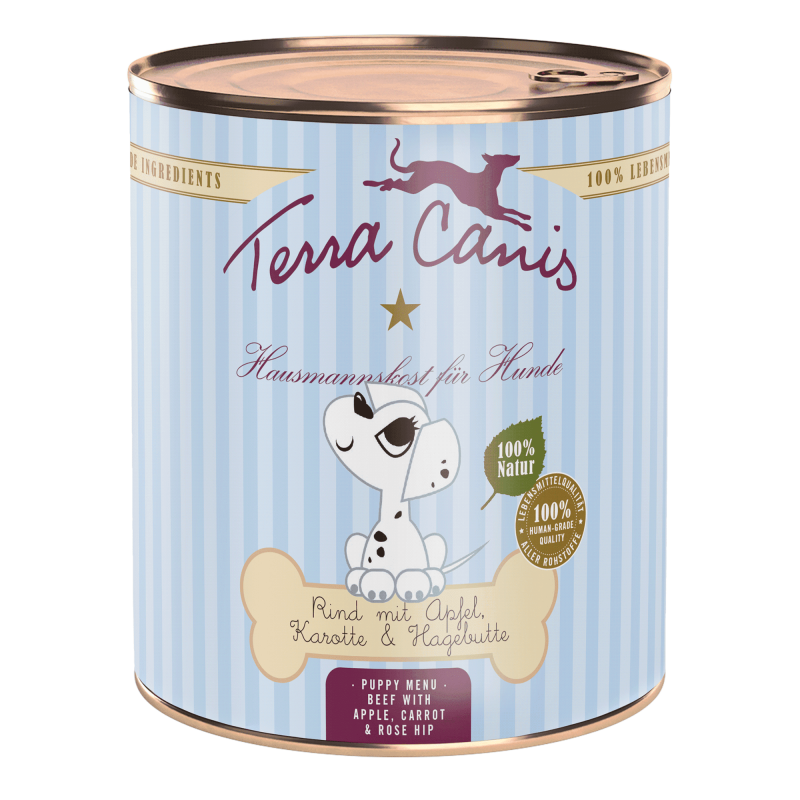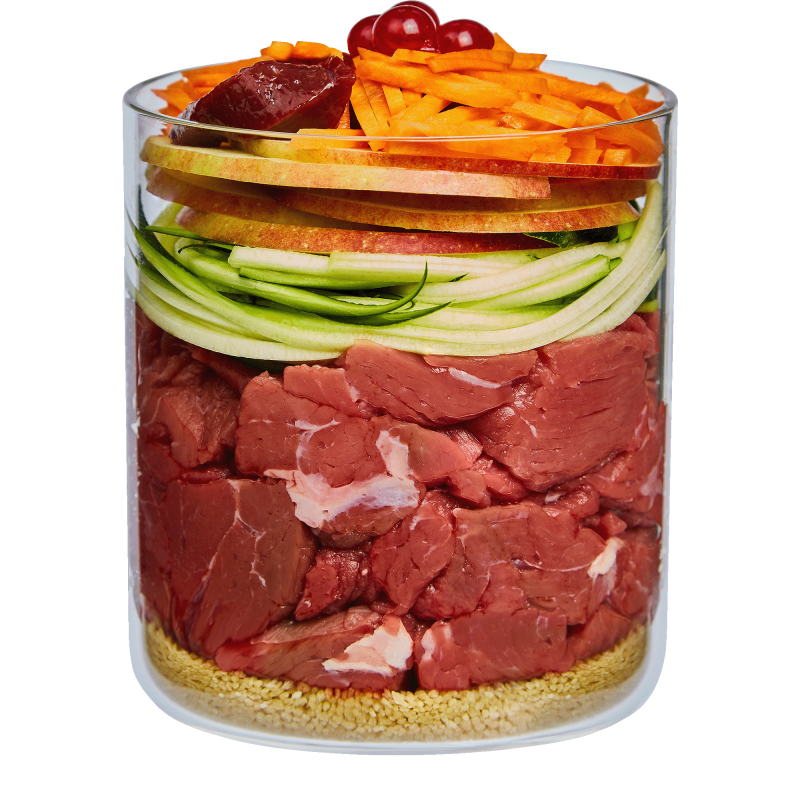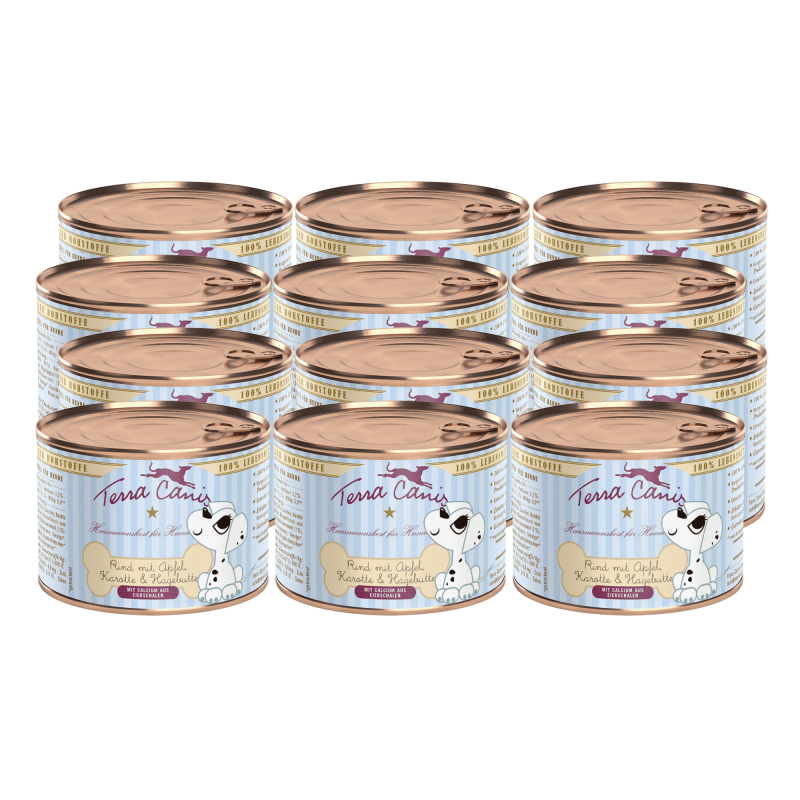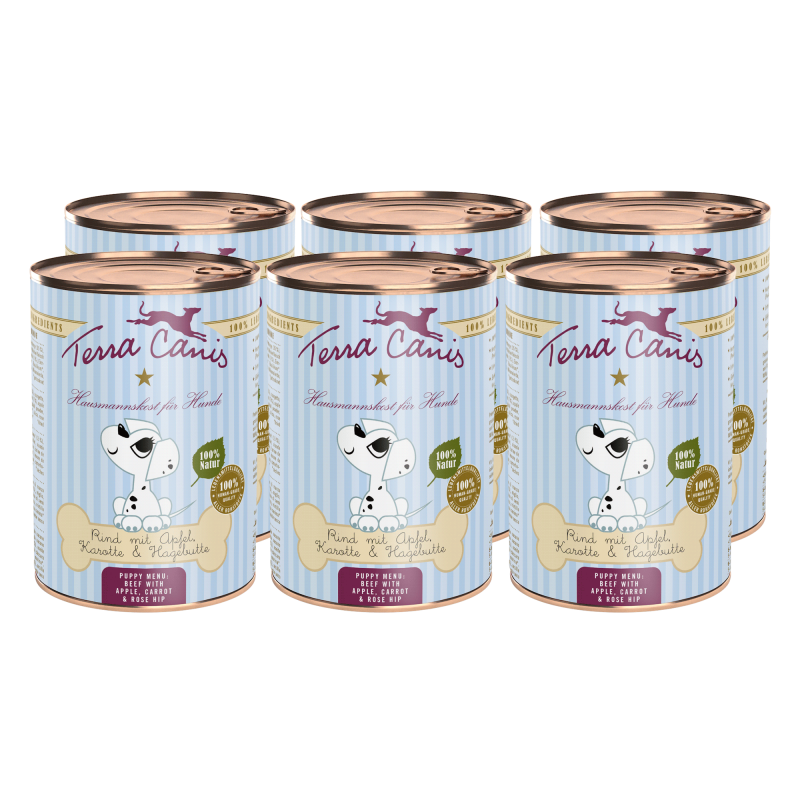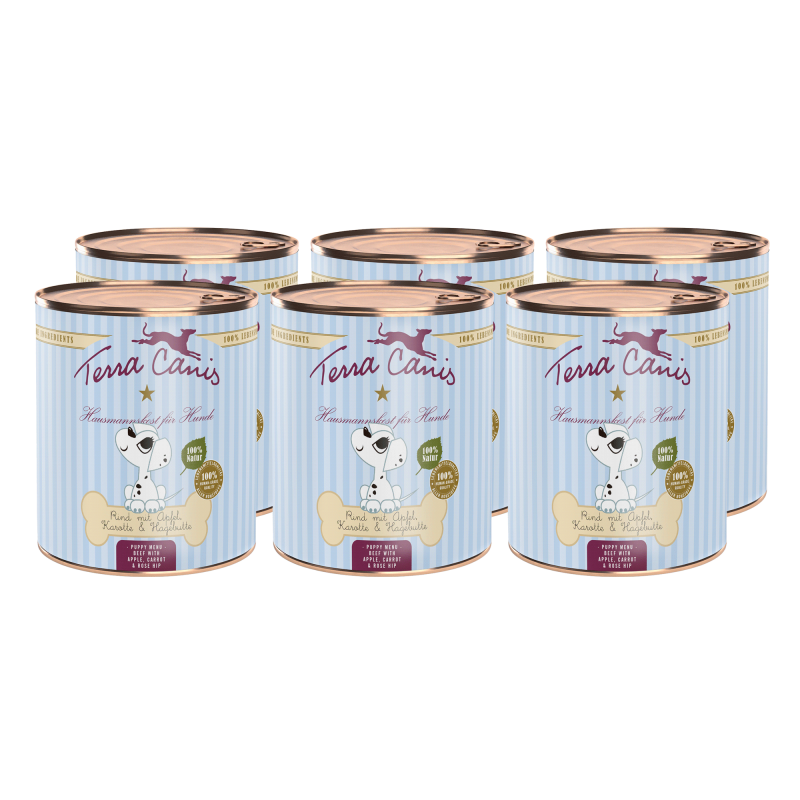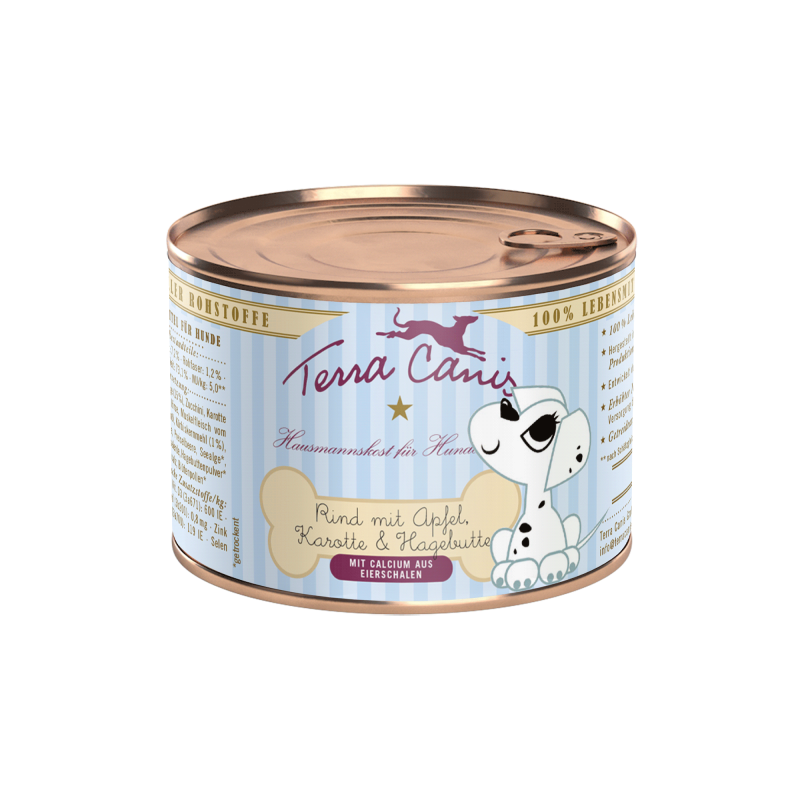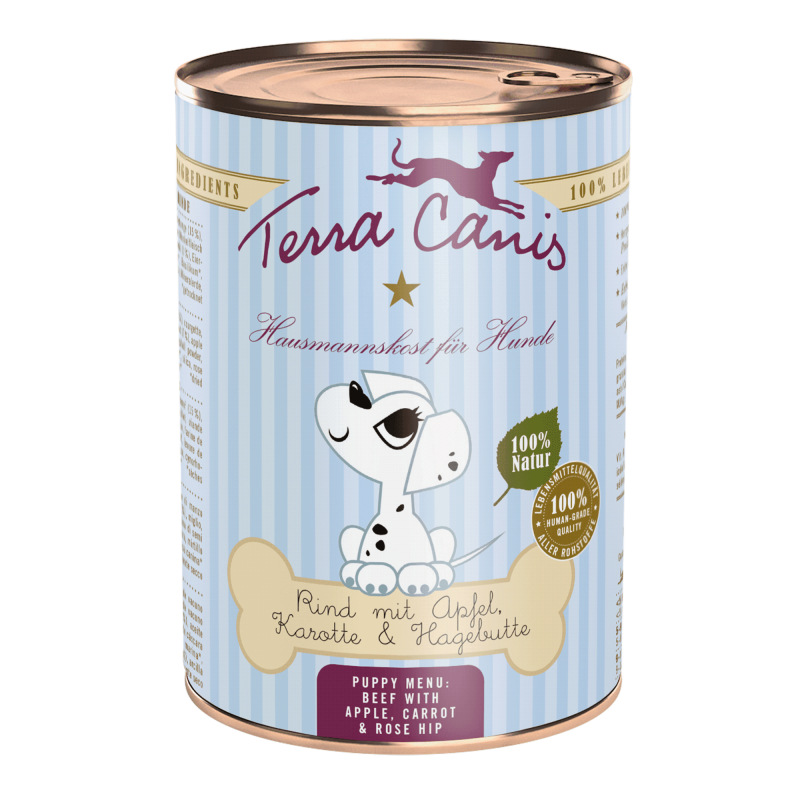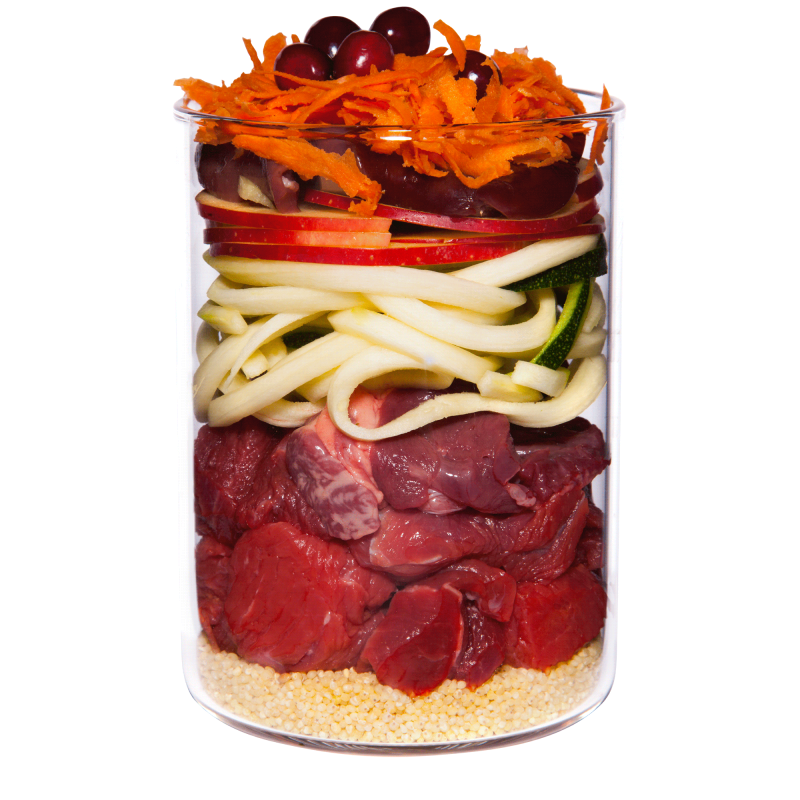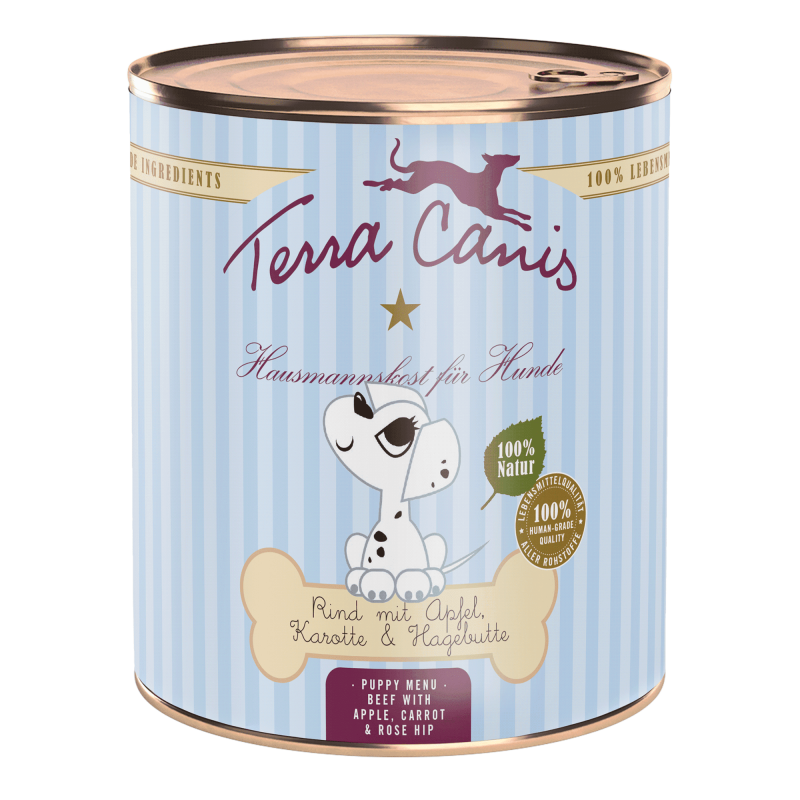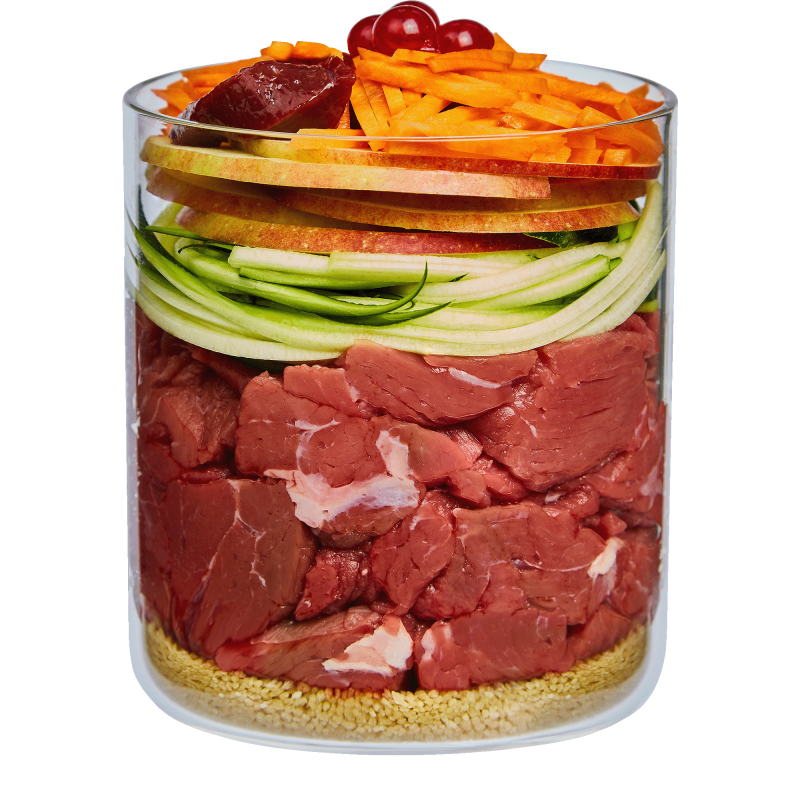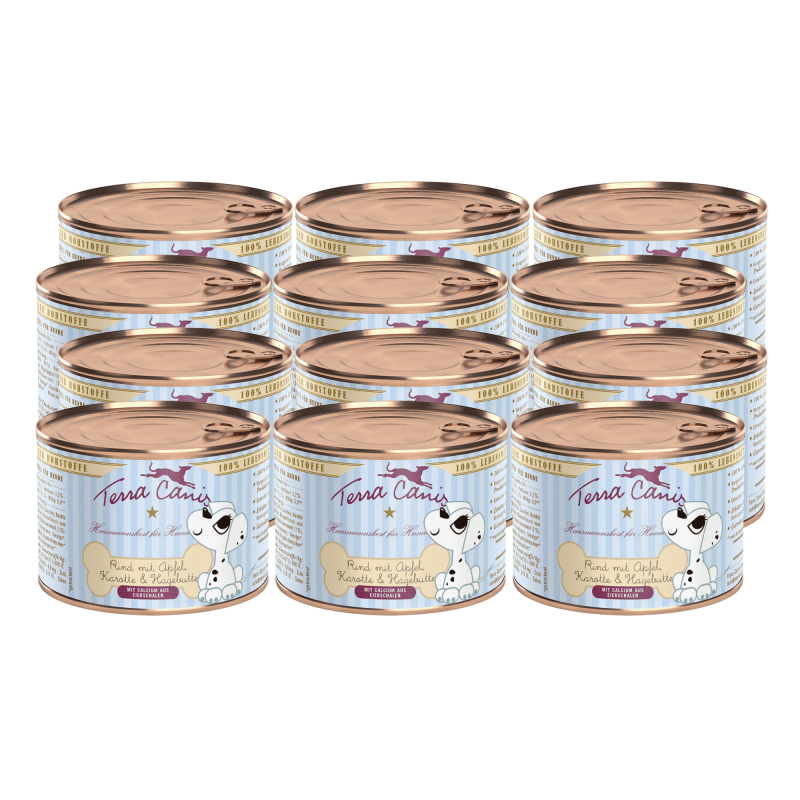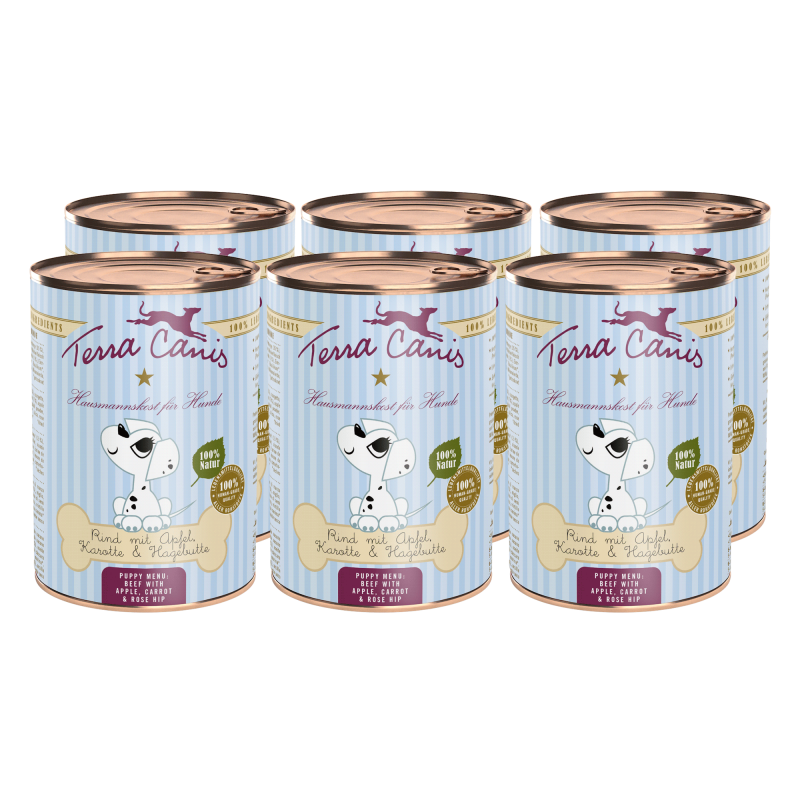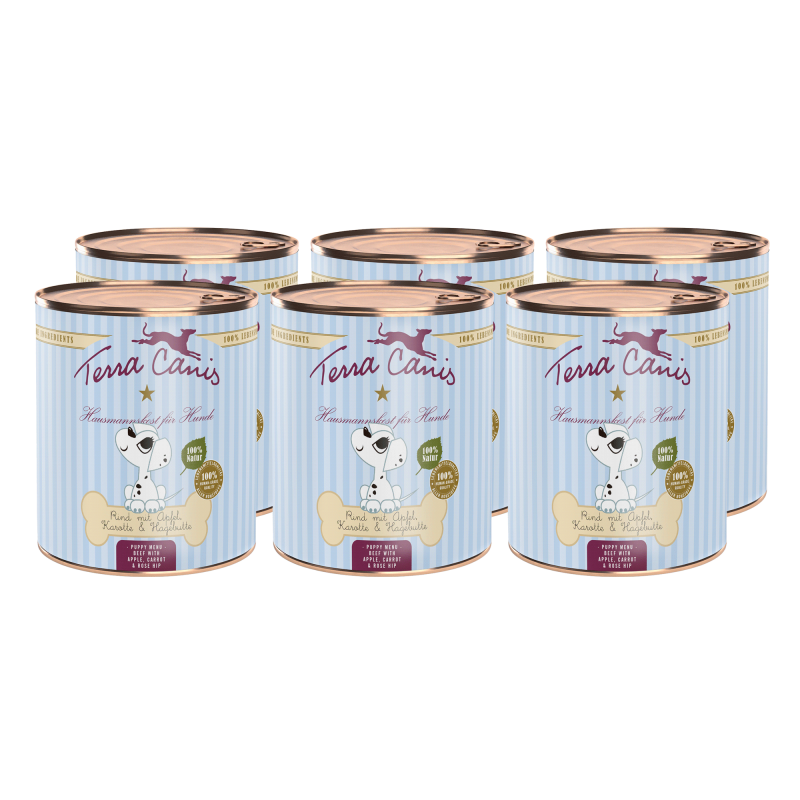 Puppy

Beef with apple, carrot and rose hip
100% Human-grade quality of all ingredients
Made with much love and care
High meat content
Optimum calcium–phosphorous balance
Rich in fresh fruit, vegetables and herbs
Siliceous earth to support healthy joints and tendons
With calcium from eggshells
Without unnecessary additives
Gluten-free
Developed with veterinarians
100% natural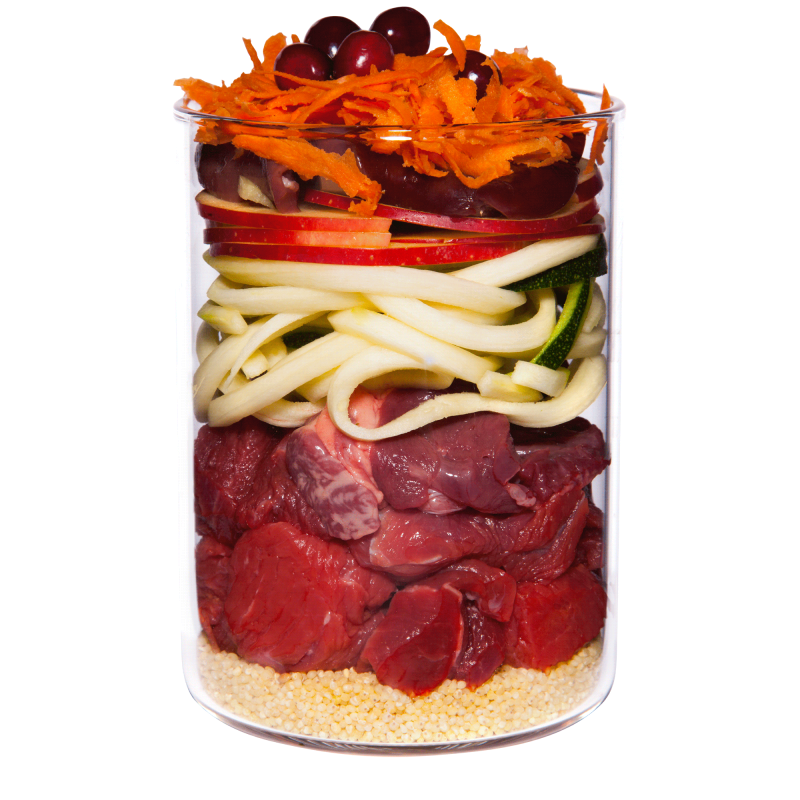 Composition
Beef heart (30%), beef lung (15%), courgette, carrot (11%), beef liver (7%), millet, beef muscle meat (7%), apple (6%), linseed oil, pumpkin seed flour (1 %), eggshell powder, brewer's yeast, cranberry, seaweed*, basil*, parsley*, diatomaceous earth, rose hip powder* (0.2%), mineral clay, Andean salt, pollen* *dried
Ratio:
Meat : millet : vegetables/fruit/herbs : other raw ingredients = 59% : 5% : 33% : 3%
Terra Canis PUPPY
The foundation for a healthy life is laid in the first few months. During this period, the organism easily develops growth disorders and intolerances. It is therefore important to provide near-natural species-appropriate nutrition right from the start. Our PUPPY menus comprise lots of fresh muscle meat, healthy vegetables, fruit and herbs as well as numerous natural added nutrients (mineral clay, seaweed, brewer's yeast, pollen, rose hip, eggshell powder). An increased amount of eggshell supplies sufficient calcium in the growth phase. The silica it contains is known for its supportive effect on growing joints and tendons and helps the body store natural calcium in the bones. The proportion of gluten-free pseudo-grains is low at max. 5%, meaning that the short intestinal tract is not overburdened. The PUPPY menus are suitable for puppies and young dogs up to one year old.
Feeding pregnant and lactating dogs
A dog's pregnancy lasts about 65 days. During the first half of this period, special attention must be paid to high-quality feeding. Our products in the Classic and Grain-Free lines are suitable for this purpose.
From the second half of pregnancy, the dog's need for energy increases. For this reason, we recommend feeding puppy food from this time until the puppies are weaned (Feed recommendation: quantity fed for our Classic line plus 1/3 to 1/2).
Complete food for dogs.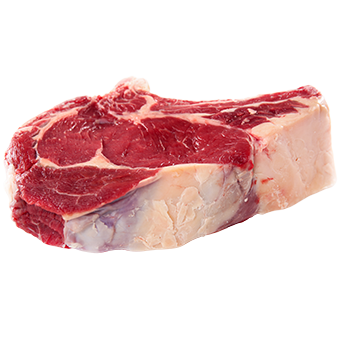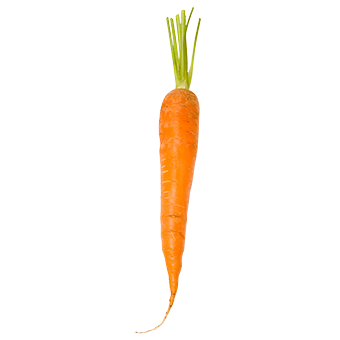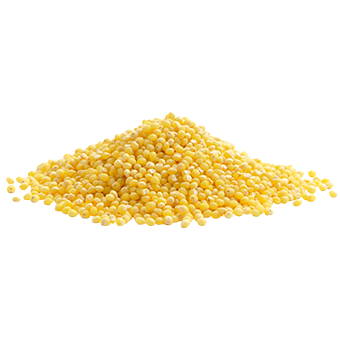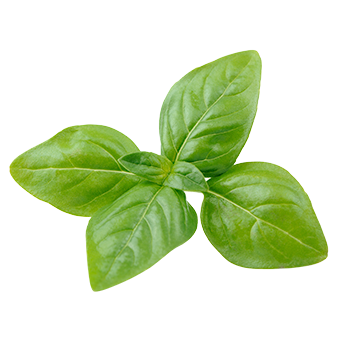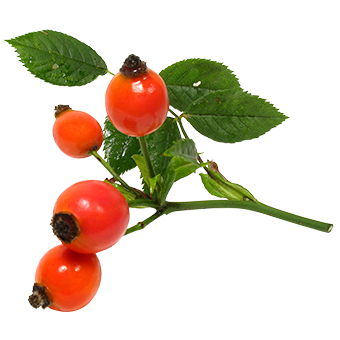 Analytical components
Protein: 10.4 % fat content: 7.2 % crude fibre: 1.2 % crude ash: 1.8 % moisture: 73.1 %
MJ/kg: 5**
Nutritional additives/kg:
Vit. A (3a672a): 3000 IE, vit. D3 (3a671): 600 IE, copper (3b405): 5 mg, iodine (3b201): 0.8 mg, zinc (3b603): 80 mg, vit. E (3a700): 119 IE, selenium, (3b801): 0.1 mg
** as per estimating equation exhibit 4/2 German feed regulation – last update 08/2018
Feeding recommendation
Puppy/growing young dog
(Dog's age - Feeding recommendation/day)
| | |
| --- | --- |
| < 5 months | 100g/kg body mass |
| 5 - 9 months | 80g/kg body mass |
| 9 - 12 months | 60g/kg body mass |
Feeding recommendation for a pregnant or lactating dog/day:
| | |
| --- | --- |
| 5kg | 200 - 400g |
| 10kg | 400 - 800g |
| 20kg | 800 - 1200g |
| 30kg | 1200 - 1800g |
Approximate values to be adjusted to your dog's individual circumstances (exercise area, activity level, breed, metabolism, time of year).
We recommend regular weight checks and a growth curve from the vet.
Our promise of quality
With their unique concept 'Dog nutrition in 100% human-grade quality of all ingredients, Terra Canis set completely new quality standards in the pet food industry 16 years ago. Thanks to a special permit from the government of Upper Bavaria, pet food was able to be produced for the first time in a genuine human-grade quality company, the traditional Munich butcher's shop Schäbitz. This was made possible by the fact that, right from the very start, only ingredients were used which, thanks to their freshness and highest quality, were officially approved for human food products at the time of processing. This uncompromising quality and the associated delicious, appetising smell set Terra Canis menus still today apart from all other products on the market.
Due to the constantly increasing demand, the butcher's shop in the heart of Munich has reached its capacity limits. As quality is of the highest priority for Terra Canis, the menus will now be produced in their own new facility just outside Munich. Manufacturing the products within "the own four walls" enables maximum control over the quality of all ingredients and production processes. In addition, both master butchers from Schäbitz butcher's in Munich and their entire team have been brought over, bringing with them decades of experience and expertise in the butcher's trade.
All the ingredients used, the production site and the hygiene concept are still subject to 100% human-grade standards. Terra Canis customers can therefore continue to rely on the human-grade quality of the ingredients in all products.
Introducing our master butchers
Reviews
Sehr gut Qualität seit Jahren. Meine Welpen haben durch das hochwertige Futter keinen Durchfall mehr und Blähungen sehr selten.
Tolles Futter Meine Hündin liebt es und endlich hat sie keine Blähungen und kein Durchfall mehr. Wir werden dabei bleiben
Leo würde nur noch Terra Canis kaufen
Wir haben mit Terra Canis schon bei unserer alten Hündin - nach x verschiedenen Futtersorten - super Erfahrungen gemacht und auch der kleine Hovi bekommt seit seinem ersten Tag bei uns TC. Es ist schön zu sehen wie er sich auf jede Mahlzeit freut (OK, es ist immer zu wenig im Napf) und es quasi inhaliert. Er hat null Probleme mit der Verdauung und ist ein ganz ausgeglichener Welpe. Wir sagen TOP!
endlich das richtige Futter gefunden
Wir haben neun (!) verschiedene Nassfutter getestet bis wir bei Terra Canis angekommen sind. Unsere Hündin hat nun endlich kleine Blähungen und Bauchgrummeln mehr. Wir bleiben dabei. :)
Das Futter ist der Knaller für meinen 13 Wochen jungen Welpen. Nachdem er sein Trockenfutter verweigert hatte, hat uns der Welpentrainer empfohlen, Nassfutter beizumischen. Das machen wir nun so: 2 Esslöffel/Mahlzeit und der Kleine kann kaum noch gehalten werden. Meine Frau war zunächst skeptisch, was den Geruch von Nassfutter anbelangt. Aber nach dem Öffnen kommt es einem vor, als ob man eine dose Wurst vom Metzger öffnet. Riecht sehr toll! Nun überlegen wir, komplett auf dieses Nassfutter umzusteigen.
Ho provato anche questa variante e mi sono trovata bene. Il mio cucciolo deve evitare il pollo con queste pappe ho la possibilità di variare e la qualità del cibo è ottima. Il mio cucciolo mangia queste pappe con piacere... anche dopo che ha finito continua a leccare la ciotola!
Bestes Futter bei Terra Canis bleibe ich !
Das Futter riecht super lecker. Mein Hund liebt dieses Futter und hat seither auch kaum Blähungen und kein Durchfall mehr. Ich bleibe dabei!
Als mein kleiner Doodle zu uns kam, habe ich gleich das TF von der Züchterin mit TC gemischt. Er hat es förmlich verschlungen. Der Output war mit dem Trockenfutter mega, man hätte meinen können ein ausgewachsener Hund war das. Hsb nicht lange gefackelt, von wegen langsam umstellen. Am nächsten Tag gab es nur noch TC und siehe da, der Output ist minimal. Sehr gut.